IN the month of February, 2,000 students will be graduating from the University of Guyana. The students will be graduating from their respective programmes after years of gaining knowledge and experience from the university. I would like to highlight in this week's column piece that there is a silent cry amongst these graduates. Year after year, students struggle to find jobs after graduating from a tertiary-level institution in Guyana.
Believe me when I say, I know exactly how that feels now because I am also graduating next month. Like many of my colleagues who will be graduating, we are searching for jobs, applying for every possible vacancy and keeping our fingers crossed to be called back by these agencies and institutions. Some of my colleagues will remain in their existing places of employment, hoping for a promotion, others will be creating their own forms of employment through entrepreneurship and business and the majority of my class will remain unemployed until they can be accepted into an institution or agency—whenever that is.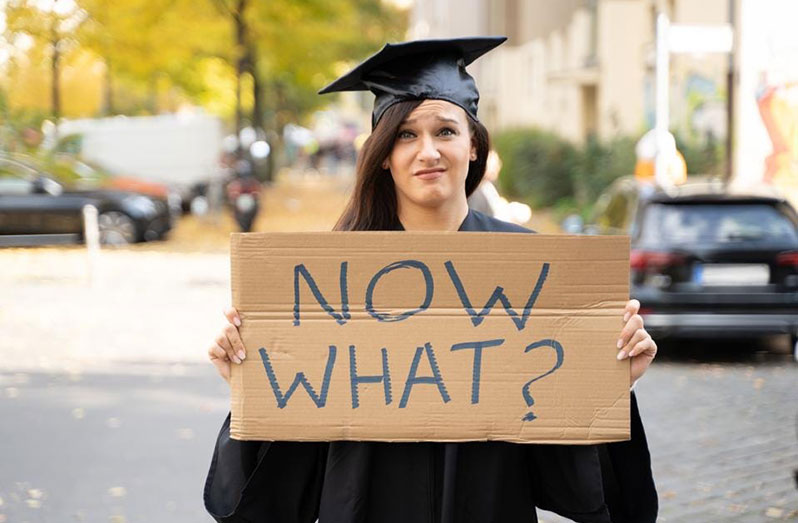 I do understand that you are accepted based on individualism and your overall achievements, but vacancies on the whole are scarce to begin with. This may not be the reality for some students as I can only speak through my personal experiences and the experiences I've heard of or seen firsthand. Some students do go onto working shortly after completing their studies but in my opinion, that isn't always the case for the masses. I can say with certainty that there is a scarcity of jobs for students who are majoring in social science fields. I am one of those students. If you don't believe me, you can conduct your own surveys on unemployment amongst graduates of the University of Guyana. Ask your friends and family who recently graduated how many colleagues they know that are currently employed versus the amount of colleagues they know who are unemployed—you'll get your answers.
As we celebrate the success stories of the students who graduate, we should also advocate for them so that their success stories end at the completion of their degrees. We, as a collective ought to uplift the intellectuals and professionals of our developing country. We need trained professionals more than ever in the present and upcoming sectors of our oil-producing nation. We need to expand on existing sectors or create new ones for the thousands of students who graduate from the University of Guyana. Otherwise, Guyana will be plagued with an increase of migrating professionals—year after year. In Berbice, many young professionals have to disrupt their lives to move to the capital city to be employed in their fields of study. While updated statistics are unavailable for this recurring social issue, I am sure that the unemployment rate in the county of Berbice alone is solely staggering. One can only imagine what the rates are at the national level.
I urge you all to keep this topic at the back of your minds as the young upcoming professionals share their graduation pictures on social media throughout the upcoming weeks. We, the graduates, should be able to join the workforce without seeking employment at a place that undermines your degree or at a place that categorizes you as "overqualified." Some jobs that are available currently require you to have years of experience in a said field, but how can one be experienced when there are little to no jobs available to begin with? As we celebrate, we will also advocate and I hope those in the respective authorities listen and understand our plea for an expansion in the workforce of our country.