LIFE for some, living in the city or an upscale neighbourhood, is a 'big thing,' but for Viola Alexander, these things do not excite her, since she is accustomed to residing in a small rural village in Guyana.
She is a resident of Lochaber, West Canje, Berbice and is a poultry and pig farmer who cultivates some cash crops.
Alexander is also a councillor attached to the Wyburg/Caracas Neighbourhood Democratic Council (NDC) and is the mother of three.
She has been a single parent since her husband passed away two years ago. He was a cane-cutter attached to the Blairmont Sugar Estate and had diabetes.
Alexander lives just next door to the Lochaber Community Centre Ground and her house is in a corner plot with no immediate neighbours and she likes it like that.
She describes life in Lochaber Village as quiet and peaceful and it suits her just right, because she can do whatever she wants in her own time and at her own leisure, since she is self-employed.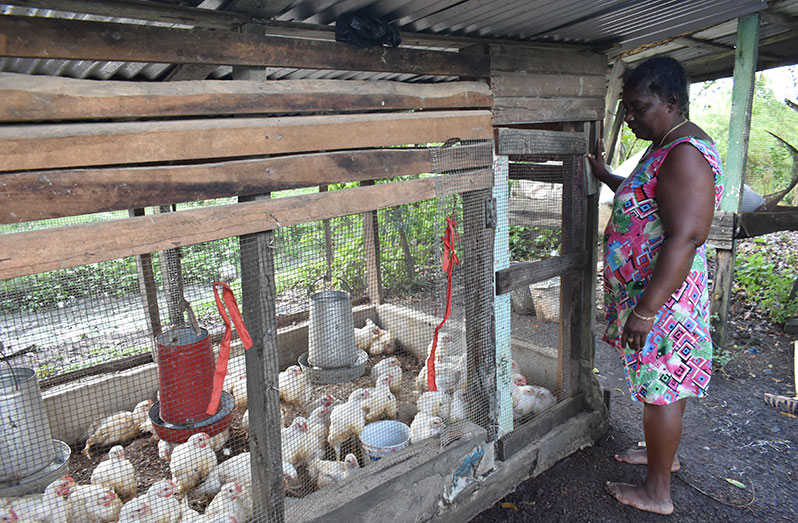 The villager stated that the best part about living in the community is that she is by herself and has the privacy she needs and has been there for the past 24 years.
"Around here, life is how you make it and for you to have a good life, you must be working, an income must be coming in the home from somewhere and the best way to have your own money to spend is to work for it," she said.
According to Alexander, she came to the village and heard that Lochaber means looking after each other and she sums it up, saying: 'It's like minding each other's businesses, but this could not be verified, since the elders of the village have all passed on.
"Around here, it is one way, go to work, come home or stay at home and do things to make a living and often if there is any drama in the village, all would come out for the show," she said.
With a spacious yard, Alexander is cultivating greens and fruits and has 57 meat birds and some pigs, which were in separate pens in the backyard.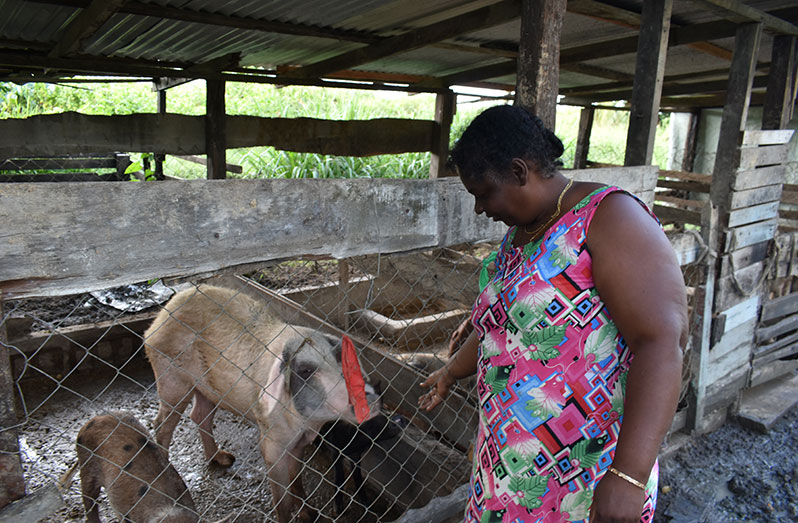 Alexander disclosed that after her husband passed away, she had to do things to offset expenses in the home and started rearing chickens and pigs.
The vegetables would be used in the kitchen and the fruits sold or shared within the village to neighbours.
Alexander has several different types of mangoes, all bearing and in season and a lot of fruit trees such as whitey, soursop, golden apple, star apple, five finger and coconuts.
In the vegetable garden, there is fever grass, fine thyme, karila, bora, ochro, calaloo and peppers among others crops.
There are two houses on her plot of land: a small wooden cottage which was her first home and the other a newly built one-storey house a few yards away.
She has a fireside and would use it when the weather is in her favour and some dogs as pets.
Alexander is a pleasant person, who is always up for a chat and she has a friendly disposition which draws people to her.
That day when the team visited, she stated that she had some chores to complete and was going to New Amsterdam to run a few errands.
She told the Pepperpot Magazine that Lochaber is her home and she is contented with life there, even though at times it can become very challenging; since COVID-19 things have been a bit slow at her end.
Alexander devotes her time to work, her personal life and being a councillor, serving the community.
She stated that doing something meaningful with her time is a good deed and she knows that her input is necessary to bring about change.
Alexander reported that she would also sell cold beverages from her home and would buy stocks from New Amsterdam once a month.