This week's column piece is quite personal and was triggered because of some social media posts I've seen recently on the stigmatising of women's menstrual cycles. I've decided to make it personal because it hits home for me. I'm very familiar with the shame, disgust and stigmatisation that surround a woman's period. From my very first period to now, after all these years, I'm still puzzled as to why something that naturally occurs to us is "taboo" in many aspects of our culture and everyday life. You'd think the year is 1950 if you ever listen to some of the present-day opinions of people on periods and the menstrual cycle.
This "period stigma" is holding women and girls back. The shame and disgust surrounding it sometimes would force women into hiding for those 3-7 days—away from work and school. It demotivates women and girls from learning and understanding more about their bodies as if it isn't a part of their sexual reproductive and health rights as human beings. These conversations are important and it should be a necessity for every gender and every age to learn more about periods. We ought to break these cycles of misinformation and misrepresentation. Some young girls are so scared of openly discussing their periods that they can't even say the word "period." They were taught to call it "the red car," "that time of the month," or anything that sugarcoats the actual name of this naturally occurring phenomenon that has occurred from the dawn of time amongst women.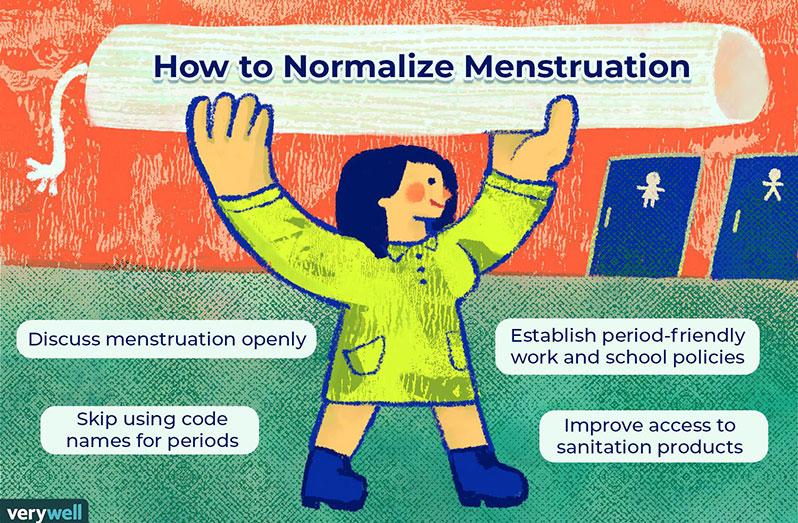 Apart from the stigmatisation of periods, women are also faced with "period poverty" and a lack of sufficient quality sanitary products. Women and girls in Guyana should have their menstruation without shame, discrimination, or fear. I remembered in school, whenever I had my period and it was known, some children would stay away from me during those days. Or I was met with faces of disgust by both girls and boys whenever there was a period accident on my school uniform. I remembered the question, "can you please check my back?" We girls always asked whenever we got up from sitting down because we were terrified of having any blood stains on our uniforms. It's as if it's an innate and biological fear that's embedded into most of us about our periods, even before we even know what it is or what it looks like.
I hope that we can someday teach more about periods in schools as part of a comprehensive sexual education programme that is age-appropriate and gender-inclusive. I also hope that we can find ways and means to continuously educate all Guyanese on sexual education, specifically periods and the menstrual cycle. There are grown folk walking the streets of Guyana, raising children and grandchildren of their own—educating said children with misinformation that was passed down generations upon generations. While schools can educate children at an appropriate age, their first set of socialisation and education occurs in the home. As such, it is important that parents are equipped with the right set of tools and information to help their children. Instead of demonising women and girls for having periods, we should promote and foster nurturing environments for them.