– Daniela Araujo recalls her Dubai performance
WHEN the Guyana Chronicle first interviewed 20-year-old Daniela Araujo in 2020, she had just launched her career as a spoken word artist and her aim was to leave her "footprints in the sand" and just grow into the best version of herself.
Exactly one year later, Daniel has begun to see these goals manifest, especially after she was selected to represent her country at the recent 'Guyana Day' celebrations in Dubai – one of the most iconic countries in the world.
Flooded with emotions of excitement and gratitude for the remarkable opportunity, Daniela says she cannot wait to see what else the future has in store. She recalled that at the beginning of her career, an opportunity this big was nowhere in sight.
"Poetry is not something that people pay a lot of attention to; it's not like music. I never thought that it would have gotten me to where it has, but I am grateful. It was my first time performing on an international stage," a candid Daniela told the Buzz on Thursday.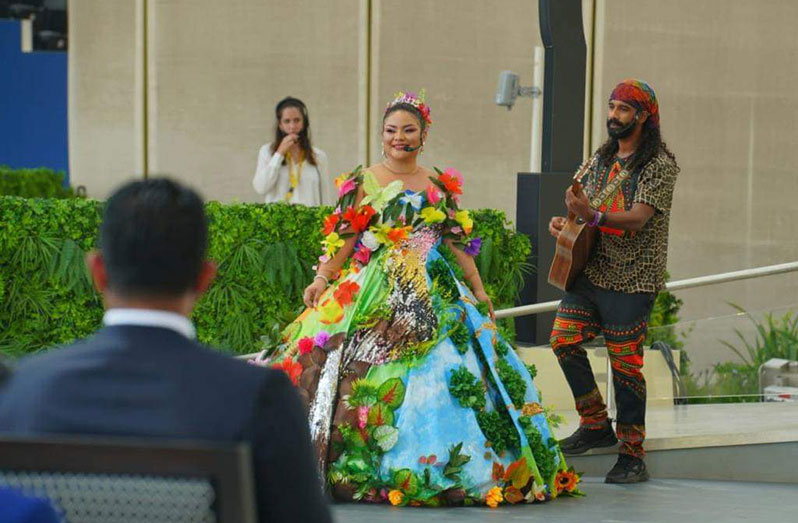 Describing her experience in sheer delight, she said: "I was excited, anxious, and nervous. The experience was amazing; the feeling that I had leading up to the end of it was really surreal. It was one of the best feelings in the whole world knowing that I went to represent Guyana and I would've helped to engrave my country's culture and talent in the world."
Daniela's career has definitely been positively impacted by the experience and she is using the opportunity to encourage others who have similar dreams to go for it. "I went from merely dreaming that I would ever be on a stage to performing at the world expo in Dubai. It still feels unreal to me. On that stage, I lived a dream," a smiling Daniela shared. She continued, "To everyone who has a dream, it is possible once you believe, as cliche as it may sound. You'd be surprise how life works and where your art can take you."
In one of the pieces Daniela performed said, she emphasised the belief that "Champions aren't born; they create themselves."
Reflecting on Guyana's cultural representation altogether, Daniela said, "I believe my team and I worked so hard, overcame all our obstacles to be where we are and to be 'champions'; we created ourselves from everything that was sent to hold us back."
Daniela, also a model and advocate for social issues, has in the past, opened up about her struggles with her mental health. She has since been using her platform to promote these and other issues that are affecting society.
Outside of physical work, the young woman is also big on introspection. "I want to be able to continue to spread love, kindness and light wherever I go; it's one of my personal goals. I believe in being the light. And, the world is in a very, very dark place so I tend to shine my light wherever I go; educate people, uplift people, inspire people with the things I do," Daniela posited.
To this end, she said that her favourite quote is also the motto that drives the way she lives her life. It reads, "As we let our own light shine, we unconsciously give others the permission to do the same."
Daniela has encouraged her peers to work hard, get educated and always be independent and kind. "They might forget your name but they will never forget the impact you've made," she added.