THE prolific Shomari Wiltshire will lead Guyana's three-man squash team, at the inaugural Junior Pan American Games in Cali, Colombia from November 25 to December 5.
He is joined by Samuel Ince-Carvalhal and Caribbean Under-15 champion, Michael Alphonso.
On Saturday, the Guyana Squash Association (GSA) staged playoffs at the Georgetown Club Courts, Camp Street, Georgetown, to select two of the three spots.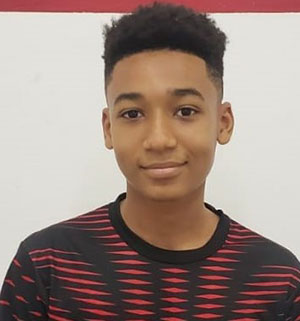 According to a release from GSA on Monday, "Wiltshire, away at school, secured his spot with previous outstanding performances and his consistent reign at the head of the Junior team."
Wiltshire, the reigning Caribbean Under-17 champion is at the Avon Old Farms School in Connecticut – an institution that boasts of a rigorous squash programme and a notable academic agenda.
The release indicated that two remaining spots were filled via round-robin competition with the contestants being Alphonso, Ince-Carvalhal, Nicholas Verwey, and Mohryan Baksh.
Summarised scores:
Samuel Ince-Carvalhal defeated Mohryan Baksh 10-12, 11-2, 11-2, 11,4
Michael Alphonso bettered Nicholas Verwey 11-13, 13-11, 12-14, 11-3, 11-4
Michael Alphonso beat Mohryan Baksh 11-7, 11-4, 11-6
Samuel Ince-Carvalhal defeated Nicholas Verwey 11-5, 9-11, 8-11, 11-3, 11-9
Nicholas Verwey thrashed Mohryan Baksh 11-8, 11-2, 11-5
Samuel Ince-Carvalhal trounced Michael Alphonso 11-5, 11-2, 11-3.