WHILE their 'flick' bowling counterparts were taking a beating at the hands of Demerara on the adjoining ground at Keele Top, North York, Ontario, Canada last Sunday, Berbice ensured the spoils were shared equally with their round-arm side dishing out a seven-wicket win over Essequibo in their Inter-county final clash.
Watched by a bumper crowd on what was Thanksgiving weekend in Canada, Berbice reached the required target of 96 with four balls to spare after the game was reduced to 12 overs from the original 20 following threatening afternoon clouds.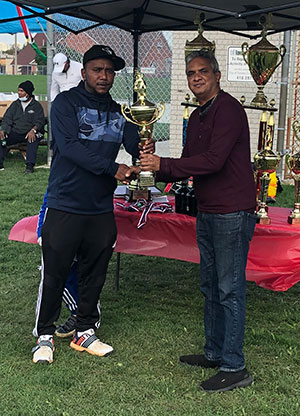 The Berbicians lost three early wickets before Deodar Gopie (27 not out) and Lindon Persaud with an undefeated 20 ensured there were no further inroads. Gopie, clobbered three sixes in his fine knock while Persaud struck a four and a six.
Rawle Scott had earlier belted two sixes in his 18, batting at number three while opener Faoud Mohammed hit 17 (two sixes).
Earlier, Imtiaz Badshaw was the standout for the boys from the Cinderella County, blasting five sixes in a top score of 43 while Abdool Azeed's 19 contained a four and two sixes as Essequibo reached an inadequate 95 for eight in their allotted 12 overs.
Persaud, who was later named the Most Valuable Player (MVP) bagged four for 10 to crown a fine all-round performance while Naresh Bhagwandin took two for 11.
Apart from copping the winning Trophy Stall (Canada) trophy, Berbice also carted off $2 000 (Can) while Demerara collected a trophy and the $500 (Can) runners-up prize. Players from both teams were also the recipients of medallions.
In a feature four-team 10/10 'End of Summer Bash, played earlier in the day, Assassins got the better of Apex, winning by 29 runs.
The winners collected $1 000 (Can) and a trophy while the runners-up took home a trophy. Like he did in the Inter-county 'flick'" bowling Inter-county final, Avinash Sookdeo was also crowned the MVP for his attacking innings of 84.
The entire day's proceedings were organised by Dassie and Friends Production. Damodar Daesrath is a former Guyana national captain, now residing in Toronto, Canada.
Prior to the start of the presentation ceremony, brief remarks were given by Ontario Masters Softball Cricket Clubs vice-president (acting) Orin O'Neil, who praised Daesrath for his efforts in keeping the grassroots game alive in Toronto.
(Frederick Halley)