ANN-MARIE closed her eyes and inhaled deeply as the plane started its descent.
She was home again!
Elation, like the cool rushing streams in the forest, flowed through her being. She had missed her people, the rainforest with its astounding flora and fauna, amazing waterfalls and adventurous life.
She was a girl of the Arawak tribe and proud of her Indigenous heritage, for history had documented the different tribes who came and settled in the Hinterland as the first people. Stories of their lives from the beginning were written on the foliage of the rainforests and borne by the wind across the rolling savannahs – her home in Guyana, South America.
She was returning home from expeditions to ancient cities and sites in Central America with her English husband, David. He and his team of archaeologists had unearthed and documented many places and relics of the early inhabitants. It was of great interest to Ann-Marie for, being on the team, she discovered pieces of her ancestral history scattered like leaves across the Americas.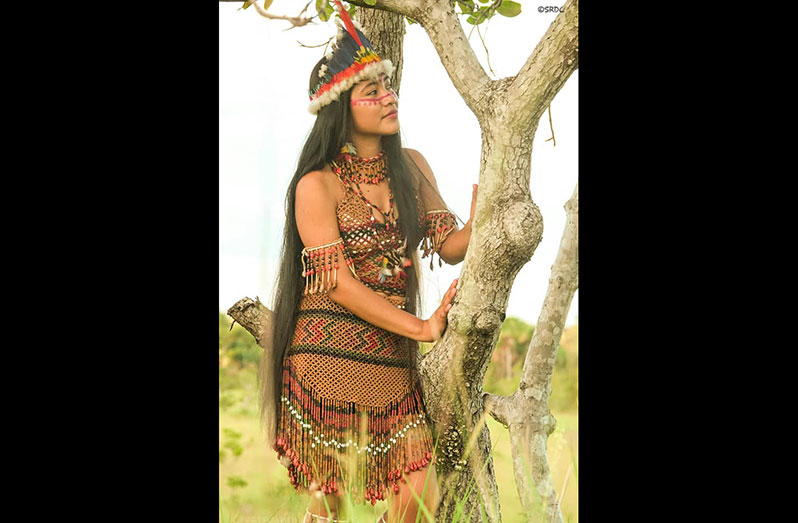 The old and valuable artifacts of the Mayan and Aztec dynasties in sealed chambers with inscriptions on the walls. On the stone steps of temples, she had walked barefoot, visualizing the Gods and Goddesses of that era, the rituals and sacrifices.
The spiritual power of the Gods of the past was a bond she shared with her tribal people, an inheritance that had passed down and impacted deeply in her mind, was that unforgettable journey from Asia across the Bering Strait over 7,000 (seven thousand) years ago to this land in South America.
David took her hand and looked at her with a warm smile, "Happy now?"
She nodded and leaned her head on his shoulder as the small plane touched down on the interior airstrip. There was a small welcoming party for the special couple and the toshao's son presented her with a bunch of rare orchids. She inhaled the heavenly scent deeply and gave him a warm hug.
Tears of happiness gathered in her eyes at the joyous welcome she and David received in her village.
That evening there was a celebration with a feast, songs and dances not only for her return, but also for her little princess on the way. Ann-Marie went to bed in her benab, the toned-down sounds of music and laughter lulling her to sleep in this – her paradise.
In her dreams, scenes of her adventurous life were replayed in nature's secret little hideouts, the treacherous trails and dark, forbidden places deep in the forest, bathing under the waterfalls and swimming with her river friends, the otters.
Such an exciting and fun life it had been, facing dangers sometimes, when she was free to run, play and explore, but a chance came for a new life when David, the English boy she had rescued when his family's plane had crashed, fulfilled his promise to her and came back years later.
He wanted her to share his life, so he could take her on travels across the world on archaeological expeditions. They had gotten married and she left the village with him, but Ann-Marie had missed home too much. Three years later, one early morning in Guatemala, she had told David.
"Something has happened, I have to go back home."
"What happened?" he had asked, concerned she hadn't been too happy.
She had smiled, a glow on her face and, taking his hand, placed it on her abdomen.
"I would love for our baby to be born in my little paradise at home."
It was wonderful news for David and touching her face gently, he had said, "If that's what will make you happy, we will return."
So four months later, David had taken a temporary leave from his work so they can return to her home to await the birth of their baby. A happy smile played across her face and she turned into her husband's arms, laying her head on his chest in the bliss of sleep, the peace and quiet of the night.
Ann-Marie awoke early the next morning before the mist had cleared from the mountain tops. She stepped outside, her bare feet kissed by the morning dew on the grass and she inhaled deeply, the cool fresh air.
"Such a blessing!" she expressed quietly, her hand touching her abdomen lovingly.
"She will be the princess of El Dorado," she had told David as they had prepared to return.
He had looked at her somewhat surprised, "The mythical El Dorado?"
"Well it's a popular story that started since a long time so we can own it," she had smiled with pride.
El Dorado, the City of Gold searched for by explorers but never found and it became a myth to the outside world, a legacy for the Indigenous peoples.
As a young girl she had been fascinated by the story, but as she grew older, her interest faded for it seemed unlikely El Dorado ever existed until one day she stumbled upon something deep in the rainforest where no one had ever walked before. It was as though a door had opened to let her in and she had stood there in awe looking around at the flowing streams, rare flowers and exotic birds. What took her breath was the gold sparkling all around.
"Could it be…?" she wondered, unable to believe it actually was.
She had walked to the stream and scooped up water with both hands, watching in disbelief as the water trickled through her fingers, leaving small gold particles on her hands.
A deep thrill passed through her body and she stood there rooted for a long moment.
"No one has ever found this place. Why me?"
"Because you are a chosen daughter of our people," a low voice had said from somewhere, "This is now your secret, that you will pass onto your daughter."
"That I will do," Ann-Marie said to herself as David stepped out of the benab looking for her, "El Dorado will forever be our legacy."