PUBLIC Works Minister, Bishop Juan Edghill, has commissioned seven roads in Region Two.
During the ceremonial opening of the roads Sunday, the minister said upgrades would not only be done on highways and main roads, but miscellaneous roads across the regions as well. Enhancing these roads will also boost Guyana's development. "This what we are doing is not the only thing that we're doing because when I do the aggregate of all the works, we are doing on the Essequibo coast, just from the Ministry of Public Works, in every NDC we have awarded contracts to ensure the road shoulders along the main access road are kept clean… with the intent to ensure that the roads are properly drained so that they don't deteriorate."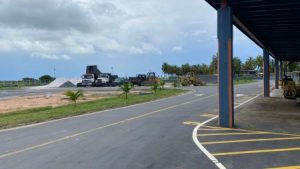 Minister Edghill said the government was working to ensure there was job creation on the Essequibo Coast and that young people had access to equal opportunities. He said the people of Guyana were the government's priorities, and, as such, they will be provided for.
"The Irfaan Ali-led Government is committed to taking care of every Guyanese, in every community in a non-discriminatory manner and, us being here this afternoon, we bare testimony to that fact." He urged the residents to maintain the roads. The minister also noted that the road works had created employment for five contractors in the region. Meanwhile, discussions with the Ministry of Tourism, Industry and Commerce were ongoing to provide a modern ferry service for the people on the Essequibo Coast and other travellers. The improved service will see travellers being able to access online booking and ticketing.
Some $123.5 million have been expended on roads in Region Two since the government took office.  Minister Edghill said he was satisfied with the construction and applauded the contractors for completing their work within the given deadline. (DPI)