–as House Speaker 'shuts down' Harmon's motion for debate
VICE-President, Dr. Bharrat Jagdeo believes the protests against the government's latest move to push the COVID-19 vaccines are politically instigated. In a Facebook post on Monday, Jagdeo described the picketing exercise as being "absolutely abhorrent".
He went on to question the motive behind the protests, and the reason why no such actions were taken against the former David Granger-led administration, which had instituted far more drastic measures than requiring lifesaving vaccinations for Guyanese.
The Vice-President made specific reference to the gazetted Public Health Ordinance of March 16, 2020, which saw then President Granger signing an Order to enact Article 139 (1 (g) of the Constitution, which gave the government the authority to not only destroy people's possessions and properties, but also deprive persons of their personal liberty and freedom of movement.
More specifically, Jagdeo reminded the House that the Order empowered the then Public Health Minister, Volda Lawrence to implement several drastic measures against persons who have been exposed to the novel coronavirus (COVID-19). Those measures include the destruction of the personal effects, goods and buildings of Guyanese "exposed" to infection from COVID-19; the conduct of house-to-house visitation; the restraining, segregating and isolation of persons who may have been exposed to COVID-19; and the prohibiting or restricting of movement of persons, as well as public or private conveyances within, and to and from, areas deemed infected.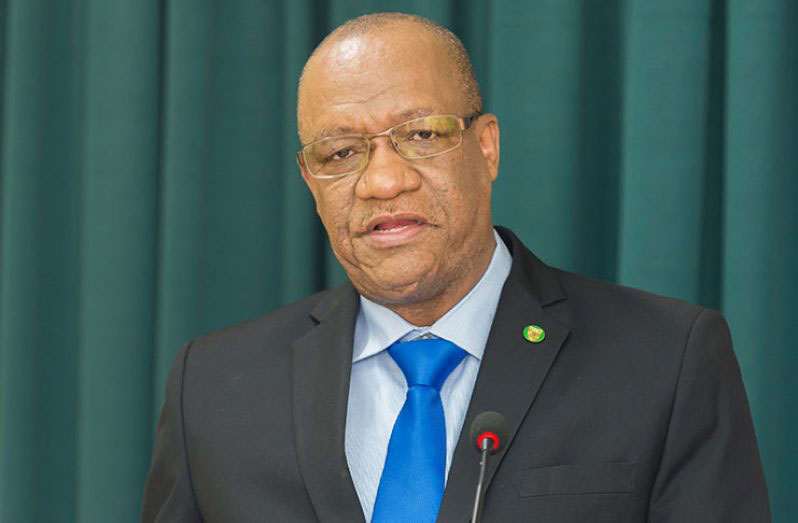 "The naysayers protesting the push for increased vaccination against COVID — ironically clad in mask and face shields — remained silent in the face of Granger's draconian order," Jagdeo posited.
The Vice-President further lamented, "It is absolutely abhorrent that while every effort is being made to save lives, politically aligned elements are instigating protests."
He related that since taking office in August 2020, the People's Progressive Party/Civic (PPP/C) has continued, assiduously, with its efforts to ensure that Guyanese lives are saved by securing COVID-19 vaccines, and advancing an aggressive vaccination campaign across the country.
As it is, Guyana remains one of the very few countries to have been fortunate enough to secure enough vaccines to inoculate its entire adult population.
"It is a fact that the global pandemic will continue to take the lives of our people unless we, collectively, act responsibly," Jagdeo asserted. He said that already, in excess of 260,000 persons have received their first dose, while over 143,000 are fully vaccinated.
CANNOT BE CATEGORISED AS URGENT
Meanwhile, inside the National Assembly, Opposition Leader Joseph Harmon attempted to have the latest gazetted measures debated, but Speaker of the National Assembly, Manzoor Nadir shot down the request, saying that the issue cannot be categorised as one that is urgent.
"The issue here is urgency; what we have is an ongoing issue, which, under the rules that apply to urgency, doesn't apply, and so I would not be able to allow your request," Nadir told Harmon in the Dome of the Arthur Chung Conference Centre.
As part of the new measures, the PPP/C government has decreed that unvaccinated persons will not be allowed to visit government ministries or agencies unless they make an appointment.
Harmon believes that the new requirements "severely hamper the ability of the people of Guyana to access public and government services".
The new measures have also made it mandatory for all operators and conductors of public transportation to be vaccinated, and always have with them their proof of vaccination. Members of the private sector have since lauded the new measures, and implemented some restrictions of their own. As a result, unvaccinated persons no longer have unhindered access to certain hotels, bars, restaurants and events. As a matter of fact, only vaccinated fans were allowed entry into the Guyana National Stadium to witness the West Indies versus Pakistan T20 tournament, which was hosted on July 31, and August 1 and 3 at Providence, East Bank Demerara.
Since the measures were implemented, Health Minister, Dr. Frank Anthony has announced that the national vaccination efforts have seen a notable increase in persons turning up to be vaccinated.
PEDDLING MISINFORMATION
Even though Guyana's vaccination campaign started off in a vibrant manner, Dr. Anthony said there have been a few political authors who have been peddling misinformation about the vaccines and their efficacy.
To make matters worse, Harmon, who has already been fully vaccinated, hosted a press conference where he called for the administering of the Russian-made Sputnik V vaccine to be suspended, claiming that it could be fake. It is the same vaccine that he himself had been inoculated with.
Nonetheless, Harmon's utterances were soon put to rest, as the manufacturers of the vaccine responded with documentation which attested to the authenticity of the jabs. Although unfounded, the Opposition Leader's criticisms have caused some amount of injury to the national vaccination efforts.
Added to that, Harmon had also criticised the government for purchasing overpriced vaccines; however, President Dr. Irfaan Ali immediately responded, insisting that even though the cost of vaccines have increased due to its global demand, the PPP/C Government will continue to spend whatever is necessary to protect its citizens from the virus which had already taken millions of lives. In Guyana, in excess of 554 unvaccinated persons have died so far. Although the vaccines do not guard against the virus, they have been proven to prevent death and other serious consequences of COVID-19.
"I appeal to all our people to ensure that they are vaccinated, so that our country can move faster to achieving herd immunity, and to ensure that we reduce the number of lives being lost as a result of this global pandemic," Dr. Jagdeo pleaded in his Facebook post.