By Francis Quamina Farrier
Good comedians are among some of the most brilliant people one can know. Such brilliance need not be supported with academic qualifications- not to say it doesn't help tremendously in being a qualified person. A real, up-scale comedian can be someone who has a PhD level in their craft. We are not referring to those little folks who walk onto a stage, gyrating with arms up and hands flapping and behaving as though they are not the gender stated on their birth certificates. Neither are we referring to those who have yet to develop the art of making us laugh at ourselves due to the nonsense we say and do from time to time – or all the time. The objective of such brilliant comedians is to help us become our better selves and making us laugh in the process. Their aim is to rid ourselves of removable flaws. We want to throw the spotlight on serious comedians who can insult us or throw the nonsense we say and do directly back into our faces, and we respond by inwardly or outwardly, saying, "Throw more. That was most refreshing. Help me to be my better self" as we clap and laugh ourselves into stitches. Good comedians are necessary in every society.
I met one such Guyanese comedian at GUYFESTA 77 – The Guyana Festival of the Creative Arts – which was the local version of CARIFESTA. (A GUYFESTA has not been held since the turn of the century). Taik Anand Singh from the Essequibo Coast was a hit with the audience and the adjudicators from the moment he walked on stage with his two partners-in-comedy at that GUYFESTA 77 session which was held at Anna Regina on the Essequibo Coast in Region 2. There is a certain brilliance which not many comedians bring to their audiences. It is a brilliance of intelligence; nothing down in the gutter. Nothing for cheap laughs, but at the summit of a shining mountain of comedy. The audience laughs, not at smut thrown into their faces, but serious issues creatively sugar-coated with humour. An example could be that song, "Just a spoon full of sugar makes the medicine go down, in a most delightful way." One can recall a throwback to the presentations of the great Guyanese Santonian Bill Rogers, who did his in song. Recall "Jimmy Black Pudding" and "Fifteen Cents Sweetheart" for example. Also, his Weed Song. There was also the entertaining team of Sam Chase and Jack Mello – Sam and Jack. On many occasions, Sam appeared in skits dressed in female attire, somewhat like the famous American Tyler Perry, who plays the mature character of the wise and lovable Madia. He simply plays a female the way Guyana's Sam Chase did so many years ago. It must also be recalled, that those skits always had messages of enlightenment for the audience.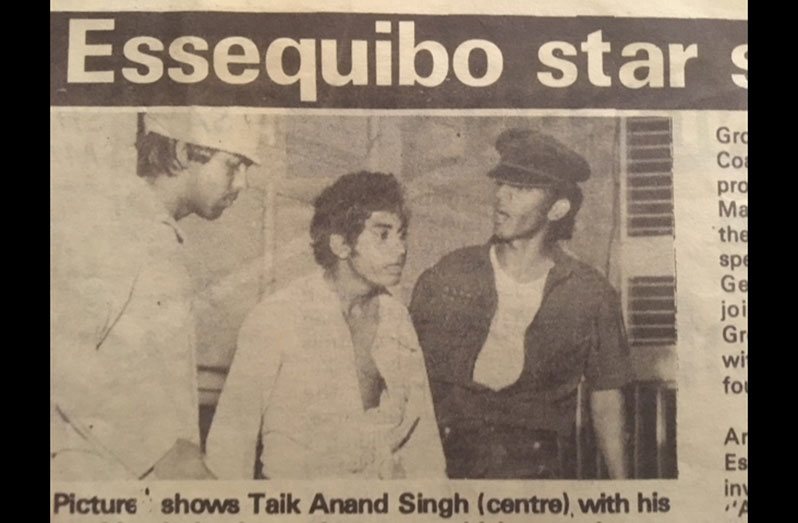 Taik Anand Singh has never played the role of a female. His characters are, more often than not, a simple-looking genius. The characters he plays are never out of reach of the simple folks in the audience and are mostly role models. It was a role he mastered and gave the feeling to the ordinary persons in the audiences that brilliance is not necessarily the exclusive property rights of intellectuals and University graduates.
Taik Anand Singh migrated from his native Guyana some years ago and resides in the United States, where he has climbed the mountains of abilities in academia with practical purposes. His studies and qualifications in the areas of issues of security, crime and violence in the home and in the society, have motivated him to establish The Guyana Centre for the Prevention of Family and Domestic Violence, as he puts it "To take a bite off Domestic Violence in Guyana." That organisation certainly has its work cut out for it.
It is known only too well, that there is an extensive amount of domestic violence, not only at the male/female level but also violence in many forms against the elderly and the very young. In many cases, within families. There can be no human rights when this evil gnaws away at the human spirit. No self-righteous or civil-minded individual or civic association could hide its head in the sand or sweep this destroyer of homes under the rug. This social evil must be laid bare and destroyed. It needs to be given a Mike Benjamin Knock Out (KO)  punch and left permanently flat on the canvas.
The one-time stage comedian, Taik Anand Singh, is also involved in counter-terrorism, aviation security, predictive profiling, interrogation, criminal investigation, domestic violence, child abuse and human trafficking. He has received world-class training from such prestigious institutions as the National Family Justice Center Alliance, the United States Department of Homeland Security and The Federal Law Enforcement Training Center. Armed with his comprehensive training and qualifications, Taik Anand Singh works diligently to make our Dear Land of Guyana a better place to live.