–as drilling of water well commences at Wakenaam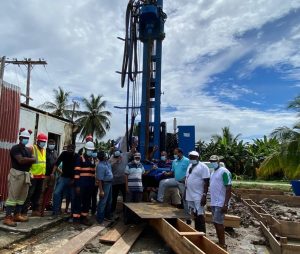 CLOSE to 5,000 residents of Wakenaam, Region Three (Essequibo Islands-West Demerara), are set to benefit from improved water supply, as the Guyana Water Incorporated (GWI) commenced drilling of a new water well on the island. According to a press release from GWI, the drilling of this well forms part of the utility company's efforts to improve water supply across the country. Chief Executive Officer (CEO) of GWI, Shaik Baksh, and a technical team visited the island on Monday, to inspect the ongoing operations at the Noitegedacht well station. The well is being drilled using a new rig acquired by the company. Chairman of the Wakenaam Neighbourhood Democratic Council (NDC), Sheikh Ahmad, Councillors of the NDC and several residents were also present during the site visit.
With work ongoing to complete the drilling of the well soon, there are also plans to construct a water treatment plant on the island within the next two years. As it is now, the island is currently serviced by two well stations, located at Free and Easy, and Noitegedacht. Shortly after assuming office in the latter part of 2020, Baksh visited the island and found that residents were experiencing poor levels of water supply. This was attributed to low water production at the Free and Easy and Noitegedacht well stations. The wells, which are now over 45 years old, showed signs of structural degradation. A GWI team has already cleaned and rehabilitated the wells to increase production.