–as House clears amended Adoption Bill
A NEW piece of legislation intended to address the phenomenon that is Trafficking in Persons (TIP) will soon be presented to the National Assembly for consideration, according to Attorney-General (AG) and Minister of Legal Affairs, Anil Nandlall, S.C.
The AG made this announcement on Tuesday as he stood to debate the Adoption of Children (Amendment) Bill, which was taken to the House by Minister of Human Services and Social Security, Dr. Vindhya Persaud. Nandlall told the House that once finalised, the new Bill will contain clauses that specifically address the protection of children.
"We have a new trafficking Bill that will be brought to the Parliament that has in it several provisions that will go hand-in-hand with the provisions here against transnational smuggling," Nandlall said, as he defended the proposed Adoption of Children (Amendment) Bill.
The amendments, piloted by Minister Persaud, seek to bring the Adoption of Children Act in conformity with the Hague Convention on the Protection of Children and Co-operation in Respect of Inter-country Adoption.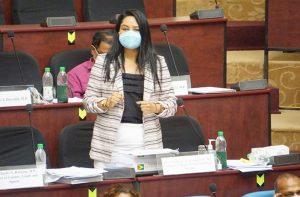 The Convention is an international agreement to safeguard children who are being adopted by persons outside of their country of residence.
With the new amendments, the Hague Convention would have the force of law to operate within Guyana.
Nandlall said that without the Hague Convention being properly enforced in Guyana, children going through the process of inter-country adoption run the risk of being victims of transnational crimes. To this end, he said that bringing Guyana's laws in conformity with the Hague Convention provides children with the requisite legal protection.
"This convention helps support the protection of our children from these crimes by requiring each state to put a safeguard to prevent the harm and exploitation of our children," Nandlall said.
He emphasised, too, the need for Guyana to approach the protection of children in a manner that is comprehensive and all-encompassing. It is against this backdrop that the new trafficking bill will be presented to the parliament.
"…that [new bill] has in it, several provisions that will go hand-in-hand with the provisions here against transnational smuggling," Nandlall related.
It was several suspected cases of human smuggling that prompted the Government of Guyana to impose visa requirements for Haitian nationals coming to Guyana.
In June, dozens of Haitians, consisting of mostly youth, children and a pregnant young woman, were discovered at a hotel in Skeldon, Region Six (East Berbice-Corentyne).
The government had said that its visa requirements were geared at addressing suspected human-smuggling, since it has long been suspected that there is a huge trafficking in persons and human-smuggling ring, including children, taking place in the Caribbean region and Guyana is being used as a transit point in this racket, which includes Cubans, Nigerians and Haitians, among others.
Meanwhile, in defending her proposed amendments to the Bill, Dr. Persaud said that it seeks to safeguard children from being abused and exploited under the pretext of being adopted by an overseas family. Dr. Persaud recognised that even though inter-country adoption is usually a humane commitment to children, persons can fall prey to criminal elements.
"Even a very well-intentioned legal process like adoption can be manipulated, abused and exploited by profiteers," Minister Persaud noted.
"There are persons in the world who are willing to sell children; unscrupulous persons willing to buy children, and adults seeking to obtain children for baseless and selfish reasons, such as sexual labour and criminal exploitation," the minister lamented.
The Human Services and Social Security Minister emphasised that during the adoption process, violations of the most basic rights of children can occur.
"These violations are often perpetrated under the cover of supposedly humanitarian acts, and justified by the simplistic view that a child might be better off in a materially-rich country," Dr. Persaud said.
ADDED SUPPORT TO PROTECT CHILDREN
She said that the amendment to the Bill was important, since it will see Guyana receiving added support to protect its children, more specifically, children being adopted by persons outside of Guyana. "This convention is important, as it advances a system in which contracting States work together to ensure the protection of children. Cooperation between contracting States is essential for the effectiveness of any safeguard put in place," Minister Persaud related. She added: "Enshrined within that convention are safeguards to prevent all of the atrocities of which I spoke." Dr. Persaud said that the amendments will enable international cooperation between authorities in origin and receiving countries, under international best practices.
Only recently, with in excess of 500 children currently in institutional care, Guyana constituted an Adoption Board to oversee adoptions of children throughout the country.
Although the board has commenced its work, the processing of applications for international adoptions had been stalled, owing to Guyana's failure to conform to the Hague Convention. The treaty, signed by 99 countries, focuses on the need for its member states to work together to prevent the abduction, sale or trafficking of children.
In 2019, Guyana became the 100th country to sign on to the convention; however, it failed to put the legal systems in place to accommodate the enforcement of the convention.
Guyana's Adoption Board comprises Subhadra Sukhai; Anuradha Persaud; Vanessa Benn; Sarah Ibrahim; Dwayne Adams; Sylvia Conway, and Anne Green, Director of the Childcare and Protection Agency (CPA).