AS mandated by Article 127 of the Constitution of Guyana, the Chancellor of the Judiciary and the Chief Justice can only be confirmed by the President, acting after obtaining the agreement of Leader of the Opposition.
In these regards, President, Dr. Irfaan Ali has made it clear that Leader of the Opposition, Joseph Harmon, must quit his "gymnastics" and recognise the legitimacy of the People's Progressive Party Civic (PPP/C) Government, which will remove the barrier and pave the way for the substantive appointments.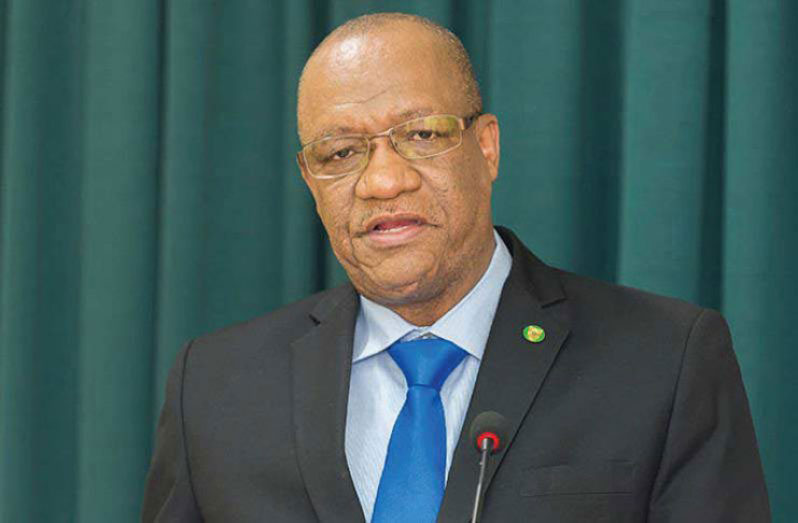 The President shared the remarks during his address to the nation and press conference held to commemorate the People's Progressive Party/Civic (PPP/C) first anniversary back in government on August 2, 2021.
"As you are aware, the Leader of the Opposition has still not issued any statement recognising the legitimacy of the government. So, I don't know who I am consulting with," Ali said.
"I am sure Harmon definitively knows who also is the Leader of the Opposition and who is the President, so the ball is in his court to do the right thing and I'm hoping – I'm a very positive person – I'm hoping that very soon he will stop his reckless statements about the government and do what is right in the interest of the people of Guyana," the President added.
Article 124 of the Constitution explicitly states that the Chancellor shall be the President of the Court of Appeal. The Chief Justice, on the other hand, is the President and most senior judge of the High Court.
The position of Chancellor is one of utmost importance, pursuant to Article 95 of the Constitution, during any period when the office of President is vacant the office shall be assumed by, the Prime Minister or if there is no Prime Minister, a minister as elected by Cabinet may assume the position. However, when there is no Cabinet, the Chancellor will act in the role.
In March 2018, Justice Yonette Cummings-Edwards and Justice Roxane George were sworn in to perform the functions of acting Chancellor of the Judiciary and acting Chief Justice, respectively.
No Chancellor or Chief Justice has been confirmed in the positions since 2001; Justice Cummings-Edwards took up the mantle following the retirement of Justice Carl Singh, while Justice George was appointed to the post following the retirement of the late Justice Ian Chang, S.C.
In December 2020, Attorney-General and Minister of Legal Affairs, Anil Nandlall, S.C., expressed that with the Constitution being reformed to specifically accommodate consultation for the appointment of the top positions, Guyana remained without a substantive Chancellor and Chief Justice.
"I say that it is regrettable since the Constitution has been amended to effect that change and we have never had it filled," Nandlall had said, as he opined that given the circumstances, it might be requisite to revisit Article 127 of the Constitution.