–over 5,000 house lots distributed, billions of dollars spent on infrastructural enhancement
THE importance of a house/property cannot be overstated, as it not only facilitates the creation of a home, but also acts as collateral, and creates room for innovation and other key economic benefits. Aware of the cumulative economic and welfare benefits of a house or land, the Ministry of Housing and Water has, over the past year, invested billions of dollars to enhance local infrastructure and allocated over 5,000 house lots. Guided by a coordinated plan which is intended to enhance the lives of every Guyanese, the Housing Ministry has been 'fanning' the country and spreading the benefits in almost every community. Under the former A Partnership for National Unity + Alliance For Change (APNU+AFC) administration, the Central Housing and Planning Authority (CH&PA), which fell under the then Ministry of Communities, distributed a total of 6,780 house lots in areas in regions Four, Five, and Six within their five years in office.
The new People's Progressive Party/Civic (PPP/C) government, within just one year, is well on its way to distributing 10,000 house lots by the end of this year, with 7,000 more land titles set to be distributed within the next five months.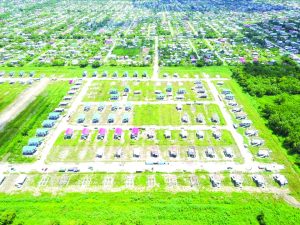 Housing and Water Minister, Collin Croal, had said that the investments made by the government to develop local communities are significant, and he encouraged those persons who received house lots and titles to seek out the banks for assistance and financial guidance to start building their houses quickly.
Access to adequate housing is viewed as a basic human right, and considered to be an integral factor for the enjoyment of other economic, social and cultural rights.
And, with Guyana's economy poised to quadruple in the coming years, the government has started establishing the conditions for Guyanese, especially from the low and middle-income brackets, to have access to adequate housing. While on the campaign trail, the PPP/C committed to making 50,000 house lots available across the country over the next five years.
"With the influx of foreign investors, we must be willing, as a nation, to embrace the technological advances in the construction sector which will provide opportunities for training and further expedite the construction of homes, thereby allowing us to fulfill our manifesto promise of 50,000 lots," Minister within the Ministry of Housing and Water, Susan Rodrigues had said.
In moving ahead, the government's plan is not only to distribute those house lots, but also stimulate the economy by creating jobs and encouraging spinoff investments.
Based on statistics from the Housing Ministry, over 3,000 Guyanese are benefitting from infrastructure and construction jobs, while hundreds of houses are being created for young professionals on the East Coast and East Bank of Demerara. Further, the Housing Ministry has allocated $12 billion for infrastructural development in 22 new and existing housing schemes and another $2.3 billion for the construction of the Eccles to Mandela Highway.
This will supplement the soon-to-be-completed and commissioned $500 million Diamond to Herstelling, East Bank of Demerara (EBD) road link.
MORE SPINOFF BENEFITS
Also on spinoff benefits, in order to encourage construction, the government removed value-added tax (VAT) from construction materials including sand, stone, concrete blocks, and lumber, while threshold for low-income loans was increased from $8 million to $12 million, and the low-income loan ceiling at the New Building Society increased from $12 million to $15 million.
Additionally, the Mortgage Interest Relief threshold increased from $15 million to $30 million, while the Housing Ministry introduced the Single Window Processing System for planning permits along with the Amendment of Condominium (Regulation and Miscellaneous Provisions) Act aimed at allowing owners access to Certificate of Titles, insurance and loans.
President, Dr. Irfaan Ali, who holds a PhD in Urban Planning, had noted that the robust housing programme was rooted in an organic National Development Strategy (NDS), predicated on objectives that were bolstered by policies articulated in the Poverty Reduction Strategy Papers (PRSP) I & II.
On this point, the President said: "Under the Poverty Reduction Strategy, the government pursued numerous interventions which sought to: divest land to eligible Guyanese; provide infrastructure for new housing schemes and improve existing infrastructure in squatter settlements; regularise squatter settlements; facilitate access to finance by low-income earners through amendments to the New Building Society Act and the Income Tax Act; facilitate community participation in sustainable settlements development and prepare development plans for new towns and upgrade existing towns, consistent with the framework for Urban Development, elaborated in the NDS (2001-2010)."
Those national policies, the President noted, were backed by significant fiscal support from the government between 1992 and 2015, and were supplemented by an operational manual for housing that emphasised all the critical dimensions of sustainable development, including – social development, economic development, environmental preservation and good governance, among other things
Due to these efforts, Guyana not only witnessed a reduction in rural-urban migration and the lowering of its urban footprints between 1992 and 2015, but saw accelerated development in rural areas and the attainment of several MDGs.
Currently, the Housing Ministry is constructing 190 low-income houses at plots 1,767 and 1,768 Cummings Lodge, Greater Georgetown. The construction of the 20×30 elevated units are expected to be completed within the next two months.
The infrastructural works, which include the construction of roads, bridges and drainage channels, will stretch from Cummings Lodge to Aubrey Barker Road, South Ruimveldt. And, due to this distance, an area has been identified for a police outpost.
The construction of those houses form part of the 1,000 young professional and low-income housing units, which the ministry plans to build this year as part of CH&PA's National Housing Development Programme.
Through this programme, units will be built at Cummings Lodge, Prospect, Providence, Little Diamond and Great Diamond in Region Four (Demerara-Mahaica); Onderneeming and Wales in Region Three (Essequibo Islands-West Demerara); Ordnance/Fortlands, Hampshire and Williamsburg in Region Six (East Berbice-Corentyne) and Amelia's Ward in Region 10 (Upper Demerara-Berbice).
Earlier this year, 51 contracts were signed to start the construction of 290 houses. Of that lot, 190 elevated, two-bedroom houses will be built at Cummings Lodge, while another 100 flat, two-bedroom units would be constructed at Prospect, EBD. The government will also construct 1,000 houses, for Region Ten (Upper Demerara-Berbice).
ACCESS TO WATER
Meanwhile, during the period of August 2020 to June 2021, close to 3,500 residents gained access to potable water countrywide, while the backlog of some 5,200 new service installations was reduced by 1,684 across Regions Two, Three, Four, Five, Six, Seven and Ten.
The Guyana Water Incorporated (GWI) customers are also now benefitting from a five per cent reduction in water rates and the removal of VAT from water, while a government subsidy for pensioners was reintroduced in the latter part of 2020 and currently stands at $703 monthly. Some 26,582 pensioners are currently benefitting from this subsidy.
Since coming to office in August last year, President Ali has outlined a range of plans for transforming Guyana. The government has said it intends to use revenues from oil production to push major infrastructure and other projects, while ensuring that other sectors of the economy are not neglected.
Guyana became an oil producer close to two years ago and is set to become a major player in the industry with output expected to surpass one million barrels per day by the end of the decade.
Key achievements and projections:
> August 2020-Agust 2021- Approximately 5000 house lots distributed
> $12 Billion infrastructure development in 22 new and existing housing schemes
> Some 600 residents of Mahdia, Region Eight, now have improved level and quality of service, as well as increased hours with the drilling of a new well
> New wells were drilled in the communities of Shulinab, Shea, Annai and Culvert City Lethem, Region 9, to provide improved level of service and new service to 500 residents
> The installation of 20,000 water meters in regions Two, Three, Four, Five, Six and 10 by the end of 2021 will increase metered coverage by 12 per cent to manage customer demand and reduce water losses