THE Soesdyke/Te Huist Te/Coverden Neighbourhood Democratic Council (NDC) is working for the villages it covers along the East Bank Demerara corridor by having outreaches, meeting with villagers, and executing its mandate of providing services for the community.
Chairman Bhupendra Deokie heads this NDC and they are responsible for maintaining three villages.
He told the Pepperpot Magazine that on Mondays, they visit the office to do paperwork, sign cheques and have a meeting with staffers and they also have an open-door policy whereby anybody can visit and talk to the staff and air their concerns.
Deokie disclosed that there are two ongoing regional projects where two roads are being upgraded: Grant Sand Road and Kallicharran Road, Soesdyke.
While the CIIP workers do the maintenance of parapets and cleaning of drains, the NDC would partner with central government and other agencies to boost infrastructural works.
He explained that they would dredge drainage canals and other major waterways in the community and when the flash floods happened this year, Soesdyke wasn't flooded because they execute ongoing drainage works.
Deokie added that they do continuous drainage works and upgrades, so when it rains heavily and they have high tides, Soesdyke would only get pockets of water and no major flooding.
"This is a hotspot because it is a well-travelled place where a lot of people pass through to go to the interior, the airport, the highway and other parts and it is a business hub and a busy place," he said.
Deokie reported that a lot of people have their own small businesses and some have poultry farms and just up the road they have Bounty Farms outlet and Hatchery and some locals are employed there.
He disclosed that through the NDIA, central government and the Ministry of Agriculture, they would constantly monitor/upgrade the koker and its doors and other drainage canals, trenches and drains within the community.
"We have been doing our utmost as a collective effort with the general upkeep of Soesdyke Village and so far, some businesses and private landowners have partnered with the NDC to beautify the environment and clean the place," he said.
Meanwhile, Works Council Chairman Raghunandan Singh told the Pepperpot Magazine that in 2019 they recorded a fair collection of revenues, but for the past two years the payment of rates and taxes by residents has been slow.
He however reported that regarding businesses that are in arrears, they have worked out a payment plan with them to pay up their rates and taxes, so they do "flex" with defaulters to ensure that fairness is exercised.
He disclosed that the lands are privately owned and it is a residential community, and with the revenues and budget they have, they try to develop the villages they oversee.
Singh explained that as time went by, people upgraded their vehicles and have heavier and more vehicles traversing, so the roads have deteriorated and many streets that were once mud dams have since been upgraded.
He pointed out that they will be embarking on a massive road- upgrading project in Soesdyke shortly, and they have since acquired 700 tonnes of road crush and run, bricks and tar to re-pave the internal streets within the village.
Singh explained that monies were set aside for this project from the subvention of the 2020/2021 budget, and they have had 28 solar-powered street lights installed at various points in the village.
He stated that the feedback was good and residents have requested more street lights, so that they have some money from the 2021 budget to purchase more.
"We meet the public often and the ministers and other officials would visit and host public outreaches to listen to locals and they would try to meet their needs through the NDC," he said.
Singh disclosed that the Ministry of Home Affairs will soon re-establish the Community Policing Group in Soesdyke to partner with the police to safeguard the community, but recorded a low crime rate with no major crimes.
The Soesdyke Post Office
The Soesdyke Post Office is located on the public road. The facility has been upgraded and is headed by Post Master Ronell Sam, and many services are provided for the community.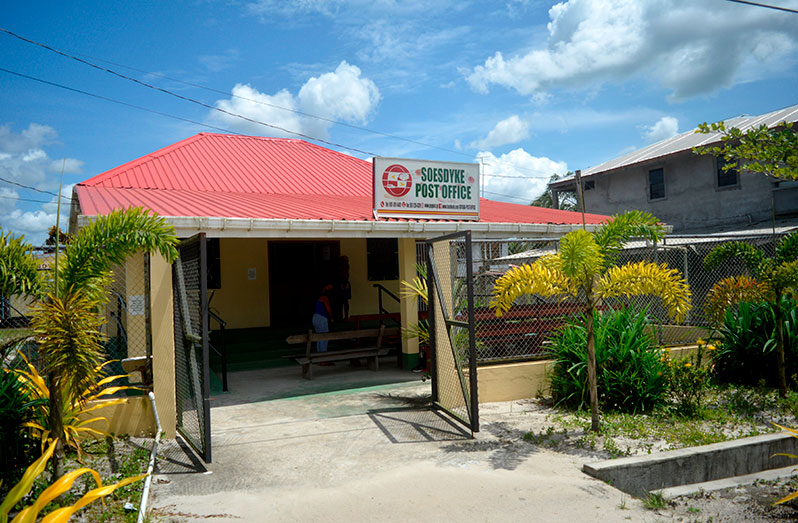 They also have Swift Shipping for parcels, which is done online and Laparkan same-day money transfers.
Sam stated that they sell stamps,and payments for all utility bills are done there; payout of salaries for some agencies; pension payments; mail services; rental of P.O boxes and bags.
The Soesdyke Post Office is open from Mondays to Fridays from 07:00hrs to 13:00hrs with a lunch break between 11:30hrs to 12:30hrs.
Sam related that about 100 persons would visit to access the pension payouts on the first day of the month or month's end, when they would have their biggest crowd and they try to ensure that pensioners are served expeditiously.
He stated that on other days during pension payments, about 300 persons would show up and depending on what services they need, they would provide services for 150 to 90 persons on weekdays.
Sam added that they have four postal workers that deliver mails house to house from Soesdyke to Land of Canaan and they try to provide a good, reliable and efficient service to the community.
The Soesdyke Post Office has adequate seating accommodation in the front of the building and all COVID-19 protocols are in place.
Only three persons are allowed inside the building at any given time.