THIS week the Pepperpot Magazine visited the quiet countryside village of Sandvoort, West Canje, Berbice, a community with a lot of vegetation and is tucked away on that stretch of road, which is the last village.
The village is unique in its own way, and the people are very friendly, accommodating, live simply and it is home to farmers.
The village has a primary and nursery school housed in one building, a health centre, a community centre building which is in the top flat of the same edifice housing the health centre.
Sandvoort is a place where houses line both sides of the road, and it has very vast backlands, privately owned and used to cultivate large-scale rice-farming, rearing of cattle and cash-crop farming by villagers.
The community has potable water supply, electricity, internet, landline and cellphone services and basic infrastructure.
Sandvoort is the last village on that corridor, and it is between Lochaber and Anna Clementia Farm; the very last place is Wyburg, which isn't accessible by road.
The road stops a Sandvoort Village and the way to the other places, way down to the backlands, is by a dam and most bridges are missing, so locals would go via horses.
Back in the days, people used to farm at Anna Clementia, but that is not happening now because the place needs to be developed.
The population of just about 400 and the locals are of mixed race: Afro- Guyanese, Indo-Guyanese, Indigenous persons and Chinese.
Sandvoort is an agriculture-based village and the people are very resourceful and self-sufficient, and almost everybody does something honest to earn.
The community is like a large family setting and the people are related by blood and there aren't any newcomers, since most people who live there lived all their lives there and it is the only place they call 'home.'
Sandvoort was once a Dutch plantation where coffee was grown on a large scale before it became a village bought by slaves, where locals began occupying the lands.
Presently the local farmers are counting their losses which ran into millions due to the recent flooding and are trying to regroup, since most cattle that survived the flood were sold and crops were destroyed.
Sandvoort Village is about three miles from New Amsterdam and the people grow their own food while fish, meats and vehicles selling groceries would pass through the village, so things are easily reached.
The people of this village are blessed with longevity,as the elders often attain the age of 80s and 90s.
They credit their longevity on the organic foods they consume and their being a God-fearing people.
Yourick Munroe
One of the village elders is Yourick Munroe, who moved from his hometown of Manchester Village, Corentyne, Berbice, at age 16 to live and work in Sandvoort Village.
The 80-year-old is a spritely gentleman and a rice farmer, who also has a crop of sweet potatoes and some cash crops.
Munroe stated that he had some cows, but lost about 100 when the floods came and he was forced to sell off the rest of his herd.
He has 48 acres of rice that were entirely destroyed by floodwaters and cannot supply any rice to Nand Persaud rice mill this season.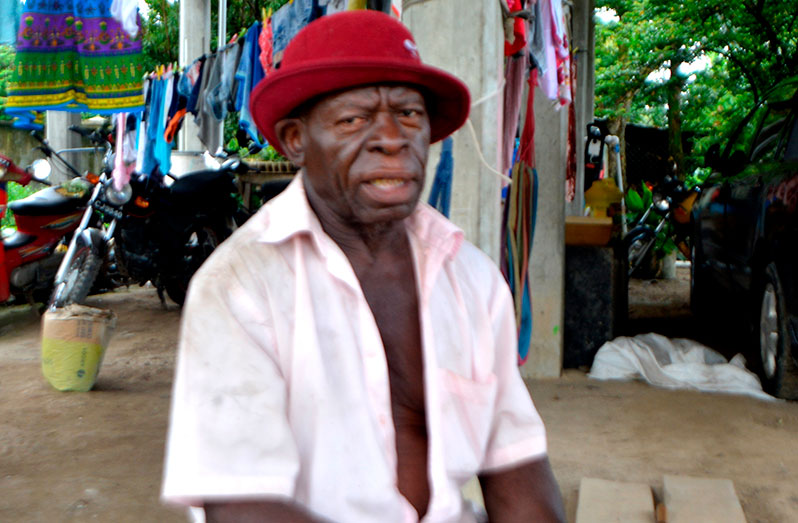 Munroe said the Canje Creek runs along the village and being the last village at that end, they have vast backlands and most people utilise it for farming.
"Right now, the backlands are flooded and there is the koker, but with no doors so farmers cannot do any land preparation and they are waiting on a drainage upgrade because tubings are needed to be placed for the water to be drained off the land before any farming can take place again," he said.
Munroe is the father of 17 children, has 58 grandchildren and 32 great-grandchildren.
"I didn't come to waste time and I started to work at age 16 with some cows and that is how I began life and still working today without any sickness," he said.
Munroe left his home village and relocated to Sandvoort with 14 cows and he used those cows to work the backlands, and over time, he accumulated money and bought lands in the village and began farming.
The elder, who is well-respected and well-known, stated that he left Guyana and worked as a rice farmer in Suriname for 32 years and was responsible for 66 workers, but it was time for him to return to Guyana.
Munroe explained that for people here to get serious our laws need to change and stiffer penalties should be imposed for the authorities to curb lawlessness as in Suriname, where they have strict laws which are clear and every month they relocate the police so they do not get comfortable in one place.
He reported that Sandvoort is a very close-knit community with mostly families, and it is an equally safe place to live where there is no need to lock doors and everything can be left unattended and would not go missing.
Munroe stated that crimes are unheard of in that village and it is a very quiet place to lead a good country life.