–as authorities move to repair flood-damaged infrastructure by year-end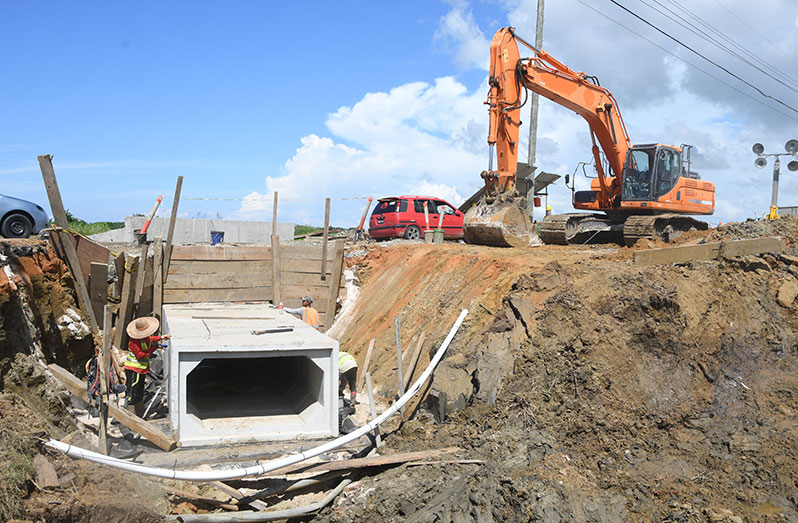 THE recent floods have resulted in tens of millions of dollars in damages to public infrastructure, and, even though a series of emergency works were already executed, a lot more needs to be done, according to Minister of Public Works, Juan Edghill.
"Some of it [the damages] were remedied in an emergency manner, so now we have to go back and make sure that it's done on a more permanent basis" Minister Edghill said in a recent interview with the Guyana Chronicle.
He related that although impact assessment reports were being prepared, the Public Works Ministry was forced to move immediately to ensure that critical structures were repaired amid flooding.
"We had to put in tubes, fix roads, do back the bridges that were washed away and so on," Edghill posited.
He also related the government's commitment to completing infrastructural repairs, at least, by the end of the year.
Additionally, Minister Edghill stressed the need for Guyana to pursue the rehabilitation works in a manner that encompasses climate resilience.
"If the same thing should happen again, we can't have the same thing happening [outcome]," Edghill noted.
According to reports, the initial set of repairs are being pursued through a $10 billion supplementary budget which was recently approved by the National Assembly.
As it relates to climate resilient infrastructure, Minister Edghill had previously indicated the need for Guyana to replace all of its wooden bridges and culvert with sturdy, concrete structures.
"We have to make up our minds. It is going to cost a lot, but we got to start building them in concrete," he said.
Edghill noted that the public infrastructure of almost all of the flooded regions were badly damaged. Added to that, almost all of the country's ongoing infrastructural projects have been affected due to the floods.
Edghill had said, however, that contractors have not stopped working, but have managed to put systems in place to ensure that they move ahead with other aspects of their work, which are not heavily dependent on good weather conditions.
"Nothing is stalled; affected, but not stalled. They're trying to do other things… because of the rain and flooding, we can't get to do paving; we can't put down the asphalt or do concrete where there is water; that is the difficulty we're faced with," Minister Edghill said in a previous interview with this newspaper.
The minister, who has visited several of the flood-hit communities, expressed hope that the devastating floods, which surpassed two months, would end soon, so that those affected can begin to heal and rebuild.
"Hopefully we can go into recovery very soon," Edghill anticipated.
He recalled that ever since the floods started, the government has been able to activate and deploy its emergency response teams to address the immediate needs of those affected. These efforts continue to be led by President, Dr. Irfaan Ali, who has been visiting various communities to engage residents on their needs and concerns, so that sufficient relief can be mobilised.
Only recently, a team from the Disaster Emergency Management Agency (CDEMA), wrapped up a detailed assessment which is expected to determine the extent to which the flood has affected all sectors of Guyana, including the infrastructural impacts. Similar studies were done following the 2005 floods.
The assessment determined that the floods affected approximately 290,000 people, an equivalent of 39 per cent of Guyana's population. The overall economic impact was estimated to be about US$465 million, or 59 per cent of Guyana's Gross Domestic Product.