WHEN it seems like no means to an end, a desperate mother trying to find a cure for her son's skin condition explored the possibilities with the use of the internet and began making a line of hair and skincare products unlike others.
It was after exhausting finances and going from one hospital to another and after years, Allison Gilead was ready to give up because she was unable to find any treatment for her son's skin condition.
It was so bad it raised eyebrows when they were out in the public and caused people to look at him with scorn.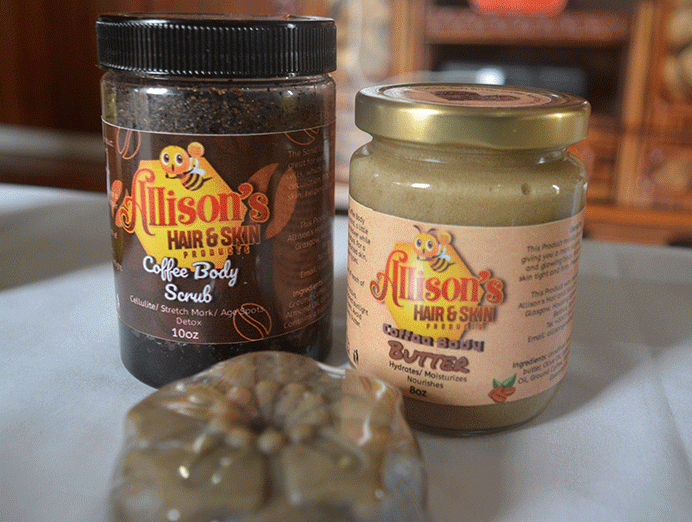 This is how a small business started and has blossomed into a full-blown, home-based operation for a mother of two, who after much research, time and experiments was able to make a home-remedy skin ointment for her son's skin condition.
The Glasgow Housing Scheme, East Bank Berbice resident, today has a line of beauty and skincare products which have extended into scented candles.
The 43-year-old told the Pepperpot Magazine that 10 years ago her firstborn was diagnosed with atopic eczema and everywhere they go to get medical intervention their hard-earned dollars went to waste, because none of the medications helped him.
Allison and her husband Devon Gilead were at their wits end because when they were out with their son people used to ask her why she wasn't looking after the child's skin condition and she felt really bad.
The couple were beside themselves and Allison turned to the internet for information and began reading about home-made remedies and after much research, they decided to try put together a few ingredients.
"My husband Devon first concoct a cream from all local products because he is a beekeeper and we had honey and other by-products. He made a skin ointment and he was not pleased, it did not come out as he wanted and then he gave up. But I decided to give it a try and it came out perfectly after I blended all the ingredients together making a one-of-a-kind skin ointment which became a bestseller and helped my son, today he is atopic eczema free and has clean skin," she said.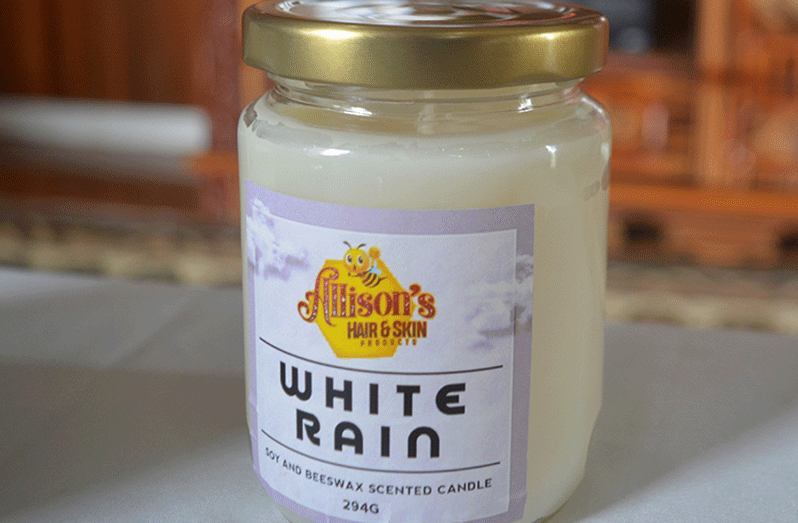 Back then, Allison reported that her husband was weeding yards for a living and they were struggling and she really needed to help her son to get better skin because of how bad it was and looked.
Today, the product, the skin ointment, continues to be a best seller and has helped many people to get clean, clear skin and it is used as an everyday skin cream.
It is made from beeswax, honey, lemongrass and some essential oils, most of the oils are sourced from overseas, but Allison's husband produces their own honey from their apiary in Ithaca Village, West Bank Berbice.
Her eldest son will be 11 years old in September and is atopic eczema free. Allison has a younger son.
She makes lip balms in different flavours, including, honey and turmeric, beeswax, vanilla, strawberry, lemon, lavender among others.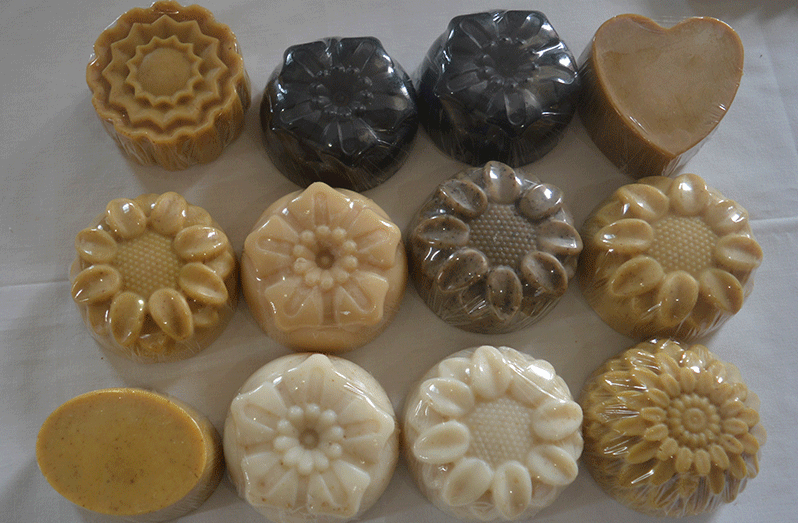 Allison began making a hair food from beeswax, shea butter and it was also a hit on the local market, then she started to make her turmeric line of face and body scrubs, body butter and soaps.
It helps to remove dark spots, pigmentation, acne, sunburn and other skin conditions and later began making her coffee, honey/turmeric, noni, coconut oil and oatmeal and activated charcoal/tea tree soaps.
Based on customers' reviews and testimonials, Allison started to make different other soaps to create that dewy, youthful glow to the skin and would make soaps to meet requests from customers.
"My products are all home-made, made to strict hygienic conditions and we test-use all the products before launching and selling, so it is wholesome and healthy to use," she said.
Allison told the Pepperpot Magazine that the activated charcoal soap removes toxins, unclogs the pores and also removes impurities from the skin.
She stated that the coffee soap helps reduce cellulite, plumps and tightens the skin, while the turmeric soap brightens the appearance of the skin and evens out the skin tone.
Allison added that the noni soap helps with various skin conditions, while the coconut milk and oatmeal soap is an exfoliating agent for the skin and the lemongrass soap is a natural antiseptic and anti-bacterial.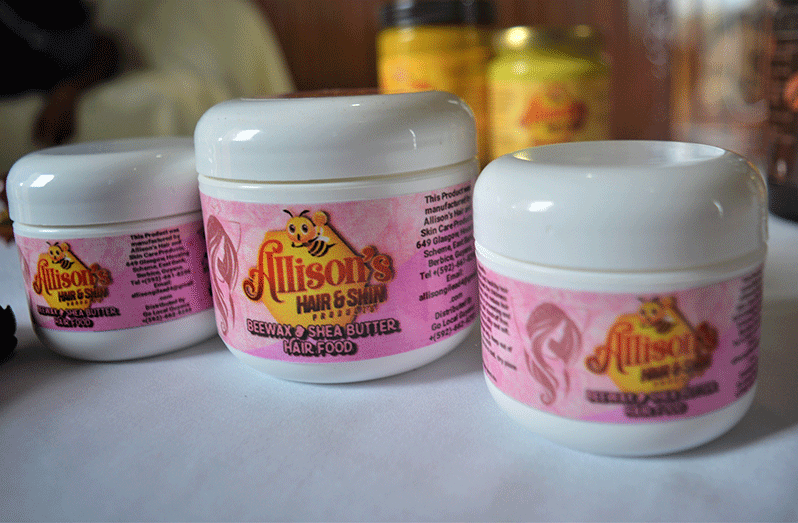 She reported that often she would pair the turmeric body scrub and turmeric/honey soap to quicken the process to better skin care.
The mother of two plans to expand her small, home-based business with more products and she is currently finishing off her bottom flat, which she will convert into her workshop and store with shelves to display her products.
Allison said that her husband supports her fully, even though he has his own gardening projects such as producing local grapes, strawberries, blueberries, raspberries, dragon fruit, mint and would even come up with new ideas and he would do the deliveries.
"I am a behind-the-scene person and do not really like social media, but I am on Facebook as Allison's Hair and Skin Care products and the reviews motivate me to keep on going to create more products," she said.
Allison would source the essential oils from abroad, but often the shipping would cost more than the actual oils and would buy coconut oil right in Guyana and source mason jars, bottles and containers locally and the graphic artist would design the labels.
The packaging is attractive and is delivered in a bag and well-presented just like the products.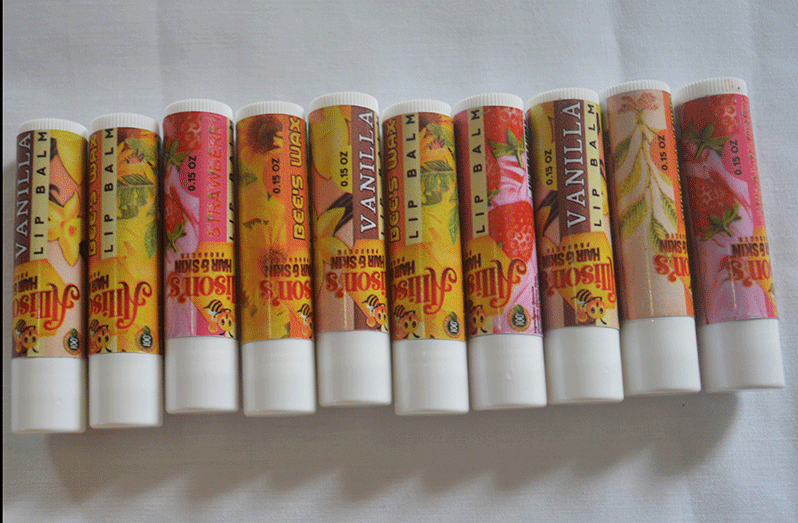 She explained that all the soaps were made from scratch and they used the cold process, which can be tedious and dangerous if you do not know what you are doing and the soaps takes four to six weeks to cure.
"We were excited to use the soaps after making the first batch and it was amazing how it came out," she said.
They have seven different soaps including dandelion.
Allison told the Pepperpot Magazine she came from humble beginnings and she and her husband are both from Islington Village, East Bank Berbice and knew each other from high school.
"My husband Devon helped me a lot through my teenage years, because I grew up poor and was often at the home of different family members having grown up with my grandparents, because I wanted to complete my secondary education and money was tight," she said.
Allison pointed out that even after high school he helped her to attend many classes and skills training sessions and they helped each other grow over the years.
"My husband never finished high school and he wanted me to finish and made sure it happened and because of him I am successful today," she said.