IF hustling "like a boss" does not mean anything for some, it certainly means a lot for 32-year-old Daylon Nicholson of Glasgow Village, East Bank Berbice, who plies the New Amsterdam to Glasgow route daily as a taxi driver.
Since there is only a school bus plying the route, the taxi drivers provide a service for the locals at a reasonable cost of $300 from New Amsterdam to anywhere inside the village, even with the bad roads.
Nicholson explained that the fare is $300 but some people would hand him $200 saying they don't have money and he would accept it because of the pandemic and most people are 'hustling' for a living.
The father of two stated that since the pandemic, things have been hard with a lot of people and he understands their struggle, so he would "flex."
"Is village people so I would give and take because I know these people and they travel with me and I can't demand money from them when clearly they don't have," he said.
Nicholson has been a resident of Glasgow Village for the past 15 years, but he is planning to relocate to Bermine Housing Scheme in New Amsterdam.
The taxi driver stated that about 40 cars are plying the same route and some would come out early in the mornings and work, while another set would work late into the night until everybody gets home.
He reported that they would work up until 22:00hrs before calling it a night.
There is no minibus plying this route, only hire cars and they would transport passengers from way down in the village to wherever they are going.
Like most, Nicholson is doing an honest job as a taxi driver to bring in an income to his home as a father and head of his household.
The cattle farmer
Ramchiartar Seelall is a cattle farmer and has been affected by the flood and to top it off, he is taking care of his bedridden wife.
The 65-year-old told the Pepperpot Magazine that more than 25 sheep from his flock have died because he didn't have anywhere else to take his livestock.
"They catch cramp from being in the floodwaters and died, since I had no higher ground to take them," he said.
Seelall explained that he estimates his losses at $3 million and two vets visited his place when it was flooded and took some information, but nothing has happened since.
Seelall reported that he used to be a cane cutter and after the estate was closed, he had to seek alternative employment and started to rear some cattle.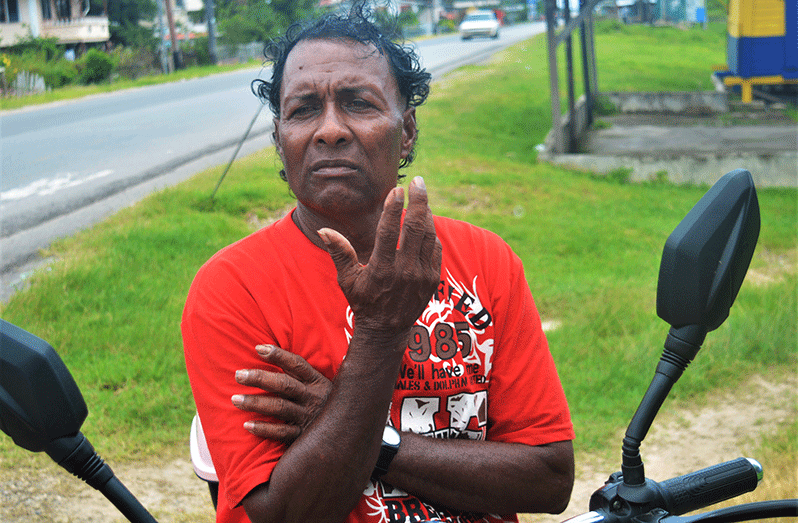 The father of nine explained that his wife took ill four years ago; having suffered a stroke she cannot walk and became bedridden and was totally dependent on him.
Seelall is the sole caregiver for his wife and he is also caring for a granddaughter when his daughter took her own life to escape an alleged abusive relationship.
Earlier, his son also died in a road accident and he was trying to cope with the losses he suffered and then his wife took ill.
Seelall is dependent on his cattle to earn a living, since he has no other job and has two persons depending on him to provide for them.
"I am hoping I can get some assistance to re-group from the loss of my sheep so I can still be able to have a few animals to rear and sell," he said.
Seelall stated that at his age he is unable to get any work, so he had invested his savings into the sheep and a few cows to become self-employed and that was all he had in terms of money.
The elderly resident reported that he is trying to come to grips with the loss of his sheep and he is hoping to 'bounce back,' but needs a little help to do some and it would be nice if the authorities can render some form of assistance.
Seelall said the flood came unannounced and he did not prepare for it and was caught off-guard,so there was little he could have done to save his sheep.