– President Ali reaffirms commitment to foreign investment
PRESIDENT Dr Irfaan Ali has reaffirmed the government's commitment to foreign investors during the opening ceremony of the Società Anonima Italiana Perforazioni E Montaggi (SAIPEM) Guyana Offshore Construction Facility on Water Street, Georgetown, on Saturday, noting that this type of partnership is pivotal for the transformation of lives of all Guyanese as the country moves forward with innovation.
SAIPEM is an Italian multinational oilfield services company that specialises in drilling and assembling and is one of the largest energy infrastructure firms in the world.
The new SAIPEM offshore facility features a heavy load-bearing jetty, the largest heavy lift crane in Guyana and specialised welding and testing equipment.
President Ali, in his feature address, noted that with the new facility Guyana is strategically positioned to provide neighbouring Suriname with welding and welding materials as it continues its own oil exploration, emphasising that this type of partnership will open the doors for job creation and further employment and training of Guyanese.
President Ali noted that the government is thankful for investors and will continue to embrace investments. While he acknowledged that investment companies bring the level of expertise and technology that Guyana currently lacks, the Head-of-State highlighted that this will not always be the position of the country.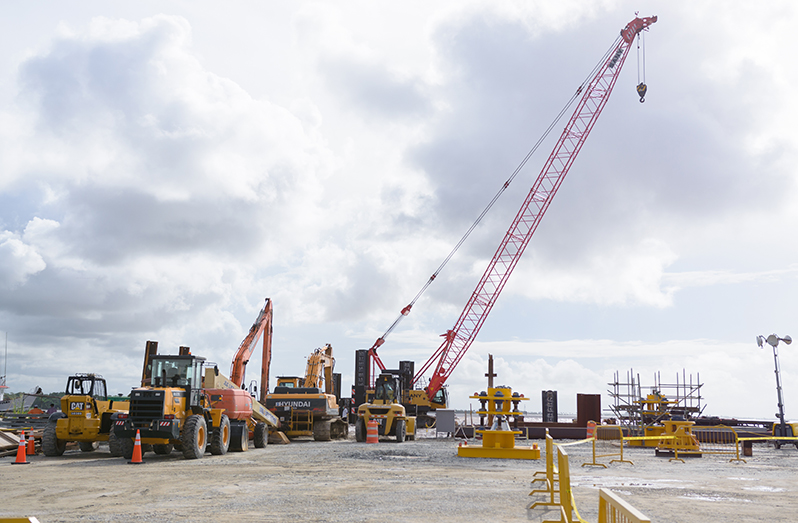 He stated that since setting up operations in Guyana, SAIPEM has sought to ensure that it provides not just innovative technologies and policies, but that it provides training to allow Guyanese to become experts in the field. SAIPEM currently has a local employment level of 80 per cent.
He noted that Guyanese must take advantage of opportunities to work with investment companies, undergo training and utilise that training to play a major role in Guyana's continued development.
"When we talk about investment in local content, we're not talking only about the creation of jobs; that is important and I congratulate SAIPEM, not only for the jobs they have created, but the level of training you have developed and your commitment to providing further training because fabrication is an important part of the future development of this industry," President Ali noted.
President Ali stressed that investors should find it essential to collaborate with the local private sector to build capacity and create opportunities for locals.
Meanwhile, Managing-Director of Saipem Guyana Inc., Thuranthiran Nadarajah, stated that the facility would become a landmark for not just Guyana's oil and gas industry, but its industrial and manufacturing industry as well.
He further noted that the company has always committed to having an organic and sustainable development programme in Guyana. He said the company is proud of its over 80 per cent local staff complement and is committed to increasing that number in the future.
According to the managing-director, the new facility will benefit Guyana as it will allow for further expansion of the job market, as well as training and overall development of the skills of Guyanese in the oil and gas sector; revenue generation, improved infrastructure, and additional tax revenue for the country.
He related that SAIPEM has set the standards for local compliance and intends to continue with its ambitious aim of maintaining this record, noting that this is being done to ensure sustainability of local resources and enhancing local knowledge, competency and skills.
ExxonMobil Guyana President, Alistair Routledge, called the opening of the facility a "tremendous achievement," noting that it will allow Guyana the opportunity to locally conduct the work that was previously outsourced to Trinidad and Tobago.
"This is a landmark in transfer of work from Trinidad to Guyana, which I know is a little bit of healthy competition in the Region and so bringing a little more to the work from Trinidad to Guyana is a big step," said Routledge.
According to the ExxonMobil boss, so far in the first quarter of 2021, the oil major has expended more than $8.5 billion on supplies and a large portion of this sum could potentially go to Guyana with the advent of this new facility.
He further reminded the audience that ExxonMobil has committed $20 billion to the 'Greater Guyana Initiative' for development of the economy, which will see investments being made directly to the people of Guyana through education.