–President Ali says, as Guyana grapples with increasing environmental challenges
–additional funds being sought for flood relief, response efforts
CRITICAL investments in climate security are needed now to safeguard not only the livelihood of every Guyanese, but also their lives, considering the unprecedented impact of flooding in various communities across the country, President Dr. Irfaan Ali has said.
It has been more than two weeks since the May-June rains began wreaking havoc, devastating a number of communities across Guyana. And having visited several of the affected communities and observing that the impacts in some cases are insurmountable, at least for the residents alone, President Ali has committed to making the requisite investments to strengthen Guyana's ability to contend with the impacts of climate change.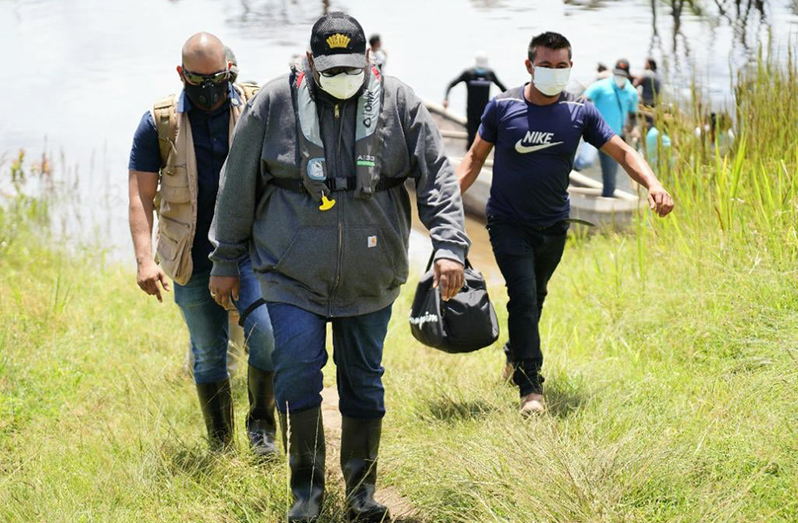 According to National Geographic, climate change is a long-term shift in global or regional climate patterns. Often, climate change refers specifically to the rise in global temperatures from the mid-20th century to present.
The renowned wildlife and environmental media agency reported that together with expanding ocean waters due to rising temperatures, the resulting rise in sea level has begun to damage coastlines as a result of increased flooding and erosion.
Guyana, already being below sea level, is not exempted from the effects of this natural phenomenon, and this is evidenced by the unprecedented levels of rainfall and devastating impact of flooding in areas that were, in some cases, never prone to this natural disaster.
In reflecting on what he observed during his visit to various flood-affected communities, President Ali said tens of thousands of farms were completely destroyed, livestock lost and persons displaced.
"A father was in tears, telling me that his avocado farm is completely gone… the trees will no longer be there after these floods… his 15-year-old son was standing behind him and he glances at him and says what is this boy going to do," President Ali said, while reflecting on his visit to one of the riverine communities severely affected by flooding. The President made these remarks while delivering the feature address at the opening of SAIPEM Guyana Offshore Construction Facility on Water Street, Georgetown.
The President advised persons not to underestimate the scale of this disaster, as some communities, especially in Region Four (Demerara-Mahaica), are spared the severe effects of flooding because of the Hope Canal.
Some of the communities that are heavily affected by flooding are Black Bush Polder, in Region Six (East Berbice-Corentyne); Mahaicony Creek, in Region Five (Mahaica-Berbice); and Kwakwani, in Region 10 (Upper Demerara-Upper Berbice).
President Ali, having seen first-hand how infrastructure and livelihoods have been completely destroyed by the natural disaster, has reinforced the government's commitment to investing heavily in the response to climate change.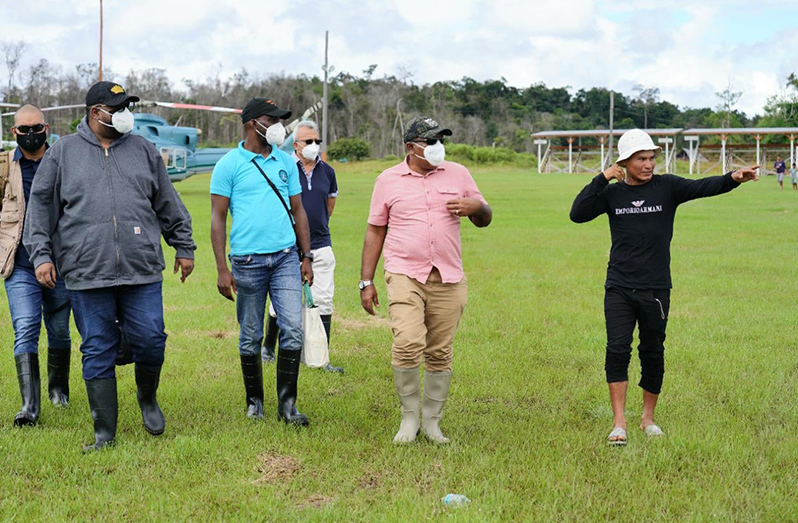 Critical investments, he said, have to be made now to secure Guyana against the devastating impacts of climate change.
"We have to make those investments now… we have to make those investments to secure the livelihoods of the people of this country," President Ali said.
In explaining why investments in building climate resilience and adapting to climate change are necessary, the President said: "[The flooding] reinforces the risk… we have tremendous risks… we are below sea level, and what is happening now is that the volume of water that has to be drained will create another havoc to the communities when the rain is falling."
Considering the challenges that are ahead, the President said that it is imperative that the private sector and civil society join the government in investing to ensure that the lives and future of every Guyanese are secured.
"How do we secure our future? It is not investments tomorrow; it is about critical investments now," the Head-of-State posited, noting that an adaptation plan is needed to deal with climate change.
Further, he said: "We have to make those investments now and the resources will help us to make those investments to secure the livelihoods of the people of this country. The government and the people will come together and make the investments to ensure that the livelihoods and that the future is secured."
According to the World Economic Forum, as it relates to climate change, the integration of resilience into a project's design, implementation, and monitoring can support the achievement of socio-economic goals, including strengthening human capital, improving trade and markets, and addressing multiple drivers of fragility and inequality.
The forum said it will also help mitigate the impacts of climate stresses and shocks, including drought and floods, cyclones, and degradation of natural over scarce resources.
"For example, increasing the robustness of water-delivery systems to farms, coupled with a diversity of cropping strategies, can improve the ability of a farmer to withstand drought, potentially protecting his family from hunger. Likewise, organising inclusive and rapid responses to climate shocks, using early-warning systems, can improve the capacity of communities to mobilise and evacuate danger zones, for example in the case of floods," the World Economic Forum advised.
In Guyana, the government has so far deployed equipment countrywide to conduct emergency cleaning and clearing of drains and canals; installed a number of new water pumps and drainage tubes; dredged and excavated clogged waterways, and repaired breaches and damaged infrastructure.
Additionally, authorities have also distributed thousands of relief hampers to residents in affected areas.
But even with a lot being done so far, President Ali announced on Friday that the government will be seeking additional funds to bring relief to residents who are experiencing difficulties across the country.
"To the farmers who are affected, we are already working. A few minutes ago, I was on the phone with the Vice President [Dr Bharrat Jagdeo] and the Minister of Finance [Dr Ashni Singh], and we are working now on finding additional resources to go to the parliament for a supplementary so that we can bring relief to you," President Ali said during a recent visit to one of the flood-affected communities in Region Three (Essequibo Islands-West Demerara).
Canal Number One, West Bank Demerara, where the President disclosed this information, was one of several stops for the Head-of-State and a team of government officials, including the Minister of Education, Priya Manickchand and the Minister within the Ministry of Public Works, Deodat Indar.
The group first journeyed to Naamryck and Parika, East Bank Essequibo, where the President assessed the Boerserie Conservancy that is almost filled to its brim due to the heavy and consistent rainfall.
He then made his way to Canal Number One before travelling to Canal Number Two, where he again spoke with flood-affected residents and reassured them of his government's commitment to help alleviate their current woes.
The President explained to the residents that the government fully understands the impact that the high floodwaters have had on their livelihoods, since the current flooding is not an isolated situation, but one the entire country is facing together.
He also indicated that the relief efforts, including provision of food and cleaning supplies, would be continuous.
"Whilst we may not be able to give 100 per cent help in what may be required, you can be assured that the government will be providing assistance in getting back your lives together and livelihoods together," President Ali said.
IMMEDIATE INTERVENTIONS
Providing an update on the intermediate interventions, Minister Indar said that the government is fully aware of the damage to farms and pointed out that excavators will be mobilised and that pumps will be used to help ease the flow.
Four excavators, according to the minister, will be used to build a dam to block conservancy water from leading back into Naamryck.
"Food and making sure that the place is good to live are the main concerns right now. So, we will come throughout the region and given people as much with respect to hampers and so… but the intervention on the draining of the water, cleaning of the trenches, putting the excavators in place, so that they can have a swift drawdown of the water…
"We are putting the tractors and the pumps at the various sluices, so that when the koker locks you still have the water being thrown off," the minister added.
EXCESSIVE RAINFALL
Residents, speaking to the officials, expressed their gratitude for the Head-of-State's visit and said that it has brought them "some relief."
The residents and farmers related that they are aware that the flooding has been caused by excessive rainfall and water coming down from the highlands.
President Ali said: "First of all, let me say to you we are here because we understand what is happening. This is a natural occurrence.
"It is affecting lives all across the country. What is our immediate task is to bring relief, to help you now. From what I am seeing, you require immediate help for quite a few things. One, you would need to have some support in food supplies. Two, you will need some support in medical supplies, and three, we are going to do some assessment for some emergency works on drains and so on."
The President added that climate change and urbanisation are causing major changes.
"With climate change, one of the things that we have to look at, especially with our farming community, is future patterns and then look at how we reintegrate the drainage system because the fact of the matter is — and this is one of the challenges of development— housing is going to grow here in Region Three," he said.
President Ali said that the area where the Parfaite Harmonie housing scheme is now located was once utilised as a natural reservoir to some extent.
"As you continue and expand housing, the challenge becomes greater. That is why I said earlier we have to look at innovative technology, sound engineering solutions like the one we have at Hope Canal.
"You need, sometimes, unimpeded discharge for situations like these. We cannot deny climate change. Climate change would bring more and more unplanned disasters, more and more natural disasters like these and in higher scales," the Head-of-State related.
President Ali added that a team of ministers would return tomorrow to continue the assessment and bring immediate relief to the residents.
Meanwhile, President Ali on Saturday committed to assisting the residents in Region Seven (Cuyuni-Mazaruni) who have been affected by flooding as a result of heavy rainfall.
The Head-of-State, accompanied by Minister of Agriculture Zulfikar Mustapha and Director-General of the Civil Defence Commission, Lt. Col. Kester Craig, visited several communities in the region to hear from residents and to assess flood-related damage. Among the areas visited were Olive Creek, Kamarang and Jawalla.
Additionally, the President flew over several communities to gauge the extent of flooding. He met with the residents as well as the Deputy Toshao of Kamarang, which is a small mining community in the region. The residents' concerns ranged from access to fuel to access to food.
Addressing residents, President Ali noted that while a team will be working around the clock to bring immediate help, long-term issues will also be addressed.