– ITS SIGNIFICANCE TO OUR CARIBBEAN AND THE THIRD WORLD
WE must begin to cultivate a perspective of the world we live in, in respect to what is relevant to our evolution from the history that encompasses us, which we by choice have declined concern for, because our elders have for the convenience of what was relevant at the time shelved a profound bodies of information that should be active until later, but instead was never un-shelved.
Some 37 years ago I began a script based on events from the 1930s to the conclusion of WWII. It was inspired by several areas of literature, one of them was the autobiography of Malcolm X, a book that convinced me not to lend books ever again.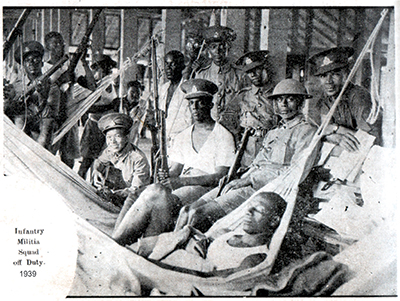 I am convinced my friend who borrowed my book intended to steal it from the inception. There was a caption that indicated that Afro British Guianese and other WWI nationals were volunteering to go to fight for Ethiopia against the Italian invasion. It intrigued me as to the thinking back then. So, I prepared my script for a series of graphic novels and discussed it with my then my boss Denis Williams, who enquired where I intended to take the story (since I have not yet copyrighted it I can't mention the name).
Dr Williams quietly told me "All you know of WW2 and the then colonial world leading up to the war and after and African antiquity, are products of Hollywood and war novels, and he insisted that I need to go deeper even with the historical ones, so take 20 years of research before you begin to rewrite it." I was enraged under my deception of agreement, but I followed his guidance and completed the script and layouts some four years ago.
What I learnt was never taught in school: that so many of my countrymen and CARICOM brethren fought in that conflict, some joined in London,while others were dispatched from these shores. Most of those who saw action were enlisted in England, Caribbean colony pilots saw more action than infantry. June 6, 1944, was D Day- the invasion of Nazi-occupied Europe.
What did this war mean to us? Well one of the things it meant was that it was forced upon the Western allies to invade because the Russians were moving with such speed over the German defences that if D-Day didn't happen, Russia would have occupied all of Germany the Russians had taken with the aid of British bombers most of Konigsberg the capital of Prussia the warrior state of Germany.
This would lead to the prominence of Russia as a world power with an adverse philosophy to the western nations, who were colonisers, holding close to their hearts the very Nazi white supremacist conceptualisation, riveted to falsified biblical interpretations, pseudo-science that had evolved side by side with its supporting mysticism, to create an earth already in preparation for a perpetual caste- governed planet. It was so ingrained that at the victory march 1945, all non-white troops were exempted.
The emergence of Russia generated a philosophical alternative and though communism and socialism presented an ally to the colonial world, in fact, those systems were conceptualised for nations subjected to centuries of serfdom, suppressed by the church and aristocracy which the major population of the former colonies in the Caribbean were not subject to before slavery, which they anyhow resisted during its entire era.
Cuba sustained its Vodu and Santeria with its African Gods, Amerindian and Catholic influence alongside its socialist state. The greater realisation was that in the arena of conflict would emerge as cited, "The camaraderie forged by British West Indians at war for the British Empire was to fuel a new Caribbean sense of nationalism and unity of purpose which would hasten the post-war surge for independence in the region" FOR KING & COUNTRY by Irvin W. Andre & Gabriel J. Christian.
I can remember been told by a female colleague and friend from an organisation we both belong to, that "WWII was a White man's war", the truth is, it enveloped a world, with its values at the time and a test of all that was held sacred against its truths that were encased in denial. It was a challenge to the mythologies and their pantheon of false gods that were created at the dawn of the Atlantic Slave trade and the right to invade and colonise before the justifying altars of a doctrine that usurped nature and Providence.
That remains dormant, ever so often to be summoned as we witnessed in the US of A recently as a vehicle towards power and office, and haunts us too. I realised that 'Hitler' invented nothing, the templates for all his 'evil' were theories from mystics and men of science in his day. Some call him the 'necessary evil' I have another definition, and that struggle is endemic across our species, for many colonial men, service in the battlefield was a challenge to prove as with the Tuskegee airmen their capacity to fly aircraft, with others that they shared the same courage and were equal to other men, and were not inferior to anyone, they defied deformed mythologies.
June 6, 1944,is relevant to us, sacred with its success to the Western Aallied nations, but to coin the essence of the title of the book by Robert N Murray, "Least we Forget." Thus, we must explore the relevance of WWII and its early aftermath to our cultural and psychological evolution and not leave an intricate era that shaped us outside of our active consciousness, because whether we accept or not, that unknowing will linger and nudge us to fill the rightful spaces of self towards being all-round complete.