SIR Yovendra Singh has been a teacher for the past 20 years and he is presently attached to Massiah Primary School, Corentyne, Berbice, Region Six (East Berbice-Corentyne) and is the acting senior master.
He is an approachable, affable kind of person, whose door is always open and easy to talk to. He is a well-known man in the community who does a lot of volunteer work behind the scenes. Singh would give his time to the pupils, their parents and the school at any given time and he is one of the teachers you can call on at any time.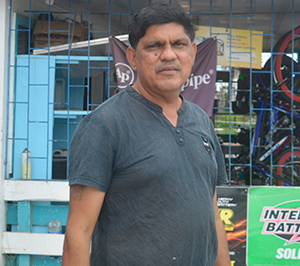 As an educator, he reported that his job is fulfilling and he gets a sense of achievement when his pupils would excel at exams and get a placement at top schools in the region. "Teaching has to be a part of you or you will not like the job, since it entails long hours and endless work," he said.
He stated that parents entrust you with their children and it is your job to impart knowledge and when they do well it is his objective to mould, prepare children for the future, a foundation on which they can earn and build.
Singh admitted that with COVID-19 it has been quite telling on everyone–both teachers and parents–because we had to adopt new measures such as zoom classes, whatsApp classes and other forms of online schooling.
He stated that the children too are frustrated and being at home for so long has had an impact on them in some ways, adding that there is a need for face-to- face teaching, which is the best way to get through to pupils.
"I am hoping that we all do the right thing so the virus can eventually vanish and we can return to classroom teaching and things can be normal again in this extraordinary time," he said.
Singh added that with virtual learning there are a lot of disadvantages, and some pupils have not been able to access the internet to benefit from online classes; but they have been distributing worksheets door to door to ensure that the children get something to occupy their time.
He, like many other teachers, would go to the homes of pupils to deliver the worksheets and it goes beyond the call of duty, but they understand the needs of the children.
Singh reported that Massiah #71 Primary School is headed by Angela Innis and the school is 100 years old and works have been done to upgrade the building and preserve the building.
They have a total of 13 teachers and more than 200 students and they are of the view that schools will re-open for the new school term and are accepting new admissions.
All the teachers are qualified with just one in training presently and some are students of the University of Guyana Tain Campus.
Two of the three business places owned by Jerry Lakeram
Singh added that despite it all the Ministry of Education has been going all out to ensure that they have much-needed supplies to prolong online teaching and home tutoring.
Massiah Primary School has produced top students and they continue to strive for excellence and are working collectively to mould the young minds.
Giving back to society
The Pepperpot Magazine also met businessman Jerry Lakeram, who owns several large businesses at Public Road, Massiah #71 Village, Corentyne, Berbice and does a lot for the community.
'Uncle Jerry' as he is fondly called by residents has given unwavering financial support to the religious bodies, the community and others who needed his support to do many things.
The 52-year-old businessman stated that like many he came up from the grassroot level and invested his money in business and as time progressed, his business grew and he is now in a position to help others.
Lakeram came from humble beginnings and understands the needs of regular people and has an open-door policy, whereby anyone can approach him at any time and he will lend support in whatever way is necessary.
"My support is not limited to one organisation or church and I assist whoever comes along and I keep my prices low, so people can afford to make purchases," he said.
Lakeram is in the electronics, hardware and spare parts business and he is well-respected in Massiah #71 Village and would do free deliveries, even up to Black Bush Polder and Crabwood Creek just to go out of his way to help others.
He would also sponsor religious functions at the nearby mandir in the village and donate food items, hampers and other things to those in need.
Even though the pandemic has crippled some businesses and workers have been laid off, Lakeram said his business is surviving and things are fair, considering all that has happened economically and his children work with him.
"In this village, we need more recreational facilities for the children and youths to be engaged in meaningful activities; so instead of drugs and [being] idle, they will use their time and go to that place with wide-open space to do something of benefit to themselves," he said.
Lakeram added that the country life is simple but hard and the people are trying to earn honestly and they exist peacefully.