THE Region Two Regional Democratic Council (RDC) on Wednesday presented $30,000 cash grants to nine Amerindian village councils to help offset expenses related to this year's independence celebrations or any community-enhancement project of their choice.
The village councils that benefited from this timely initiative are Wakapoa, Akawini, St. Monica/Karawab, Kabakaburi, St. Denys, Mainstay/Whyaka, Capoey, Mashabo, and Bethany.
The cash grants were presented by Regional Executive Officer (REO) Devanand Ramdatt during a meeting held with the newly elected toshaos and deputy toshaos in the RDC's Personnel Department boardroom. The village leaders were told that the money is to be used to enhance the community for the upcoming celebrations and in any way the respective councils desire.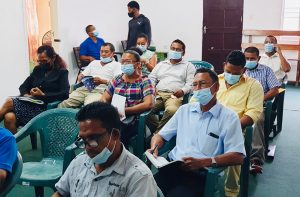 During the meeting, Ramdatt emphasised the need for constant communication and the strengthening of collaborative efforts between the region and the nine villages. Ramdatt challenged the leaders to seek innovative and transformative ways to build their communities, so that they can aid in its development and improved livelihoods of residents.
He also pledged the regional administration's support in providing training, particularly in the field of capacity-building for village leaders, secretaries, and treasurers, so that they can understand their functions and roles at the level of the council. He assured the leaders that the RDC will be working collaboratively with them to ensure that community projects are of a high standard. Toshao of Capoey, Ralph Hendricks, extended gratitude for the cash grant which will be used by his council to clean the community's cemetery yard. He said the money came at an opportune time for his village. Toshao Hendricks used the opportunity to commend the Government of Guyana through the Ministry of Amerindian Affairs for the recent allocation of grants that have been used to undertake several transformative projects in his community.
Other toshaos also expressed similar sentiments, saying that their projects are near completion, especially the establishment of ITC hubs.
On February 3, 2021, 10 Amerindian communities in the region received a total of $105 million to help boost economic activities, to generate income among residents and to execute infrastructural development projects in the respective communities. The money came from a special COVID-19 investment fund, which was created to help Amerindian communities prepare for the devastating economic impacts of the pandemic.
Also in attendance at the meeting were Deputy Regional Executive Officer, Susanna Saywack; Assistant Regional Executive Officer, Yuvette Tfares; Regional Engineer, Kawan Suchit; Regional Education Officer, Nichola Matthews and Senior Personnel Officer, Tageanindra Kishore.