– Aimed at helping children, the elderly and professionals
By Marissa Foster
THE St. Francis Community Developers (SFCD) is a local Non-Governmental Organisation that is known across Guyana for its contributions to social and community development. For the past four months, SFCD collaborated with the United Nations Population Fund and the European Union on the Spotlight Initiative Project. The success of this project allowed SFCD to launch Guyana's first-ever Early Childhood Development Center as well as, a resource centre for Elderly and Sick Care at SFCD's headquarter in Portuguese Quarters, Corentyne. These centres were declared opened by the Honourable Minister of Human Services and Social Security, Dr. Vindhya Persaud.
Alex Foster, President of the St. Francis Community Developers is no stranger to projects of this nature. Foster expressed that, "With the establishment of this resource centre and the 26 corners in the centre, we can be able to train our early-childhood practitioners. We will be able to develop a new generational harvest of persons who possess love, care and passion for the children of this nation. The childhood centre seeks to use teaching methods and materials from North America and transform them into an indigenised form to fit Guyana's context. This will promote practicality of overall comprehensive development of children in our country."
The second centre launched will allow residents of the Ancient County to access resources that will aid in elderly and sick care. SFCD is confident that this centre will be able to professionally train elderly-care practitioners. This will provide many with a valuable skill that can allow them to gain employment, while promoting efficiency in the health care of the elderly in our country. The realisation on the reality that surrounds elderly care in Guyana was sparked by the fact that Foster's very own mother is an elder who depends on such practitioners. The livelihood and well-being of such elders in Berbice rely on trained practitioners who possess professionality and practicality in their line of work.
Dress for success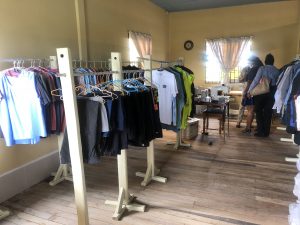 The St. Francis Community Developers was determined to show just how committed they are towards the overall development for all members of the communities they serve. As such, to fulfil their mandate of community development, the team also launched a "Dress for Success" closet. It is one of the first of its kind in Guyana. As the name suggests, this project was developed to help give persons the opportunity to receive professional work attire which they can use to attend job interviews and/or wear to their work. The closet is filled with a variety of professional work ensembles. A seamstress will also be available to help with fittings. Persons who need such clothing can visit the SFCD's headquarters and the team also urges the general public to donate professional work clothing to the closet to help make someone's wish of obtaining their dream job; a reality. Every piece of clothing that is available in the "Dress for Success" closet will be free of cost.
Minister Vindhya Persaud expressed her gratitude and delight to SFCD for launching such a project that complements the Ministry of Human Services and Social Protection. "We must have local content and we will be collaborating with UNICEF to make this possible," expressed Dr. Persaud. She further went on to say that, "It takes a community to raise a child; am very happy that the resource centre will be serving many communities." The Ministry of Human Services in collaboration with the Ministry of Labour will also be rolling out certificate programmes that are focused on care for the elderly, child care and patient care and extends an invitation to work alongside St. Francis Community Developers. These resource centres will be able to also serve as facilities for women and youth empowerment, counselling provided by professional social workers alongside psycho-social support services and playschool services. Representatives from UNICEF, UNFPA, the Ministry of Human Services, the Ministry of Education and Friends of St. Francis were also present at the launching of these projects, as they are all collaborative partners with SFCD.