–tasked with ensuring that remigration, investment interests are met
THE recently established Diaspora and Remigration Unit of the Ministry of Foreign Affairs and International Cooperation, which was created with the intention of bolstering diasporic engagement and helping to streamline re-migration, is now led by Chairman of the Board of Directors for the Transport and Harbours Department's Advisory Council, Rosalinda Rasul.
Rasul's position was announced by the ministry's Foreign Secretary, Robert Persaud, during an engagement with members of the media at his South Road office, on Thursday.
In addition to her position at the Transport and Harbours Department, Rasul serves as a Director on the Board of Directors for the Canawaima Ferry Service Incorporated. Last year, she served as Executive Director of the Guyana Manufacturing and Services Association (GMSA).
Meanwhile, it was also related that Rasul will be supported by a member of Guyana's Foreign Service Staff, Leroy Adolphus. He has served the ministry as the First Secretary at the Embassy of Guyana to the Kingdom of Belgium, Guyana's Permanent Mission to the European Union and as a foreign trade officer. Prior to his work in foreign relations, he worked as a media correspondent.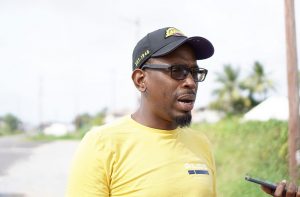 The Foreign Secretary noted that Rasul and Adolphus, together with him, will be spearheading the day-to-day work of the unit.
High on the agenda for the unit will be to enhance engagement efforts with members of the diaspora, through social media engagement, outreach activities and providing necessary information to them. Additionally, the Foreign Secretary noted that much emphasis will be placed on strengthening overseas missions so that they would be able to reach out to members of the diaspora.
"There has been a keen interest in persons coming here," the Foreign Secretary said, adding: "We've been able to streamline the system in terms of remigration."
The Diaspora and Remigration Unit allows for an enhanced, sustained, and coordinated engagement with all Guyanese abroad.
The foreign affairs ministry noted that a priority of the unit will be to foster collaboration with the diaspora in the areas of trade and investment, philanthropy, tourism, youth engagement, attraction of skill and remigration, as well as streamlining the contributions and resources of the diaspora to effectively aid Guyana's development agenda.
The Foreign Secretary highlighted that in the 2021 National budget, nearly $50 million has been allocated to advance diaspora engagement efforts. This sum, he said, will help to propel the efforts geared at encouraging members of the diaspora to invest in Guyana.