By Dillon Goring
AS the world observed World Consumer Rights Day on Monday, March 15, 2021, Guyana is playing its part in the fight against plastic pollution since the focus for this year's theme.
A classic example of how Guyanese are taking up this challenge can be found in a small group of volunteers, who would clean the seawalls weekly.
Dwayne Hackett, Project Coordinator of the group, during an interview with the Pepperpot Magazine explained that one of the purposes of the exercise is to not only clean ocean trash, but also to advocate and raise awareness of the dangers of ocean trash.
He further explained that the practice of people dumping trash into rivers, canals and trenches has a serious impact on the environment which most Guyanese aren't aware of.
According to Hackett, the object of the exercise is to promote an appreciation for nature. Hackett shared his views on the issue of plastic pollution, stating that because plastic is so cheap to produce and persons use that to their advantage to indiscriminately throw plastic into trenches, alleyways and on road parapets, is a public health issue that needs to be addressed immediately.
"Plastic does not decompose, they don't break down so to speak, they actually break up and they turn into microplastics and they eventually get into the food chain," he explained.
Hackett noted that since this issue is not on the list of priorities for immediate attention, there is a callous approach by citizens to adhere to laws that govern this area.
The coordinator appealed to the powers that be for a hands-on approach to address this seemingly chronic problem.
The group hopes to encourage talks regarding addressing the issue and tackling the problem by providing legislation and policies to stymie the problem.
"We are seeing things happening and our social media platform continues to advocate measures and methods to completely alleviate the problem. One of the things being explored is engaging giant producers and manufacturers of plastic beverages to play a great part in solving the problem," Hackett told Pepperpot Magazine.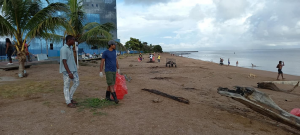 The leading ministry that is addressing this fight is Guyana's Ministry of Tourism, Industry and Commerce, and thus they have outlined 6Rs in a document released.
These are, reduce, recycle, reuse, refuse, rethink and repair.
The document further explained that to reduce plastic pollution, customers need to look to reduce the number of products they buy or consider buying products that use less energy.
Retailers can reduce carbon emissions by transporting products straight to the consumer from the place of manufacture, instead of via warehouses and shops.
Recycling is also a key element in the fight against plastic pollution, products are converted back to their basic materials and remade into new products.
It further noted that designers and manufacturers of products need to design products for recycling.
Guyana's Tourism Minister Oneidge Walrond, in her message to mark World Consumer Rights Day noted that since Guyana is recognised globally as one of the leaders in eco-tourism that to maintain this esteemed status requires us to act responsibly in how we treat the environment .
"Pollution can have adverse effects on our tourism because it negatively impacts the aesthetics of our surroundings and the tourist experience, " the minister was quoted as saying.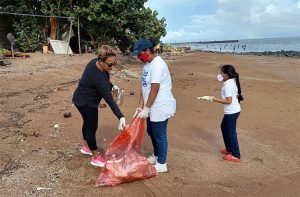 She further added that tackling plastic pollution requires a collective effort and therefore we all have to appreciate the value of environmental preservation and do our part.
Every year, World Consumer Rights Day is observed on March 15 across the globe. The day is celebrated to enable consumers across the world to fight for their rights. It highlights the power that rests in the hands of consumers and intends to empower them.
Pics saved as clean 1-4 caption: Dwayne Hackett and his fellow volunteers during a past clean-up exercise