THE University of Guyana was closed for the spring break on March 2 last year. Little did the students know that it would have been the last time they would be attending physical classrooms as the post-election conflict and the first case of COVID-19 were spotted shortly after. Due to COVID-19, the university was forced to postpone its annual convocation ceremony and graduation in November. Instead, the administration decided to conduct a virtual graduation to avoid physical contact. The students graduating this year are the first batch of students to ever experience this event. These students endured a structural educational change, but yet still they were persistent to graduate. How then, did the students find the courage and determination to excel? What were some of the challenges they undergo? How did they overcome it?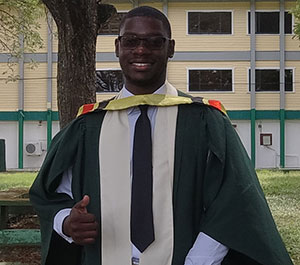 Most, if not all, of the classes at the University of Guyana were converted to virtual settings. Students and lecturers had to learn how to access these virtual mediums and then use them for the remainder of the academic year to complete the courses.
Naomi Dos Ramos graduated with a Bachelors of Law (LL.B) at this year's graduation. When asked about the challenges she faced as she converted from a physical classroom setting to a virtual one, she said: "I personally enjoy the physical classroom setting.
I find that I learn better when I'm listening to and interacting with others. The virtual classroom setting is not as engaging unless the lecturer really demands it and puts in the effort through slides, videos etc." Naomi later explained that she overcame this by: "Teaching myself to work at home. I had to designate a space for working and I would try to do my work there daily, but I'd opt for a change of scenery if it started to feel monotonous. I had to find new ways to stay focused and put different measures in place to block out distractions."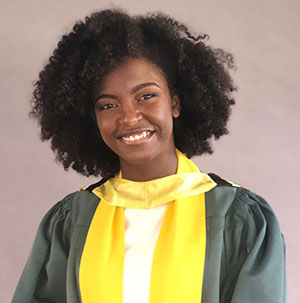 Like many other students at the university, Naomi had to adapt to virtual classrooms, but for students like Joshua Trotman learning could not stop at that. Joshua pursued a degree in Engineering; Applied and Exploration Geology. This programme was a hands-on, practical course and learning was not only theory-based, but was also done on a practical level. "The greatest challenge was completing my final-year project. The pandemic and the necessary guidelines to fight it meant that I could no longer conduct the field and laboratory work I had planned," said Joshua. "I spent time thinking of new topics and ultimately conducted my research on 'The Occurrence and non-construction end uses of silica sand in Guyana.' This was no easy task as some days I would wake up to news of the new cases and deaths and I wouldn't be able to function for the rest of the day. Being home for that long also took a toll on my workflow and ability to focus".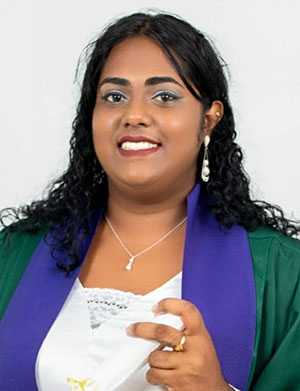 As if the regular day-to-day life as a student pre-pandemic was not overwhelming enough. Many students were faced with their fair share of mental and emotional struggles. Safarana Baksh graduated with an Associates of Science (Computer Science) Degree. She is also a student of the University of Guyana Berbice Campus. Baksh stressed that: "Transitioning from a physical environment to a virtual environment was like a dream that came through for me. I was in my final year the second semester when I had to move to the online environment because of COVID-19. Initially, the classes were going quite well until I was given many assignments since all the courses' assessment method was continuous.
As soon as I am finished with one assignment, another one was being added to the queue. This took a toll on my mental health." How did this affect her mentally and what did she do to overcome it? "Quite often, I was depressed because the workload is overwhelming. I was faced with difficulties focusing, and I was constantly worried about my academic performances. Nevertheless, I managed to overcome my mental health issues in order to graduate by practising a good sleep routine and taking breaks to focus on myself. I would normally sleep for seven to eight hours, and I took a break every day by putting aside my University life and concentrate [sic] on something that makes me feel relaxed and rejuvenating, which is gardening", said Safarana.
Apart from attending the University of Guyana, students also have to maintain a family life. They had to balance their studies alongside the roles they have to play within their households. Daniel Anthony recently graduated from the Animal Science major with a Bachelor's Degree. Initially, Daniel had a hard time balancing his studies and his life at home. He said, "In the early months of the pandemic, striking a balance between academia, home and work life, was quite tedious.
It required some amount of time to adjust to the "new norm" of working from home. Fortunately, in my instance, I was just about mid-way of my final-year research project (final course). One of the greatest challenges I've faced whilst completing this project was the analysis of data collected. Nevertheless, I perseverance[sic]," he said. "I persevered because of the strong support system I received from my supervisor and fellow colleagues. They all helped me to remain resolute and focused on the finish line ahead.".
Despite a global pandemic, the University of Guyana; the students, the lecturers and the administration have managed to produce yet another batch of qualified Guyanese in various academic fields. These students were faced with many challenges but yet they persisted with their goals.