WITH a leap of faith, time and money invested, the women of La Grange Village, West Bank Demerara, took the bold step of establishing their own small businesses and are earning steady incomes to support their families.
One such woman is Rebeeca Ramlall, a mother of one, who operates Rebeeca's Hair and Nails Salon right from her home in Independence Street, La Grange, West Bank Demerara. She is originally from Anna Regina, Essequibo Coast, but relocated to La Grange two years ago when she got married.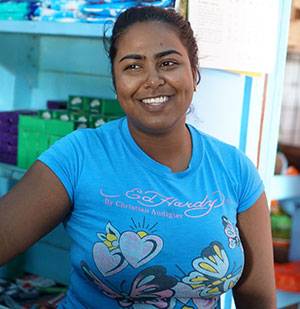 Ramlall however, grew up in Adventure Village, also on the Essequibo Coast and related that her daughter will be six years old in April. She has another job in Dairy, La Parfaite Harmonie Village, which can be accessed through Independence Street, La Grange where she works the midday to 20:00hrs shift at a shop.
The beautician reported that she would do nails and hair when she can and works by appointments, so that she can manage her time and has a cosy corner in her verandah where she attends to clients. Ramlall disclosed that later she plans to build a small salon in her yard where she can have a more suitable place to entertain customers.
She has customers from all across the counties and they would commute to her residence to have their hair and nails done, noting that they come for the professional service and price. "Being a beautician is not a full-time job if you don't have a salon, because people will only do their nails and hair when they have money and it is not an everyday business, so I have another job to supplement my husband's income as an excavator operator," she said.
She explained that she would get up early to prepare meals for her husband to go to work and then complete household chores before midday, when she would go to work. "If you want to enjoy a comfortable life you have to do more than one job and both partners have to be employed," she said.
Ramlall has a small signboard on her fence on which she advertises her small business.
The bar owner
The Pepperpot Magazine also met Laleeta Doodnauth, better known as Jean, who has a family bar in La Grange, a nice hideout place where customers can sit and indulge in some cold beverages, both alcoholic and non-alcoholic.
Her shop is noted for its tasty "cutters" such as fried fish, fried chicken with gravel, channa, chips and other dishes to appease the taste buds. The 56-year-old stated that she had a shop on the Public Road, but that place was rented to GECOM and she moved down the street to another shop owned by her father-in-law.
She began the bar business in 2016 at the "road front" and after her husband died she had to manage it all alone. Doodnauth explained that her husband died 18 years ago and she never remarried and spends her time running her business.
She had been married for just 15 years and is originally from Turkeyen, Greater Georgetown and relocated to La Grange when she got married. Doodnauth moved to La Grange in 1987 and has developed skills in managing a bar and cooking, but would get help from her relatives from time to time.
She is well-known in the community and is an approachable person, who always wears a smile.
The shopkeeper/housewife
Shivanie Ramdass is assisting her aunt to operate a grocery shop in La Grange and is the mother of one. The 20-year-old said she doesn't reside at the same address, but would visit daily to ensure things are in order and to tend to customers in the shop.
She is also a resident of Independence Street, La Grange, and likes the community because it is quiet and a good place to live. Ramdass added that they don't really have armed robberies, but a few incidents of break-ins from time to time.
"The people of this village are nice and even the Spanish folk have moved in the community and they were welcomed, since it is a village with people of all races," she said. She noted that life in La Grange Village is very simple and most people are self-employed, while others work outside the village.
The team also met Bhagmattie Jaikissoon of Unity Street, La Grange, who was at the time spraying pesticide in her garden of cash crops on the roadside. The 47-year-old told the Pepperpot Magazine that she is a stay-at-home mother and a farmer, who has a cultivation of bora, ochroes, boulangers, pigeon peas, plantains, bananas, tomatoes, peppers and fruits.
She would sell her produce at the Bagotville Market, a short distance away, every Sunday. Jaikissoon has been a resident of La Grange for the past 20 years and while at home tending to the children and the house, she realised that she had to do something to bring in an income to the home and started her small farm.
"I feel [good] about myself because I am doing something to earn and it is a good feeling overall because you are not wasting time, but using your time to plant and grow foods," she said.