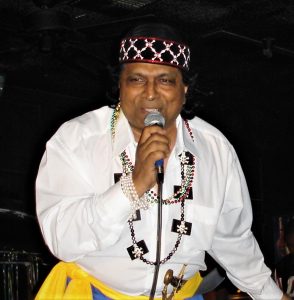 IT'S now been 10 months since overseas-based Guyanese Calypso and Soca powerhouse John 'Slingshot' DrePaul suffered a stroke that left his limbs immobile, but thankfully his brain and face were spared, thus allowing him to still exude the "Slingshot signature smile," speak fluently, remain focused and articulate his thoughts coherently.
Having been released from hospital, Slingshot has been in therapy and has been recovering nicely. The tremendous outpouring of love and moral support from the public at large has only served to comfort and reassure him.
"To know I am appreciated, and that my modest cultural contribution to Guyana was not forgotten — buried in the sands at No. 63 Beach. I was also humbled by the innumerable well-wishers on my Facebook page," Slingshot expressed, while speaking to the Pepperpot Magazine recently.
Having left Guyana in 1970, the entertainer/author/actor/dramatist is now based in Florida, currently editing his post-Beach House memoirs — Slingshot: From No. 63 Beach to Madison Square Garden and beyond.
From the hospital bed to a wheelchair, to a walking stick, Slingshot is taking it a steady step at a time and staying positive. "Slowly getting back to my once usual self; Ingrid [his wife] finds joy assisting with my lyrical compositions and music creativity," he said.
He has already scripted the five music videos that were supposed to have been filmed in Guyana last year during the Christmas holidays, and this year, and has composed 20 songs, music already arranged. He is now waiting for his healing and the easing of the Coronavirus Pandemic to start the recording production.
Slingshot and his wife have composed and arranged over 100 original songs, and have numerous music videos on YouTube. Manifesting his Guyanese creativity, a great majority of his songs appeal to and urge patriotism from his fellow Guyanese and his compositions cover all genres of music: calypsos, soca, reggae, waltz, ballads, social and political satire, and commentary.
His music has universal appeal as he has performed in London before a predominantly Nigerian and Ghanaian audience; his music videos are seen in several African states, New York, Canada, UK, and a few other countries.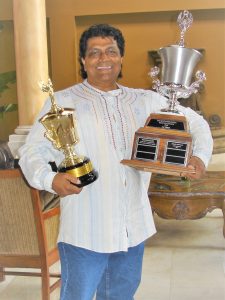 This Guyanese entertainer, who has presently attained iconic status in the eyes of his peers and fans of all races and colours, has written and sung chutney-flavoured soca songs as are reflected in his "Sweet Island Woman" CD. He has also written chutney songs for Indo-Guyanese singers of calibre.
Slingshot has chosen to use his style of music as musical tools to weld strong social, cultural, political, as well as racial harmony among Guyanese both at home and in the diaspora. It is no secret that he is very much welcomed and appreciated in homes in the inner city, and surroundings.
Whenever he is in Guyana, he never hesitates to visit and mingle with the youths and adults in such places as Ruimveldt, La Penitence, Charlestown, Albouystown, Lodge, Roxanne Burnham Gardens, and such. Surely not leaving out places away from Georgetown, Slingshot is no stranger to West Demerara, the East Coast Demerara villages such as Annandale, Buxton, Friendship, Nabaclis, Victoria, and along the Corentyne Coast.
His music is played and appreciated daily over local airwaves. He is heard in the hinterland of Guyana, as it is played over Radio Paiwomak, located in the North Rupununi district.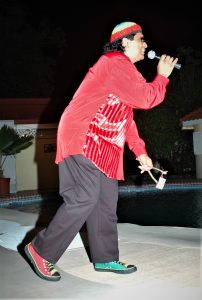 Slingshot, Ingrid, and their daughter Annabelle Rianne DrePaul have produced, directed, and featured in over 50 music videos, among which are the "Christmas in Guyana" and "A Very Merry Guyanese Christmas," two very prominent Christmas songs heard daily in Guyana and the diaspora during the Christmas season over the past several years.
Slingshot has received numerous local and international awards among which are the Mayor's Award of Excellence in 2004 for outstanding achievements in the field of music; GT Lime 2005 Award for Charitable Works in Florida; Guyana Folk Festival's 2005 Wordsworth McAndrew Award; 1986 Brooklyn Carnival Calypso winner; Miami 2005 Soca Monarch; Miami 2005 Calypso Monarch; and Guyana's Accolade Award for his outstanding satirical composition, "Pirates."