–as fishermen who were detained in Venezuela finally return home
–men happy to be back, but sad they don't have any money to support their families
By Indrawattie Natram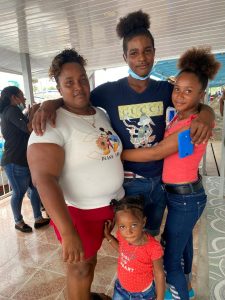 HAPPINESS and contentment were etched in their weather-beaten faces when the Guyana Chronicle first laid eyes on the Guyanese fishermen who were detained in neighbouring Venezuela on Saturday.
The captains of the Lady Nayera and Sea Wolf had reportedly sailed into port at around 02:30hrs that morning, and weighed anchor at Lallbacchan's wharf at Charity.
On arrival, they and their crew were accorded a warm welcome by Kumar Lallbacchan, owner of the Lady Nayera, after which they were met by Region Two Chairperson Vilma De Silva.
The fishermen had been apprehended by the Venezuelan navy since January 21, 2021, and after spending two weeks in detention and making a court appearance, they and their vessels were finally released.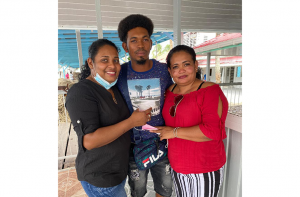 When he had a moment to spare, Richard Ramnarine, captain of the Lady Nayera, told the Guyana Chronicle that he was happy that he and his men were finally able to make it home, and that since their arrival, they have had nothing but words of encouragement from many persons, including regional officials.
Unfortunately, Ramnarine said he was both happy and sad all at once, as he and his men have nothing to show for the many weeks they'd spent at sea. All their stocks; even the little "glue" they had managed to amass were confiscated by the Venezuelan authorities.
"We all came back empty-handed. No money; nothing to take to our families. Some of us don't even have money to travel home; we are happy to be alive, but we are all out of cash," Captain Ramnarine said.
Seizing the opportunity to speak on behalf of himself and his crew members, Ramnarine proceeded to call on the Government of Guyana to provide them with some sort of cash assistance and a bit of "fish glue", which he said would tide them over until they are ready to return to sea.
Just the day before, the government had presented the fishermen's families with hampers. Leading the delegation to make the presentation was Minister of Foreign Affairs and International Co-operation, Hugh Todd.
"Everyone has expenses," Ramnarine said, adding: "Some of the guys have rent to pay; families to maintain. And every trip, they are accustomed to taking money home to their family; this trip was unprofitable."
Joining Ramnarine was Captain of the Sea Wolf, Toney Garraway, who, besides echoing similar sentiments as his sea-faring colleague, said the experience he's gained from being "held up" will forever remain in his memory.
He related that he and his crew members left Charity on January 9, and by January 21, they were accosted by members of the Venezuelan Navy and ordered to follow them.
He said that at first they were terrified, but when they heard that the Government of Guyana and the international community were working to get them released, they felt relieved.
Garraway said that while at no time were they ill-treated by the Venezuelan authorities, they were ordered to remain on their vessels and not to socialise with any of the civilians.
"We were together; food was running out. We'd taken just enough to last us two weeks, but the authorities gave us some items, which we were thankful for," Garraway said.
SCARED TO DEATH
Javin Boston, 18, said he was scared to death, and was praying for his safe return to his family. Boston said that while he loves fishing and helping out his family, it was tough being confined. The one thing that kept him going, however, was the courage and determination of his fellow crew members.
"We knew we were in this together; we held on and we prayed," the teenager said, adding: "If we had to go hungry, we would go hungry together."
Errol Gardener, 41, said he is currently "penniless" and has rent to pay. He said he is currently living on the East Coast Demerara, and has no money to travel. He related that every fishing trip, he takes home no less than $300,000 to his family.
"Things brown this trip; I don't know how to go home, but I am hoping we get help, because I am not living in Essequibo, and as such I need help," Gardener said.
Another crew member, 43-year-old Michael Domingo, who hails from Wakenaam, said that he, too, is out of cash. He said that like everyone else, he has rent to pay, and children to take care of.
PRAISE TO THE ALMIGHTY  
Meanwhile, families of the fishermen were happy to reunite. They were seen hugging and giving praise to the Almighty for the safe return of their relatives. According to Hazel Singh, she was living in fear for days after she learned about the incident.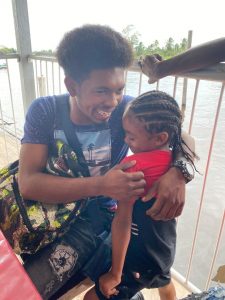 Molly O'Neil, of WestBury, on the Essequibo Coast was also elated. For over two weeks, the families of the fishermen were glued to the media for updates on the incident. The family of Joel Joseph was overjoyed to have him in their presence.
Fishermen and their families are thankful to the Government of Guyana and the international community for helping in their release.
Region Two Chairperson, Vilma De Silva expressed how happy she was to see them, and said that with the help of the Regional Democratic Council, she will be lobbying for assistance for them. De Silva also made a small cash donation to the fishermen on behalf of her Henvil Coconut Farm.
Trevor Daniels, Toney Garraway, Errol Gardener, Orlando Roberts, Christopher Shaw, Shirvin Oneil, and Randy Henry were on-board the Sea Wolf, while Richard Ramnarine, Ramlakhan Kamal, Nick Ragubar, Javin Boston, Michael Domingo, and Joel Joseph were on the Lady Navera.
Word is that the fishermen will be allowed to reunite with their respective families tomorrow after completing a period of isolation in accordance with COVID-19 guidelines. They were tested for the virus at Charity on arrival here on Saturday morning.