–plans to employ Guyanese in every aspect of the organisation
— investing heavily in humanitarian efforts
By Navendra Seoraj
ONE of the world's leading oil service providers, Schlumberger, has designated Guyana as the location for its regional base, with the construction of a modern facility already underway and expected to be completed by mid-year.
Schlumberger, a renowned Fortune 500 company, is the world's leading provider of technology and digital solutions for the oil and gas industry. In 2017, this company made a decision to invest significantly and establish a long- term footprint in Guyana.
Phase one of this development was commissioned in late 2018 and phase two, which includes the construction of a new facility to house the company's Guyana, Trinidad and the Caribbean (GTC) office, is underway, the new Managing Director of Schlumberger GTC, Ernesto Cuadros, said in response to questions from the Sunday Chronicle.
"We anticipate that this development will be completed in the first half of 2021. Upon completion of phase two, all Schlumberger operations in Guyana will be supported and maintained via our local office by our locally-based team," Cuadros said.
Schlumberger delivers services to support Guyana's oil and gas exploration and production operations across the entire value chain, from pore to pipeline. But, with ExxonMobil – the key stakeholder in Guyana's oil and gas sector – set to expand its operations in the near future, the company has evidently taken steps to ensure that it stays in line with the oil company's strategic direction.
Since 2015, ExxonMobil, operator of the Stabroek, Canje and Kaieteur Blocks offshore Guyana, increased its estimated recoverable resource base to more than nine billion oil-equivalent barrels. And, following an agreement with the Government of Guyana, the company recently decided to proceed with the Payara field development offshore Guyana.
Payara is the company's third project in the Stabroek Block and is expected to produce up to 220,000 barrels of oil per day after start-up in 2024, using the prosperity Floating Production, Storage and Offloading (FPSO) vessel.
The $9 billion development will target an estimated resource base of about 600 million oil-equivalent barrels. Ten drill centres are planned, along with up to 41 wells, including 20 production and 21 injection wells.
"There has been sporadic exploration activities taking place offshore Guyana for many years, and Schlumberger is proud to have supported those operations. Our activity in the region has accelerated in line with the increase of exploration that began in the early 2010s," Cuadros said, adding that this includes the now famous Liza-1 discovery in 2015, which Schlumberger was a part of.
Prior to this discovery, the company's Guyana operations were mostly supported by its base in Trinidad and Tobago, while a small team was stationed locally. The company, as it is now, employs over 85 Guyanese, who account for approximately 26 per cent of Schlumberger's local workforce.
LOCAL PARTICIPATION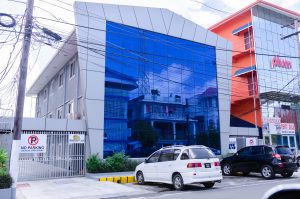 Local participation in this company's operations is, however, expected to increase tremendously over the next 12-18 months, Cuadros contended.
"In addition, due to the impressive, albeit small, local talent pool, Guyanese nationals have been employed across the entire spectrum of the organisation, many of whom have received and will continue to receive formal training and on-the-job exposure overseas.
"As a multi-national company, there will be opportunities for a wide cross-section of Guyanese employees to be placed on long-term overseas assignments, as they progress their careers in the company," the managing director said.
The company, apart from its direct investments and provision of employment coupled with best-in-class training and career development, is committed to the local community, which is evidenced by some of the initiatives implemented to date.
Among some of those initiatives are the donation of some US$10 million (G$2B) towards the establishment of a Geoscience Laboratory at the University of Guyana (UG), and the donation of $1 million to the Rotaract Club of Guyana for novel coronavirus (COVID-19) relief.
The company, according to Cuadros, has also donated $1.8 million to the Georgetown Mayor and City Council for the renovation of the Dorothy Bailey Health Centre, and plans to distribute close to 100 refurbished laptops, monitors, cable locks, docking stations, laptop bags and other peripherals to a local non-profit organisation, among other things.
One of Schlumberger's main humanitarian projects is its 'Excellence in Education Development (SEED) programme', which seeks to engage employees, customers and other stakeholders to drive programmes focussed on promoting education in science, technology, engineering, and mathematics (STEM) to children around the globe and in Guyana.
The programme's mission, as outlined by Cuadros, is to inspire, influence and enable educators in communities where 'Schlumberger people' work and live, and to engage young people from all backgrounds and genders on STEM subjects and problems that require local action.
"This year we plan to implement a number of initiatives and will soon release an Expression of Interest (EOI) in search of local educational partners who can collaborate with us to build SEED programmes.
"We are excited to engage local agencies to develop and plan robust fit-for-purpose programmes for Guyana Schlumberger-Private," the managing director said.
GREENER FUTURE
Additionally, the company is "deeply committed" to playing a role in promoting a greener future by mapping out ways to reduce the carbon footprint of its activities. For example, the company has a plan to use solar power for all lights at its operations facility. Schlumberger is also utilising a water treatment system that enables the company to recycle water used for washing equipment.
"While Schlumberger is obviously focussed on providing safe and reliable services to the oil and gas operators, at our core is a strong commitment to making a positive and meaningful impact in the communities in which we live and work, and Guyana is no exception," Cuadros affirmed.
Although the migration of large companies like Schlumberger is a plus for Guyana, Chairman of the Private Sector Commission (PSC), Nicholas Boyer, has said that local content must be promoted through joint ventures and partnerships with these major companies.
"We hope it is not what I would call a wholesale move, where companies think they will set up in Guyana without any sort of partnerships or joint ventures, or local content in their operations," Boyer said during a recent interview with this newspaper.
It was reported that the government has already initiated the process of crafting a comprehensive local content policy which will form the basis for local content legislation. But even in the absence of a comprehensive policy, it has been reported that Guyanese businesses have been contributing to the oil and gas supply chain, which includes services, such as transportation and even professional services ranging from lawyers, accountants and even auditors.
It is also reported that ExxonMobil and its prime contractors have spent over $300 million with more than 700 local companies since 2015. Also, more than 2,500 Guyanese companies are registered with the Centre for Local Business Development, which was founded by ExxonMobil and its partners in 2017, to build local business capacity to support global competitiveness.
A lot more investors are expected in the coming years, and Guyanese have been positioning themselves to capitalise on the imminent opportunities.