THE sod has officially been turned for the construction of a five- kilometre asphaltic farm-to- market road at Onverwagt, West Coast Berbice, which is expected to benefit hundreds of farmers. With the construction of the $327 million road, it is also expected that over 30,000 acres of rice will be cultivated, while 60 cattle farmers with a total of 23,000 heads of cattle, and about 1,000 heads of small ruminants will also benefit directly. Minister of Agriculture Zulfikar Mustapha and Senior Minister within the Office of the President with responsibility for Finance, Dr. Ashni Singh, were present to turn the sod in the presence of farmers and regional officials to officially launch the project on Saturday.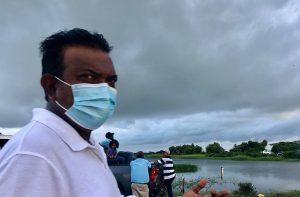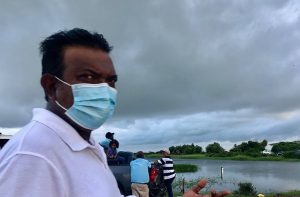 The contract was awarded to West Berbice contractor Romell Jagroop Construction Company, and is scheduled to be completed in eight months. Once the road is completed, farmers will be able to access their farmlands throughout the year, and can expect reduced costs of production; reduced maintenance costs for machinery; better crop management in a timely manner and increased production, yields and profits. Minister Mustapha in his address, stated that the road is a realisation of the People's Progressive Party/Civic's (PPP/C) manifesto promise to restore budgetary support for adequate provision and maintenance of drainage and irrigation systems, and farm-to-market roads. He revealed that six similar roads will be built across the country; three of which will be in Region Five (Mahaica-Berbice). Stressing the importance of agriculture, the minister highlighted that it is one of the most important sectors in the country and when developed properly, it will create jobs and wealth, but more importantly, food security.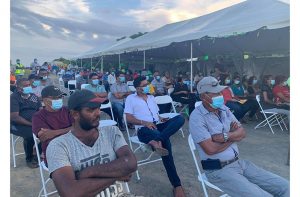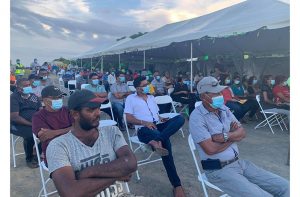 "We believe investment in infrastructure is required to make the agriculture sector viable and sustainable. Without key investments in infrastructure service, service delivery will not be able to take place. If you want to improve production and productivity, then as a government we have to put the necessary infrastructure in place to ensure that we complement the farmers so that they can produce, expand [and] their output in the agriculture sector. We have been focusing primarily to expand and strengthen the drainage and irrigation system," the Agriculture Minister said.
According to him, since taking office in August 2020, the Ministry of Agriculture has reversed land rental and drainage and irrigation fees for Mahaica, Mahaicony Abary (MMA) farmers; land rental fees were reduced to $3,500 from $15,000 and some 245 canals have been de-silted and dams were graded.
Additionally, $98M was allocated to MMA-ADA to conduct urgent repairs to drainage, infrastructure and dams, benefitting 96,000 acres of farmlands and over 2,300 farmers and their families within the Abary Berbice and the Mahaica-Mahaicony block, while emergency works were done at the MMA-ADA, including the cleaning of several canals at a cost of $28.9M.
Meanwhile, Dr. Singh in his remarks stated that Guyana is at an incredibly exciting time in its history with oil production. Dr. Singh noted that the government intends to use the revenue derived from oil to boost other sectors, especially the agriculture sector, which has been the backbone of the economy.
"Oil will be important, but I would like to say to you definitively that the President's agenda and the mandate that he has given to the ministers is that we must ensure that every other productive sector of the economy realises a dramatic and rapid transformation, so that we see a booming in our economy. Our intention is that Guyana must take its rightful place as an agriculture powerhouse in this Region. We must not only be famous for oil and gas, we must also be well-known for the fact that we are finally realising our potential that has been spoken [of] for generations; we are finally realising our potential to be the breadbasket of the Caribbean and the major supply of food products throughout the hemisphere."
GAS-TO-SHORE PROJECT
Meanwhile, Minister Singh reiterated that the government is assiduously pursuing the gas-to- shore project, since it is key in the reduction of energy costs, which will ultimately bring down costs of production and open new avenues for investment and wealth for Guyanese, especially farmers.
He explained that for a long time, Guyana has been an exporter of primary agricultural produce, bulk sugar, rice, harvested fruits, vegetables and non-traditional crops, but one of the main impediments that prevented Guyana from moving to value-added agro-processing, has been the cost of energy; the gas-to-shore project will facilitate this.
"…so while you read about gas to shore, gas to power and you read about the reduction in cost of energy, you might be tempted to make the mistake [that] this is not relevant to agriculture, but it is very relevant to agriculture because when the cost of energy comes down, immediately, our capacity to process refined products, to package products to develop value-added and to promote agro-processing…immediately our capacity to do so, and to do so in a competitive way, is readily transformed.
"So we have an integrated plan that starts literally from making acreage available, opening up lands. This road alone will improve access to 12,000 acres."
Meanwhile, farmers were in high praise for the ministers and the government for heeding their call, noting that they had requested the road years ago.
Rice and cattle farmer, Ashiek Motilall, told the Guyana Chronicle that he utilises the Onverwagt road to access his farmland and during the rainy season, it is very challenging and expensive to do so.
"The rehabilitation of the road will be very good to me and many farmers, because we can reach faster to work. I no longer will have to use two tractors to go with one vehicle and then branch off. Right now, the dam is so bad, we cannot go with a trailer with load, because we get stuck."