– From 2021 onwards…
THAT we are here is not unknown. The world of the arts exists, whether in ads, skits, on Main Street in stands or on the shelves of Austin's Book Store, and through other venues on Regent Street, or as walk-in galleries, in reference to the brothers who walk and sell their work. We do exist, but in the minuscule percentage of the national consciousness as 'beings' of some importance. That we have marginalised ourselves by not being vocal is our fault. Thus, we must redefine and explore the platforms that can link us to the realms of the Arts beyond the semi-exotic accommodation appendage designed for us during the colonial era, and adjust, and assert a new interpretation for ourselves.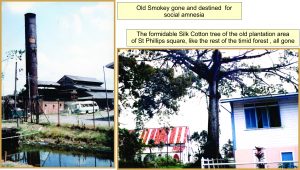 Who are the souls in the Fraternity of the Arts? Basically creative minds, a stratum of humanity that, for example, from the reference apex that designed Pyramids and sculpted sacred imagery, and wrote medical papyrus that influenced the ancient world, this reference- 'Imhotep', then da Vinci; the musician and mathematician, Albert Einstein and numerous others across Asia and Mesoamerica, across timelines. In Guyana, this group is defined by playwrights, actors, artists, writers, IT designers, furniture designers, jewellery and fashion designers, industrial designers, engineers, recipe chemists and all who evolve with new and revolutionary items beneficial to our existence who have journeyed through hard work based on inspiration against unproven ideas labouring in the realms of the Intellectual Property Estate towards creating, from which we/they should benefit livelihoods. What and where are the places and the landmarks that the creative minds must venture into, and pay attention to? The answer is simple, and yet it requires an inner spark of observation to be cognisant of. These places and landmarks constitute all that envelopes the moving, changing world around and about us that impedes on the historical and social memory challenging retainable against forgetfulness, exploring the triumphs and tragedies that constitute the national ethos, and the accomplished and celebrated presences that are the proven standards, from which the evolving elements of our aesthetics must persevere along sustainable guidelines, therein rests the ultimate intuitive challenge for the creative mind, as navigator and protector of our 'national being.' The currents of the creative mind flow into the awareness of those struggling against all odds to preserve who we are, the narratives that comprise the essays and records of our yesterdays, yes I empathise with the national archivist and share her rage on the loss of valuable records as a result of ignorance and absolute insensitivity to the obvious.
Why this is even more necessary is the factor that I've referred to on several occasions, we don't keep records; all our pictorial records reside in private hands and are on eBay. It is the interest of the individuals who intend to pursue careers in film, graphic storytelling and even for documentaries that we begin to understand the concept of authentic recorded graphic and illustrated reference records. I'll share this experience my mother always told me this story in good humour: she sang as a young girl, and there was this event when Johnny Mathis sang at City Hall, that she was a part of. Well this was long before the television was a common thing, and she said that the "pass for whites all crowded up in front, believing he was Caucasian, so you should see their faces when he came on stage and they realised that he was Black." This was a very humorous story to her. After she passed away, I decided to explore that other Georgetown; her Georgetown; and a good way to start was to have a look at the poster of that event. On arriving at City Hall I began my enquiry, where I was met by curious expressions of bewilderment and what I call cordial confusion. No one knew what I was talking about. To my relief, after going a little further to convince myself that my mother didn't make this story up, I went to the office of the late Town Clerk Mr. Fausette, who I knew well, who confirmed that the Town Hall was a cultural haven back in the '40s and '50s and yes, he had heard of the Johnny Mathis event. But unfortunately, no bold records are kept that celebrate that aspect of the history of City Hall, or for a matter nowhere else, as I've experienced not Transport and Harbours, not Guyana Airways, and barely the birth to the current slow dying of our trade unions from a historical perspective, both text and pictures/illustrations, where does it exist? The sad fact is, that should a young filmmaker decide to recreate any script beyond the past 20 years his/her options would be difficult. About three years ago, I was coming down Smyth Street with a close young relative who I told that Saint Phillips once had a timid forest of Silk Cotton trees and some fool cut them all down, she replied "why?" I really didn't want to talk about it, so I just changed the subject.
I can create a record beyond this article to illustrate what I'm saying, especially to the minds involved in the creative works of this nation, the responsibility lies in our hands, as Fanon prophetically stated: "Each generation must discover its mission, fulfil it or betray it, in relative opacity."