– With hard work and perseverance
By Michel Outridge
LIKE most villagers of Zeelugt, East Bank Essequibo, Stephen Da Costa is earning a living right from under his house which is convenient, and despite the challenges, he is trying to keep his small business operational.
Da Costa has been a resident of Zeelugt Village for the past 30 years, when as a youth he left his hometown in the Pomeroon to go to school.
He was learning a trade with a tailor when he saw the young woman who would later become his wife.
"I saw this girl and I knew I was in love; she was so beautiful and still is today and after nine years she said yes to marrying me and I was elated and beyond myself," he said.
Da Costa, after tailoring faded, still had to earn and tried his hand at fabrication and welding and today he is successful in that trade because he built a tilt trailer from scratch and would custom-made most things.
The father of three said he bluffed his way into welding and fabricating, because he did not know the trade, but when he bought his first welding plant, he was given a job to outfit a house with grill and it was his best work ever.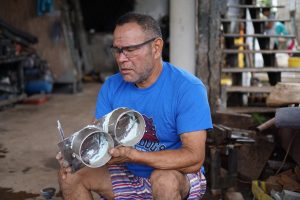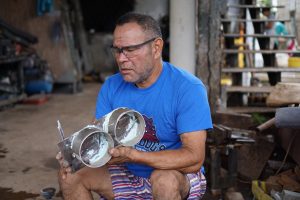 The 57-year-old told the Pepperpot Magazine that his daughter is familiar with the trade and she got that by looking at him work; and she is the one who does assist him to get a lot of things done in his workshop.
"My daughter is qualified as a lab technician, but took a job as a secretary with a private dental clinic because she could not find work, so I told her she must take that until she get the job she wants," he said.
Da Costa revealed that he has tried his hand at most trades because work is not easy to get, and he would do many things to earn.
He stated that he had a bakery on the bottom flat of his house, but it was a seasonal small business and after it folded, he started his welding/fabrication business.
Da Costa added that most people prefer to buy things that are packaged in fancy wrappings and they would opt for the foreign products more than the local, because we don't do fancy packaging; so most small businesses fail even before they start.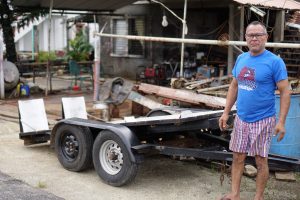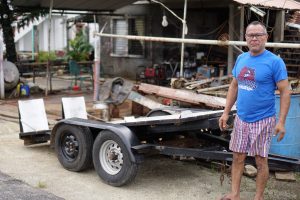 He related that it is the packaging that attracts the eye of the buyer, and most people want that because it is well labelled and packaged.
Da Costa told the Pepperpot Magazine that he would give back to the community by training youths in the village at his workshop, and did so for more than 50 young men.
"I would even pay some of them to just learn this trade to acquire a skill, so they can earn, but some of them are not willing to learn, but is still try to motivate them," he said.
The father of three noted that from the time he first came to the village to now a lot of things have changed and he has seen development within Zeelugt and that is a plus for any community as a whole because infrastructure is necessary.
Da Costa reported that he would leave this country and go overseas to work and would return to work as well, because he is not accustomed to sitting idly by and doing nothing.
"The hardest part of starting a small business is to make a start to establish your business, because you have to spend to earn and after that you can build up a clientele base and your business will eventually take shape, making you self-employed," he said.