– hotel owner, vendors among those affected
By Indrawattie Natram
HEAVY rainfall in Region Two (Pomeroon-Supenaam) has left many households and businesses in Charity under floodwater since Boxing Day. The Charity/Ursara Neighbourhood Democratic Council (NDC) and the regional administration have assessed the situation and are currently carrying out remedial works in the hope of bringing relief to those affected. Manager of Xenon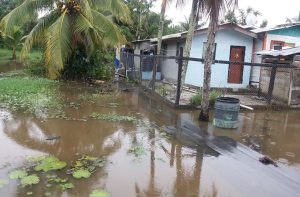 Hotel, Suendra Hallal, said the hotel's lower flats were inundated . This, he said, had a negative impact on the business since they were able to accommodate only overnighting guestss.
The snacknette, nightclub and dining hall had to be closed, Hallal said, adding that a pump had to be rented to assist in getting some of the water out of the building.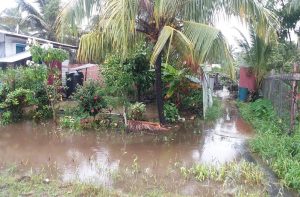 Significant losses were incurred as a result of the situation, he said. Meanwhile, vendors who were hoping to capitalise on the holiday season had to close earlier than expected, since the Charity Market was inundated due to the excessive rainfall. "I had to close up. I was hoping to make some extra dollars for the season with the late shopping, but my staff was flooded… [We] had to close, too much water," stall owner, Shelly Singh pointed out. When this newspaper visited the Charity Amazon area, the market and those living in the housing scheme were predominantly affected. Many persons were seen putting sandbags in front of their gaps and were also bailing water. "Boxing night we had to move all we things from the bottom flat to the top to safeguard them. The water was just gushing through our downstairs," Lionel Boodram recalled.
CLOGGED DRAINS
Regional Vice-Chairman Humace Odit visited the area on Sunday afternoon and had a first-hand look at the situation. Both the sluice and the pump are operational, but Odit explained that "excessive weeds" in the trenches are clogging the pump. As such, operators have to keep clearing the pump so that it works effectively. He also explained that once the sluice and the pump are able to function without hindrance, he is positive that the water will soon recede. As it relates to the Charity Market area, the Regional Vice-Chairman said vendors have built their stalls over the drains and have dumped tons of garbage into the drains which have left them clogged. He said that if the water does not recede in the market area, then the regional administration will have to remove those stalls to clear the drainage system. He also urged vendors vending at the market to stop dumping garbage into the drains. A team from the regional administration's Drainage and Irrigation Department is currently monitoring the situation.