THE Ministry of Human Services and Social Security, under its "Wish Upon A Star" initiative, has granted the wishes of 50 children with special needs for Christmas.
Among the 50 were five-year-old Ayush Bharat; 12-year-old twins, Hafizah and Saleemah Harmon and their eight-year-old sister, Shareefa, who all met President Irfaan Ali on Christmas Eve at State House.
During the visit, Bharat's mother expressed that her son "has always idolised the President", and has an autograph book with images of all his heroes. The book was signed by President Ali.
Meanwhile, Hafizah and Saleemah, during their interaction with the President, asked him to assist them with a scholarship to attend the ISA Islamic School, since their mother cannot afford the tuition fees. Following a 'brief dialogue', the President announced that their wish will be fulfilled.
Prior to the State House visit, several beneficiaries visited the ministry's head office to uplift their gifts from Minister of Human Services and Social Security, Dr. Vindhya Persaud.
The minister, who was moved by the children's reaction, posited: "Today, there were moments of smiles and tears, as I watched these children receive their gifts. There isn't a price tag for a child's smile."
The countrywide "Wish Upon A Star" campaign was launched on December 14, and targeted children between the ages of four and 15 who either suffer from a terminal illness, disabilities, or psychological trauma, or have lost their parents or never had the opportunity to enjoy that one gift that would make them incredibly happy.
Having received over 350 handwritten letters, the ministry's Santa Helpers had a difficult task of reviewing the heartfelt requests, and to determine who were eligible to receive gifts.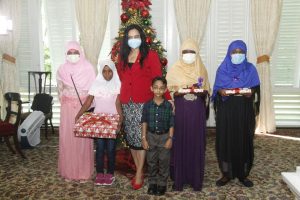 The distribution of gifts commenced on Christmas Eve, with the ministry's Permanent Secretary Ms. Shannielle Hoosein-Outar visiting Regions Three (Essequibo Islands-West Demerara), Five (Mahaica-Berbice), and Six (East Berbice-Corentyne) to personally hand over the 'goodies' to eligible children.
Following the favourable feedback, an elated Minister Persaud stated that her mission has been accomplished.
"I want to thank the ministry's staff, who worked tirelessly behind the scenes, including the PS and her team. All the hard work over the past few days really paid off," Minister Persaud said.
She also expressed her appreciation to the companies that came on board for the campaign, among them Synetech; Courts Guyana Inc.; Massy Motors (Guyana) Ltd; Massy Gas (Guyana) Ltd.; Massy Distribution (Guyana) Ltd; Giftland Group of Companies; Game Xpress; Unique Innovations; Guyana National Bureau of Standards; NAMILCO; Caribbean Containers Inc; Pritipaul Singh Investment; Digicel; Medicare; and the Rotary Club of Demerara.
CAPTIONS: Pics saved as: MOHS1- 3
1: Ayush Bharat and Minister of Human Services and Social Security, Dr. Vindhya Persaud during his meeting with President Irfaan Ali on Christmas Eve Day at State House
2: The Harmon twins, Hafizah and Saleemah (extreme right), their sister, Shareefa, and their mother (first and second left, respectively) during their visit with Minister of Human Services and Social Security, Dr. Vindyha Persaud. With them also is Ayush Bharat (third right)
3: Dr. Persaud makes a personal delivery