By Rehana Ahamad
WHEN I was growing up in Novar, Mahaicony, my grandmother Zabeda and my late aunty Doll always maintained a beautiful showcase corner for the many Christmas cards they would receive, year after year, after year. Come to think of it, it was almost an untold, unexplained law to not discard any of those cards. They were treasures, it seemed. 'Twine lines' would be strung on nails and the lovely Christmas cards, much like laundry, would be hung in a little nook for all to see. At one point, I remember the twine cutting under pressure, and in an instant, cards scattered on the living room floor. I was probably about eight at that time, and I loved to read. I would read everything that crossed my path; I still do this, mind you. Nonetheless, that day, I sat on the floor and read in excess of 45 cards, mostly Christmas cards, one by one. They were all from relatives overseas; aunts and uncles that I had only heard stories about, but had never seen. I recall some of the cards being even older than me at that time; the designs were captivating and the words melted my young heart. I understood, in that moment, why my aunt and grandmother held on to those things. They really were treasures. Unfortunately, the tradition of those treasures has been lost with the time.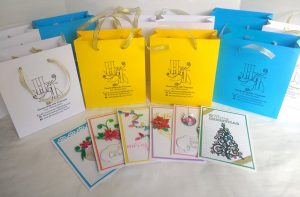 As I sit here at my desk at midnight, typing this article, I am becoming overly nostalgic. I wish I had photographs to see for myself, and share with you, our readers. I wish I was able to get actual glimpses of what those cards looked like. I wish I was able to hold them, smell them, and read the heartening little messages they contained.
In the 26 years that I have been on this planet, I have only ever received one Christmas card; one! It was from my aunt Renu in Canada. Unfortunately, my mild hoarder personality clashes with my mother's need to discard of old things. I still remember how much I cried the day she burned my typewriter. I might even still have some lingering PTSD from that incident; it wasn't easy to stand there and watch that piece of history turn to ashes. Well, if I'm being honest, it took several days to completely burn, but still, it was tragic.
For as long as I can remember, I have desperately tried to hold on to things that face threats of extinction. I have such a nostalgic personality that I keep old perfume bottles; don't judge me. Here's the thing, I never use the same fragrance more than once, so every scent is like a time machine; it sends me back to the period of my life where I flaunted a particular fragrance. For instance, a whiff of those AVON cucumber-scented body mists transports me back to my days of attending Covent Garden Secondary School; a back-bencher, surrounded by my dearest friends, laughing non-stop during our lunch breaks. Unfortunately, the wonderful scent that is Gucci Bloom has been tainted by this Jumanji-like year of 2020. If I decide to procreate, smelling that Gucci perfume will be a reminder of stories to tell my grandkids – the horrors of forgetting to wear my mask or wash my hands every few seconds.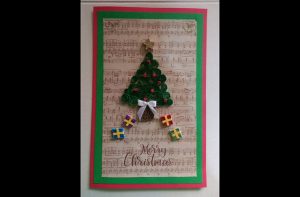 Truth be told, I don't fear changes, I fear things being lost – traditions, memories, photographs, etc. There are so many things that I don't wish to see fade with time; one such thing is the tradition of sending hardcopy cards, especially at Christmas.
The question of whether Christmas cards are becoming obsolete has been bothering me for the past few years, but I am now a tad bit relieved, having met Ms. Traceyann Massay, a creative, passionate and vibrant young woman who shares my love for Christmas cards. So much so, that she has a little card shrine of her own.
THE REINVENTION MISSION BY TRACEYANN MASSAY
The Business Management student of the University of Guyana has started utilizing her creativity and business talents to reinvent the tradition of gifting hardcopy holiday cards. "Giving and receiving cards is a dying art form," Massay asserted. She explained that by way of her business, she wants to reinvent and reignite people's love for personalised cards and other gifts. 'Handcrafting with Traceyann' was established in 2017, with the mission of doing just that. The 37-year-old business woman believes that while continued technological advancements are necessary, Guyanese should be mindful, and not allow this new dispensation to take a negative toll on decades-old traditions.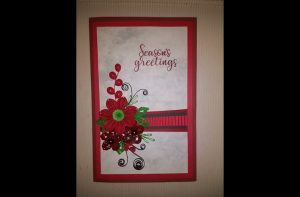 "In this age, a person could easily send an email, or a Facebook message. I want to bring back the sentiments attached to cards and gifts; that personal touch, the genuine love that one would feel when they receive a card made just for them; something that they can literally hold to their hearts," Massay related.
In crafting her pieces, the businesswoman said that she takes the time to speak with the person giving the gift, so as to understand the preferences, likes and dislikes of its recipient. "For instance, if I am making a Christmas card for a gardener, although it is a Christmas card and it will be Christmassy, it will still feature something that the receiver loves and holds dear. Perhaps a little garden at the corner or in the background or something; there really are endless possibilities when it comes to personalised gifts," Massay said.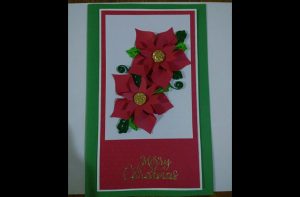 Reflecting on her three years in business, Massay believes that her mission is well on its way to being a success, with more and more persons gravitating towards sending personalised greeting cards and other gifts. "People love the idea of a card or an item being made just for them. They love to see their names on a card; they love to see cards that contain things that they love; their favourite colours, their favourite things; cards that are a reflection of who they are as a person," Massay said.
BEGINNING TO PICK UP
She noted that despite the COVID-19 pandemic, business for the holiday season has started to pick up, and her customer-base is ever-expanding.
"It seems as though people are once again falling in love with Christmas cards," Massay stated.
With the constant evolution of society, Massay is committed to staying on top of her game. She is determined not to allow technology to hinder her mission of reigniting Guyana's love for hardcopy greeting cards, particularly at Christmas.
"The plan is to stay on top of my game and as such I am constantly on the look-out for new machines, and other craft supplies that can enhance my creations. I am particularly keen as it relates to new designs, colours, and paper available to make greeting cards, especially at Christmas.
"I had discovered the art of quilling. I was so impressed that a simple sheet of paper makes such amazing things," a smiling Massay reflected. 'Quilling' or paper filigree is an art form that involves the use of strips of paper that are rolled, shaped, and glued together to create decorative designs.
"I have been crafting from a young age, with never a thought about selling my products. Over the years, thanks to family and friends, I have the opportunity to sell my products, and to analyze customer preferences and build business strategies.
I have moved from printed thank you cards to stamped thank you cards to greetings cards, wedding invitations, even large paper flowers and decorations," Massay said.
Seeing Ms. Massay's dedication has provided me with some amount of hope that all is not lost, and perhaps years from now, I too will have a Christmas card shrine of my own, one that can warm the hearts of future generations of my family, and provide inspiration for the continuation of gifting hardcopy greeting cards.
If you want to create card corner of your own, Ms. Massay can be contacted via cellphone: 641-6655, or on Instagram @Handmadequilledcards.
This Christmas, I will keep my twine on hand, anticipating the gift of cards that I can use to start my card corner. Merry Christmas, Guyana! Remember to mask up, sanitise and stay alive.