A breezy, safe place to reside
THIS week, the Pepperpot Magazine visited Onderneeming Village, which is located between Hopetown and Experiment communities, West Coast Berbice. Onderneeming Village is divided into two sections, that is, the New Housing Scheme which was established about three years ago along with the road front section and at the rear of that is the New Hope Housing Scheme, a village of 43 houses, which was sponsored by Lil' Red Foundation via Food For The Poor Guyana. On November 25, 2016, for his 43rd wedding anniversary, American businessman and philanthropist Joseph Roetheli cut the ceremonial ribbon signalling the official opening of the New Hope Community Development Project at Onderneeming, West Coast Berbice
The project, which is intended to benefit 43 families, is a partnership between Food For The Poor Guyana Inc. (FFP), the Lil' Red Foundation and Major Giving, a donor agency based in Florida.
The New Hope project, which comprises 43 houses replete with sanitation facilities, water components and a community centre, was financed by Roetheli, an American. The village has the GUYOIL Gas Station on the Public Road, St. Michael's Church Hill, the Fort Wellington Secondary School, A & T Wholesale Store, Hopetown Land Coop Society office, wash bays, shops, and other micro and mid-size businesses. The regional hospital is at Fort Wellington and the road front is lined with small businesses including a pharmacy, a photocopying centre and a butcher shop. Onderneeming is a breezy place to raise a family and the locals are very friendly and neighbourly and quite safe since people look out for each other. The village has basic infrastructure such as good roads, potable water, electricity but no landline phone service. Life in New Hope Resident of New Hope Housing Scheme, Carlissa Semple is a teacher attached to Hopetown Nursery School.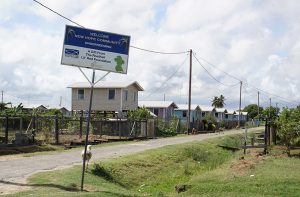 She is a mother of three, who told the Pepperpot Magazine that without FFP she was unable to own her own home and it was simply a dream come through. She had been residing with her sister in an extended family setting in Hopetown before she moved into her own house. "I didn't want to apply because I thought of the odds of having my own land and a house and I knew I could not afford that on my own but I was encouraged to apply for the land and when I got the phone call to pick my house lot I was in disbelief," she said. It has been five years and she is thinking about extending her house to make it a bit more comfortable. Semple stated that most of the 43 families that reside at New Hope Housing Scheme are single parents and others, who needed proper living accommodations. She added that residents were also given a loan and trained to start a small business such as pig rearing and most people took that opportunity while, others are also doing things at home to earn. She grabbed the opportunity to learn to sew and make candles, which she developed into a small business. She would sell the scented candles at Rosignol Market and in the community but due to the virus, she has ceased that operation until it is safe to do so again. The local reported that there are about 500 residents in the New Hope New Housing Scheme, because some houses have more than five children. She disclosed that Onderneeming starts from the GUYOIL Gas Station which borders Hopetown from that village and ends at the Fort Wellington bridge. Semple noted that there is a community centre in the village but the area needs to be identified for it to be fenced and they have a Resource Centre where they provide skills training and have empowerment programmes for both adults and youths. She is a member of the Hopetown Land Coop Society and monies garnered are used to develop the community.
Distance learning Since schools closed its doors earlier this year, Semple, who misses the classroom sessions said that she would reach out to all children which are 13 in total and via WhatsApp, she would send calls work. However, not every child has access to the internet so some haven't been reached, but with the Ministry of Education's intervention of hand-outs that is, worksheets she would deliver those to every child in her class to ensure they have something to do and be stimulated. "While I am doing my utmost to get the worksheets to the children I am not sure if they are being guided to complete such but I do try to check on them and have those worksheets marked," she said. Semple stated that it has been hard on both teachers and children being home, shut away but people are coping better these days and it would be good to return to school because she is tired of being at home. "Although there are things I do to occupy my time, I still miss school because of the children and I know how difficult it has been being cooped up and we all welcome normalcy again," she said. The pandemic, Semple stated, has brought a lot of challenges and people had to adjust quickly and wearing a face mask and constant hand-washing and sanitising is the new norm and people are still rattled.