THERE have been 21 new COVID-19 cases recorded from 241 tests, according to the Ministry of Health's COVID-19 dashboard released on Monday afternoon.
These 21 new cases take the total number of confirmed cases in Guyana to 5,154. Of that number, there have been 4,034 recoveries, including 15 new recoveries recorded over the 24-hour period. Based on these numbers, there is a recovery rate of approximately 78.3 percent.
The death toll is currently at 146, with the latest death being an 88-year-old woman from Region 10. Additionally, there are eight persons in COVID-19 ICU, one more from the day before.
The new cases were recorded from 11 men and 10 women. They were recorded in Region Three (one case), Region Four (one case) and Region Six (19 cases).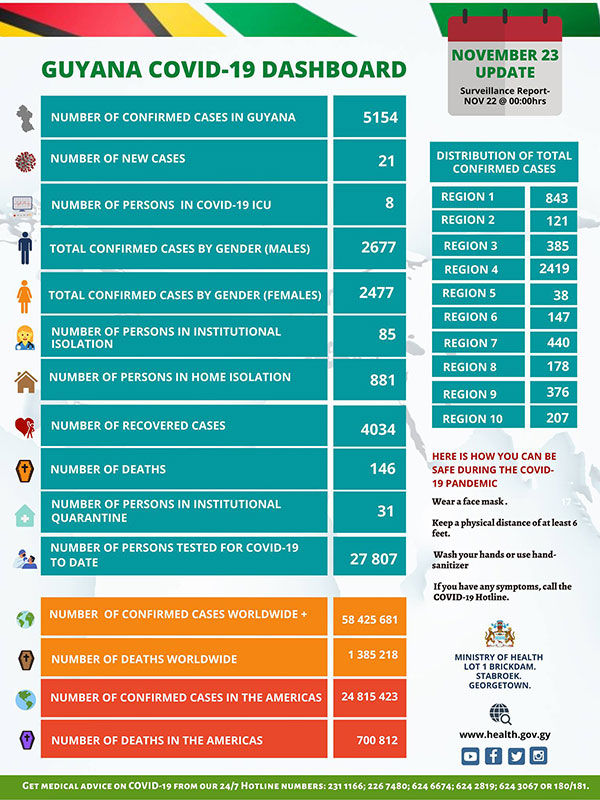 Currently, there are 85 persons in institutional isolation, 881 in home isolation and 31 in institutional quarantine.
The updated COVID–19 Emergency Measures (No. Eight) will expire on November 30, 2020, unless earlier terminated, extended or amended by notice of the Minister of Health, after an assessment of the prevailing public health conditions of the pandemic.
As per these measures, all persons are required to wear face masks when leaving their homes. Physical distancing and adequate sanitisation are also important. The curfew is now 22:30 hours to 04:00 hours.
Persons with symptoms of COVID-19 are asked to call the COVID-19 hotline numbers: 231-1166; 226-7480; or 180/181 for assistance.