TARMILA Bhawan of Number 72 Village 'Hong Kong' has taken it upon herself to home-school four pupils from her street, at her home, five days per week, as her way of giving back to the people. The heavily pregnant Bhawan called "Padmini" has created a classroom space outfitted with tables and chairs with a chalkboard to assist schoolchildren from her street with their work-sheets.
The 22-year-old told the Pepperpot Magazine that she is a teacher attached to Skeldon Primary School and for the past two months after recognising the struggles with the children doing their work-sheets without help, she decided to lend a helping hand. "I am home, they are home, we all are frustrated with the pandemic and they were behind in school work; as such, I decided to assist in my own way by having them here at my house," she said.
Bhawan reported that due to COVID-19 she cannot accommodate a crowd and has four pupils, the children in her street alone. The teacher stated that the children don't have access to the internet and were not benefiting from the on-line sessions so the idea of having them at her home was conceptualised.
"After realising that the children were not gaining anything for classwork I thought of doing something because I want to help and with the Ministry of Education worksheets I can ensure they complete it correctly under my guidance and I feel good about what I am doing," she said. Bhawan stated that she would take the time and go through each worksheet with the children individually and sit with them.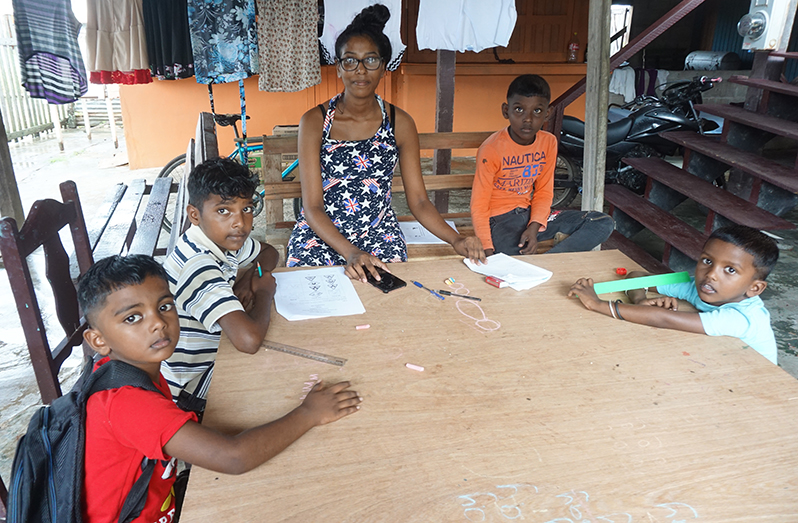 These sessions are held on Mondays, Wednesdays and Fridays from 09:00hrs to 11:00hrs and due to her expectancy, she is trying to cope with bouts of illness. The teacher explained that the children have a lot of weak areas such as letters and numbers and she is assisting them in getting back the concepts and they are grasping slowly.
She, however, admitted that she misses the classroom setting where she was able to have direct interaction with her pupils and being home for months now it has been difficult to cope. "I am accustomed to school and now that I cannot go to school it took a toll on me being home not doing anything to help the children and I wanted to get out of that phase," she said.
Bhawan related that worksheets are delivered to headteachers of the schools and they would inform the teachers via a text message on the days the parents can go and collect the worksheets.
The worksheets include Mathematics, Science, Social Studies and English. She stated that she would reach out to her pupils which is 22 in total via WhatsApp and they would have classwork prepared for them to do at home individually but some do not have access to the internet.
Bhawan said some children really need to be tutored because some parents are working and they are left on their own to complete the worksheets and it is a bit challenging for them to do it alone. She disclosed that more needs to be done to stimulate the children because it is indeed a difficult time for all since we were never prepared for the pandemic and had to adapt quickly to many things.
When the need arises Bhawan would take to the chalkboard and make the necessary illustrations to make learning easier for the children. She reported that maybe after the virus she will think of having after school extra lesson, who knows.