PRESIDENT Dr. Irfaan Ali and several other high-ranking officials of the Guyana Government continued discussions with the high-level team from the United Arab Emirates (UAE) late into Friday night on investment opportunities across all the major sectors in Guyana.
The eight-member delegation, headed by his Highness, Sheikh Ahmed Dalmook Al Maktoum of the UAE, arrived in Guyana on Thursday, and is expected to leave today.
The discussions have so far been with an air of optimism that Guyana will benefit from several investment projects.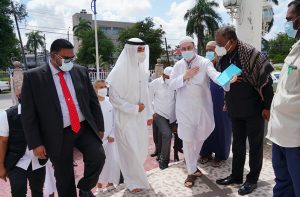 The UAE is no stranger to major international investments; in fact, the Sheikh is the founder of a diversified conglomerate, the Africa, Middle East Resource Investment (AMERI) Group.
As the founder and Chairman of AMERI Group LLC, His Highness established strategic partnerships in many countries to create a better world for the underprivileged.
He has played a path-defining role in extending a helping hand to bring about positive change in the lives of millions.
The AMERI Group itself has diversified into a conglomerate that develops, invests, co-owns, and operates power plants, energy and infrastructure projects mainly in Africa and the Middle East.
Through AMERI Energy, the group has provided economical, innovative and clean energy solutions. The AMERI Infrastructure division specialises in solutions with a reputable clientele.
Since the change of Government in August, Guyana has attracted a number of international investors. Within the space of three months, the country has hosted the U.S. Secretary of State, Mike Pompeo, and the President of Suriname, Chandrikapersad Santokhi, and other high-level officials.
This unprecedented interest in Guyana is due mainly to the country's nascent oil and gas sector, which is expected to catalyse development across all sectors.
President Ali has already said that progress is expected on all fronts in 2021, which has since been designated the Year of Investments and Development.
Meanwhile, President Ali and His Highness, Sheikh Ahmed Bin Dalmook Juma Al Maktoum attended Friday prayers at the Queenstown Masjid, here in Georgetown.
They were joined by other members of the visiting delegation, and members of the local Islamic community, including the Director of Education and Dawah at the Central Islamic Organisation of Guyana (CIOG), Shaykh Moeenul Hack.