…in observance of World Diabetes Month
IN observance of World Diabetes Month, the Bel Air Lions Club has erected a large, blue circle at the junction of Camp and Church Streets, in Georgetown, aimed at spreading diabetes awareness.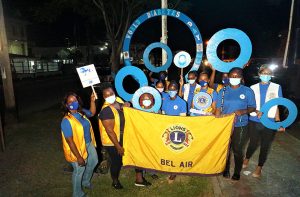 World Diabetes Day is observed globally on November 14, but some countries observe the entire month.
The activity on Saturday brought out scores of Leo and Lions members, who, under strict COVID-19 guidelines, wrapped a number of trees with blue cloth bearing the words "Diabetes 2020'', along the avenue on Camp Street.
Chairperson of the Club's health committee, Nicola Boston, in an invited comment, said the exercise is aimed at bringing awareness to the public.
"Diabetes is a chronic illness affecting a lot of people around the world, and we just want to bring awareness to persons living with diabetes to show our support," said Boston, who is also a nurse.
In observance of the day, the World Health Organisation (WHO) has warned that COVID-19 causes fear and suffering for people with diabetes, and that persons so afflicted have an increased risk of dying when infected with the virus, in that a delay in diagnosis may result in the disease becoming more advanced.
Diabetes is a chronic disease that occurs either when the pancreas does not produce enough insulin, or when the body cannot effectively use the insulin it produces.
This year, the observance is being held under the theme, "Nurses make a difference".