–shipping 36,000 'water nuts,' continues to supply to local consumers
By Indrawattie Natram
GUYANA'S role as the 'breadbasket' of the Caribbean remains important in maintaining food security and sustainability in the region, a role which local producers like Henvil Coconut Farm has capitalised on, tapping the Trinidad and Tobago market for "coconut water."
Henvil Coconut Farm located at Malbrough, Lower Pomeroon in Region Two (Pomeroon-Supenaam), has been adding value to the local coconut industry by supplying both local and international consumers, with raw and refined products. The company sells dry coconuts, bottled coconut water, and virgin coconut oil.
Chief Executive Officer (CEO) and owner of Henvil Coconut Farm, Vilma De Silva told the Guyana Chronicle that the demand for coconuts, intentionally, had decreased due to the novel coronavirus (COVID-19) pandemic. But there was a "ray of hope" for the company in October, when the demand for coconut water increased in Trinidad and Tobago.
"Currently, 22,000 bottles of coconut water and 14,000 water nuts are en route to Trinidad and we continue to supply our major local customer, Sterling," said De Silva.
On a weekly basis, the company, which has 24 employees, processes 12,000 'nuts,' acquired from their 30-acre farm. And, when the demand increases the company purchases coconuts, both dry and water, from other farmers.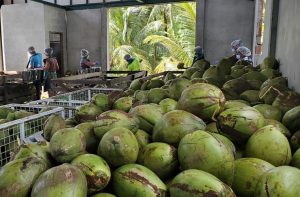 In addition to penetrating the regional market, the company's product, branded Henvil Coconut Water, has become a household name, particularly in Region Two, where it can be found on the shelves or in a refrigerator at almost every supermarket. The company is seen as trailblazer in the coconut industry, setting the pace for others to follow.
Outside of rice and sugar, not many know that coconut is the third major agricultural export, earning some US$7M in export revenues in 2017 and there are concerted efforts afoot to transform the industry in the years to come.
It was reported recently that amidst rising global demand for coconut, Guyana, with right the positioning, could get a fair share of the global market. Currently, there are massive investments, both at the private and public levels, geared at putting Guyana on the right path.
The local coconut industry currently has about 1,800 farmers who collectively cultivate some 24,000 acres of coconut in Regions One (Barima-Waini), Two, Three (Essequibo Islands-West Demerara), Four (Demerara-Mahaica), Five (Mahaica-Berbice), Six (East Berbice-Corentyne) and Ten (Upper Demerara-Berbice).
Guyana on average produces 92 million nuts annually, much of which is exported for coconut copra and water, mainly to Barbados, Trinidad and The Dominican Republic.
The main varieties of coconut grown in Guyana are the Jamaican Tall, Malaysian Dwarf and the Suriname Brown, the latter being the most popular of the set due to its shorter time to mature and higher sucrose content in its water.