GOOD Samaritans of Number 60 Village, East Berbice, Corentyne, who promptly responded to an accident scene, managed to help a seriously injured driver from his mangled car after he was pinned inside for hours following a crash.
The injured man has been identified as Dellon Harvey, a police constable attached to the Rose Hall Town Outpost.
According to reports, at approximately 21:30 hours on Tuesday on the Number 60 Public Road, Corentyne, Harvey, being the driver of motorcar PVV 3113, along with occupant, Standard Douglas, 32, was proceeding north along the western drive lane of the said road, at a fast rate of speed when an accident occurred.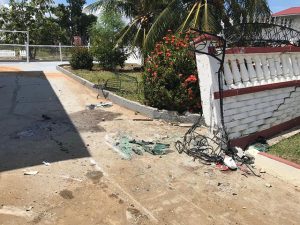 It is alleged by the occupant who was seated at the left front seat that the driver swerved west from cows, which were on the roadway, to avoid a collision and ended up crashing into a concrete culvert, then into a metal gate on the western side.
As a result of the collusion, the entire vehicle became mangled and the driver was pinned. The occupant was assisted by public-spirited citizens out of the vehicle and taken to Skeldon Public Hospital where he was treated and sent away.
According to a police release, the Guyana Fire Service tender, members of the Guyana Police Force  and a doctor and nurse from the Skeldon Hospital responded within minutes of the report of the accident.
Meanwhile, public-spirited persons tried desperately for hours to free the seriously injured man whose intestines were protruding. Support was rendered by the Guyana Fire Service and an ambulance with a doctor and nurses form the Skeldon Hospital.
Harvey was then taken to the Skeldon Hospital and subsequently transferred to the New Amsterdam Hospital where his condition is listed as serious.
Babita Singh, a resident and eyewitness, recalled hearing a loud impact and upon investigation noticed a black motorcar was flipped on the side in a yard on the opposite side of the road. She said the neighbours and others from the household quickly responded and tried valiantly to rescue the man.
"We start see crow bar, sledge and hammer and start trying to see how to get him out. We deh out there two to three hours and we bring towel to cover he up cause his inside was showing. So he holds on to his belly until he was rescued. The fire truck come with a big chopper but it didn't had no blade or so. We used the little one we had and bruk to help he out," Singh said.