– President Ali hails former President Janet Jagan's contribution to Guyana
By Rabindra Rooplall
THE legacy of Guyana's first female President and Commander-in-Chief of the Armed Forces, Prime Minister, First Vice-President and Deputy Speaker of Guyana, was celebrated on Tuesday with the unveiling of Commemorative Centenary Stamps.
President, Dr. Irfaan Ali, joined Government officials and representatives of the People's Progressive Party Civic (PPP/C) for the unveiling of the stamps on the 100th birth anniversary of former President Janet Jagan during a ceremony held at State House.
The former President was one of the founding members of the PPP, and served in various capacities in the party.
She was also a founder of the Women's Progressive Organisation (WPO), and headed that organisation until her death.
Also paying tribute to the former President were Prime Minister Mark Phillips; Mrs. Jagan's great-nephew, Mr. Ian Jagan; and Mr. Hydar Ally, Director of the Cheddi Jagan Research Centre (CJRC).
President Ali said the legacy of Comrade Janet was still a driving force today.
"Janet Jagan was a torch bearer for freedom and democracy; Janet Jagan imbued her party with her fighting spirit. It was her example of resilience and resistance that her party turned to during the period from March to August of this year when there was a criminal conspiracy to steal our elections. Inspired by her tenacious spirit, her party resisted the attempts to deny the democratic will of the people," he said.
Mr. Ali pointed to the former President's lifelong dedication towards ensuring that the rights of others were respected and protected. In so doing, he highlighted her role as a pioneer of women's rights, her struggles while championing the cause of the working class, as well as her advocacy for press freedom.
"Janet Jagan's entire life was one devoted to the rights of others; Janet Jagan fought for a fairer and more equal society. She used the political offices held at various times to work particularly for the improvement of workers," he said.
The President also called on those gathered to remember the former President's role as a "trailblazer" on the path to Guyana's liberty, firstly from the grip of colonial rule, and later from the vice-like grip of dictatorship when she joined her husband, former President Cheddi Jagan on the political frontlines.
"We remember her at this time for her strong will, her indisputable political organisational skills, and for her dedication to the ordinary man and woman… We remember her at this time because she would have been proud that democracy was protected and preserved."
The President said that Mrs. Jagan's fighting spirit was complemented by her warm and kind heart.
He added that the former President often gave away her earnings to people, oftentimes strangers who needed help. The former President also had a special affinity for children, and published a number of children's books as she looked to give back in every way possible.
WARM AND MOTHERLY
"Janet Jagan was warm and motherly; she remains one of the most modest and humble persons you could have ever met," President Ali said, adding: "I have had the great fortune of knowing her, and benefitting from her wise counsel. I consider it a humbling experience to assume the seat of the presidency which this political giantess once filled."
The Head of State lauded the late President's achievements as monumental and immeasurable, and called on those present to not only pay homage to her legacy of freedom and democracy, but to work tirelessly towards the unification of the people of Guyana.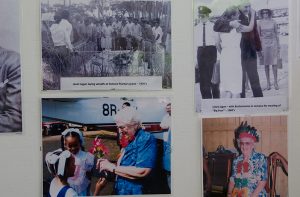 "The time has come for us, in this country, to reflect with honourable intentions; to reflect with a passion and a commitment to achieve what those who struggled selflessly, wanted to achieve. And that is the unification of our people. It is the most pressing issue for us as a people. We talk a lot these days about the economic bonanza that will come about; the great wealth that will come about, lifting our people from poverty. But today I say to you, the greatest of tasks and challenges for all of us is the unification of our people."
President Ali said it is the country's leaders who will have to take up the responsibility and lead the charge towards achieving unification.
"This does not rest on the people out there; this rests entirely on the shoulders of leaders. We cannot lead without dignity; we cannot lead in a way that is disrespectful to the laws of our country," he said, adding: "I assure you, every single day of this Government's life will be spent dedicated to this task. It will be achieved; it must be achieved. We have to break down those invisible walls, and bring our people together; we owe this to the legacy of those who worked tirelessly and selflessly; we owe this to our future generation, and we have to fix it now, and fix it in this generation, and to not leave this burden upon those who will come after us. So today, as you reflect, I ask us to reignite in ourselves that spirit which saw us victorious so many times in our country. We are at our best when we're united."
Meanwhile, Prime Minister Phillips said that over the past several decades, successive governments have symbolically honoured the most historic moments and personalities through postage stamps.
"From the 100th Birth Anniversary of Dr. Cheddi Jagan, to the Independence and Republic Jubilee Stamp Collections, and many more, our country has revelled in the practice of preserving its history, culture and traditions through our postage stamps; a practice that has been observed the world over, from as far back as the 19th Century," PM Phillips said.
EXTRAORDINARY WOMAN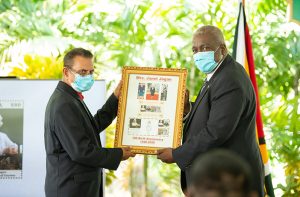 Adding that the launch eternalises the work and the memory of a true visionary, the PM said Janet Jagan was a woman of extraordinary political significance to Guyana.
"Much like her husband, the late Dr Cheddi Jagan, a founding father of this mighty nation, Mrs. Jagan stands as a pillar of historical greatness. Having served as the first female President of Guyana, and well-known for her championing of women's rights, Mrs. Jagan can be considered a sterling example of women's empowerment in Guyana. She was a true believer in strong and active leadership, with a vested interest in the betterment and development of Guyana, and she selflessly served this country which she had made her home after her marriage to Dr Jagan," the PM said.
Highly recognised and rewarded for her work, PM Phillips said the stamps being unveiled at the event will serve as an added preservation to Mrs. Jagan's legacy and political contribution to Guyana.
"Across four denominations, the stamps will depict four memorable occasions of Mrs. Jagan's life: Her visit to London in 1964; her address at the United Nations General Assembly as President in 1998; a light moment during her Presidency between December 19, 1997 – August 8, 1999; and her address at a May Day Rally in the 1970s, given her previous post as Minister of Labour, Health and Housing during 1957 – 1961. These stamps will be available at our 62 post offices countrywide from October 21, 2020, while stocks last," he noted.
For many, the prime minister said, the significance of such a tribute, using postage stamps, may be lost, particularly given the advent of digital communication and its seeming detraction from the value of the postal service.
"But our postal services continue to play a vital role in communication, even today, with our post offices in Guyana persistently innovating and improving its services to ensure that it remains relevant in this day and age. It was only earlier this month that the world observed World Post Day as a reminder of the fundamental role that postage workers and postal services still play in our daily lives, particularly as the world faces a global pandemic," he explained.
Moreover, PM Phillips said that by using powerful figures as the face of postage stamps, over time, they will serve a larger, more figurative role, telling stories to future generations about past accomplishments, occurrences and personalities.
"I look forward to many more such initiatives that honour our past, as we forge ever forward towards a prosperous future for Guyana," the Prime Minister said in closing.