– brothers excel at CSEC/ CAPE, fulfil dead mom's dreams
By Jeune Vankeric
SEVENTEEN-YEAR-OLD Revon Lafleur has purposed in his heart to strive for excellence after being left with the responsibility of guiding his teenage brother Raphael and three-year-old sister, Esther.
It has been just over two years since their divorced mom Roshanna died after a brief illness, leaving shattered lives behind. Among those left behind was her eldest child, Revon, who was preparing to write the Caribbean Secondary Education Certificate (CSEC) examinations in the months ahead.
July 19, 2018, was not a date he wanted to remember. He shunned the memories but decided to deal with it. The memory caused tears to gush from his eyes, but he quickly wiped them away as he stared at Esther, who sat nearby in her other brother's arms.
"I have to work hard for them. I have to keep going. I have to be focused. I have to get the work done at any cost," Revon said passionately.
"But during the exams… while I was writing the math paper I was sitting there and time was running out. I did not answer most of the questions. I closed my eyes. My mom's memory came. That was what reminded me of what I was fighting for… what I had to do. I started to write until I finished the questions. I felt proud and I knew I was doing it for her. I felt her presence, guiding me, urging me to finish the paper.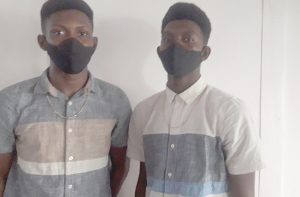 "Everyday I have to wake up…. No mom… but I have a brother and a sister. I have to provide for them as I am the eldest. I have to work hard, especially for Esther. I believe I should be her protector. She is my responsibility… working hard is the best way," the teen said.
And, he sure did, at the 2019 CSEC examination, just months after his mother's July 19 death the previous year, he secured passes in 11 subjects, namely Mathematics, English 'A', Physics, Human and Social Biology, Physical Education, Information Technology, Agriculture Science, Biology, Social Studies, Chemistry and English B.
TEARS OF JOY
"I was on work study. I told my brother to check for my grades. When I got the news I became teary. No mom was there to share the news. I got six Grade Ones, three Grades Twos and two Grade Threes. My mother was not there to celebrate with me. The accolades… don't matter how many (sniff) she is still gone… nothing will bring her back," he said.
But despite his emotional battles, Revon has held the "bull by the horns', he continues to excel, passing at five subjects at the 2020 CAPE sitting as he strives to achieve his mother's dream for him to become a medical doctor.
Even as he continues to pursue higher learning at President's College where he spent his entire secondary years, Revon has ensured that he remains a positive role model for his brother Raphael.
SAD MOMENT
Raphael, now 16, witnessed his mother transitioned from time to eternity. Her head was on his lap as she laid in the vehicle on her way to a private hospital. She never arrived. She died on the way.
Raphael, the younger of the two brothers was tasked with breaking the news. As devastating as it was, he turned his energy to sports. He fought and overcame personal battles, but was encouraged to be focused. His older brother helped and he emerged successful.
At the recent CSEC sitting he secured 10 passes in Grades Ones and Twos. The subjects are Agriculture Science (Double Award), English 'A,' Industrial Technology Electrical, Information Technology, Integrated Science, Mathematics, Physical Education and Sports, Physics, Social Studies and Technical drawing. He seeks to pursue a career in Technology.
Together, the brothers who live at Fort Ordinance, East Canje with their maternal relatives, are urging all to cherish their mothers.
"It was two weeks ago I took my sister Esther to the clinic for her monthly check-ups. I saw a mother and her son. They looked so beautiful. I was tearing up in the clinic…. He has his mother… he don't know for how long. But my mother is gone. No matter what I do, she is still gone…. my brother and I have been off to President's College for five years… when we return at home at weekends… our mom is at the market, as she was a businesswoman…. the next day was church. We did not get enough of her…. you know …. parents go out with children… you know… you sweeping, cleaning together. The erupted laughter… we did not get enough of those moments, so let's cherish our parents and those special moments," Revon advised.