– Central executive member Basil Blackman resigns over dictatorial tendencies
Long-standing People's National Congress Reform (PNCR) Central Executive Committee (CEC) member Basil Blackman on Wednesday parted ways with the party over what he called dictatorial decision-making without consultation of the full executive.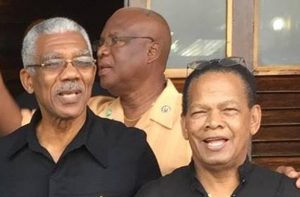 Blackman, a former officer of the Guyana Defence Force is a close colleague of former President Brigadier (ret'd) David Granger.
In a letter dispatched to the party's General-Secretary Amna Ally, Blackman stated: "I have made this decision with a heavy heart but for the good of my conscience, it is for the best. Several key decisions do not sit well with me, and as such, I feel as though the executive no longer serves its mandated purpose since decisions are made without consultation."
He noted that he will continue to serve the Guyanese people, but not as part of the party's machinery.
The Working People's Alliance (WPA) and the Justice For All Party (JFAP) recently had also cut ties with the PNCR-dominated A Partnership for National Unity (APNU).
The WPA wrote to former President Granger on August 19, 2020, telling him that it was withdrawing as a member of APNU due to repeated "violations of the principles governing coalition politics" by the PNCR.
"Decisions affecting the APNU have been made and continue to be made in the name of the constituent parties without consultations… we have had to live with [the] PNC's decisions being imposed on the rest of the APNU," WPA Executive, Tacuma Ogunseye had said, noting that the PNCR has acted unilaterally since the coalition victory in 2015.
The JFAP had complained of being ignored in the selection of APNU+AFC MPs for the new Parliament. No seat was allocated to the JFAP.
A JFAP letter to PNCR Leader David Granger dated September 1 and signed by its General Secretary Savitree Singh Sharma did not give any specific reason for the decision to leave, but said that "… Guyana's political landscape is changing significantly and it demands a re-examination of roles and relationships."
"We feel that we have been used… and at this point we can see no reason for sticking with them, but we will consider our options before acting," she had said.
APNU, which comprised five parties with the PNCR being the largest, has been embroiled in internal dissension following defeat at the March 2 General and Regional Elections and particularly after the swearing-in of the new PPP/C government on August 2.
Last month, former Public Infrastructure Minister and AFC General-Secretary David Patterson resigned from his post after the PNCR hogged the top positions in two Regional Democratic Councils (RDCs) by reneging on a promise it had made to the AFC.
The Coalition won three of the 10 electoral districts in the March 2020 elections. These were Regions Four, Seven and 10.
It was understood that APNU members would assume the chairmanship of these organs, while AFC members would take the vice-chair (VC) positions. However, the APNU did not support the AFC when it came to voting to preserve that agreement, except for Region Seven, where the party was given the VC post.
Also last month, Chairman of the PNCR Volda Lawrence stepped in and quelled a destructive protest in Region Five that was instigated by two of her very senior party colleagues.
Former PNC/R member Allan Arthur Fenty back in May 2020 had also criticised the party for following a disgraceful path "of electoral thievery."