– CH&PA boss says authority still trying to 'help out'
By Vishani Ragobeer
SCORES of squatters occupying the GuySuCo lands on the East Coast of Demerara (ECD) have not moved despite an ultimatum which states that they should vacate the lands by Monday.
On Sunday, Minister of Housing and Water Colin Croal told the Guyana Chronicle that the ministry in tandem with the National Industrial and Commercial Investments Ltd (NICIL) had provided assistance to the squatters, so that they could vacate the area.
He said stakeholders would make available a truck to carry the squatters' belongings, while a temporary bridge would be constructed, connecting the squatting area to the Success Railway Embankment.
Squatters have been occupying these lands that belong to the Guyana Sugar Corporation (GuySuCo) at Vryheid's Lust, Success, and Chateau Margot, for some months now.
On Monday morning however, a group of squatters met with the minister and informed him of their plight. Kishan Brijmohan, a squatter and father of two, related that they all told the minister that regardless of whether the assistance of the truck and bridge is given, the squatters have nowhere to go.
Later that day, officials of the Central Housing and Planning Authority (CH&PA) went to the Success squatting area attempting to meet with each squatter and inspect the structures they built for themselves and their families.
When the Guyana Chronicle visited the squatting area, the officials had divided themselves into two teams and were meeting squatters living in the more than 100 structures they erected, across a number of GuySuCo's fields.
HELPING OUT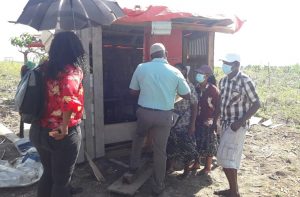 "It was just a part of our ongoing process of helping them out," Chief Executive Officer (CEO) of the CH&PA, Sherwyn Greaves, said in an invited comment. He explained that those officials were present at the Success lands to gather data on the persons squatting in the area in an attempt to be "accommodating."
It was unclear whether this meant that additional priority would be given to these individuals when the distribution of new house lots begins over the next few weeks, as the CEO did not comment further.
Previously, however, he pointed out that 703 persons — squatters and persons interested in getting their own homes — came seeking house lots at a recently held outreach at the Chateau Margot Primary School, which was initially geared towards assisting the ECD squatters. Following the first two days of that outreach, Greaves told this newspaper that priority will be given to the persons who applied before — regardless of whether they were squatting on the Success lands or not.
Though cognisant of the plight of these squatters, Minister Croal stressed that these individuals have to follow the established process of applying for house lots, that is, through an application to the CH&PA. But, he also assured, "I'll work along with them and I'll try to see how I can assist them as a priority with the land-allocation process."
NO SALE OF LANDS
While at the area, this newspaper was made aware of claims purporting that other squatters were selling plots of land on the squatting area to newcomers.
Several residents, however, sought to clarify that lands were not being sold for other persons to squat on. Instead, they related that if another squatter clears a portion of land and someone asks to occupy that land, it is expected that the individual would be compensated for their labour used to clear the plot of land.
"Somebody might clear a piece of land for themself and then they might continue clearly[sic] the land and you find somebody would have come and say that they wanted to go on that land that done clear instead of going to clear a next piece," one squatter, Judy (only name given) explained.
Judy has been squatting in this area for seven months now. She recalls moving there one week after the Regional and General Elections, around the same time the COVID-19 pandemic was taking shape in Guyana.
Other residents chimed in, agreeing that compensation for the arduous labour is a fair deal. Brijmohan claimed, "Everything here is legit."