— pandemic-induced price reductions 'hurting' fishermen
— fishermen's co-op requests subsidised fuel, other measures to cushion effects
IN cricket, the phrase "catches win matches" is synonymous with victory, but 'catches' in the fishing industry have been no victory for fishermen in recent months, as the widespread economic effects of the novel coronavirus (COVID-19) pandemic have effected a sharp reduction in the price for fish.
Guyana's fishing industry has been a key contributor to the local economy, valuing approximately $8.3 billion of the country's Gross Domestic Product (GDP) and employing over 15,000 persons directly and indirectly.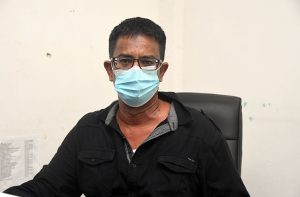 Fishermen would often rejoice after seeing their 'catches.' which are earned after almost 10 laborious days at sea, but the pandemic has turned joy into quandary because the profits have "dried up" due to the necessary control measures implemented by countries to curb the spread of the COVID-19 pandemic.
Assessments have shown that almost every sector has been affected in some way by those measures, and the effects stemming from one sector would spread to other sectors and industries.
Such is the case in the fishing industry, as hotels, bars, restaurants and other food establishments have limited their consumption because indoor dining is prohibited in some cases, or customers just prefer to dine in their homes.
Chairman of the Upper Corentyne Fishermen's Co-op Society (UCFCS), Pameshwar Jainarine, explaining the situation, said: "Over 95 per cent of the fish we land here would normally go to the export market… about 50,000lbs of fish come every week to this landing or sometimes twice that amount.
"Most of this fish goes to the exporters such as Pritipaul Singh Investments Inc. and R and S shipping… the middlemen buy here and carry it to those companies… since COVID-19 came, a lot of exporters have cut back because hotels are being closed, restaurants and bars are also affected, because tourists are not coming in, so the demand for fish has dropped."
Past reports indicate that local fish is exported to countries in the Caribbean, the United States of America, Canada and parts of Europe.
Some of these countries have been hard-hit by the pandemic, recording thousands of cases and deaths, making it difficult for businesses to function effectively because of safety measures. The US, for one, has recorded over seven million cases and over 204,000 deaths.
"This [reduction in exports] is why our industry has taken so much licks… we usually get a lot of small exporters, but they have stopped buying because the consumption has dropped," said Jainarine.
The surplus of fish on the local market and the reduction in exports have evidently contributed to the sharp reduction in prices.
The UCFCS, which accounts for more than 900 fishermen, deals mainly with Grey Snapper, Trout, Shark and 'Koffum,' and while these species are usually in high demand and attract a "decent" price, the situation as outlined by Jainarine has been different.
The price for Snapper has moved from $400 per pound to $150 per pound, a decrease of $250 or 62.5 per cent, while the cost of Trout has moved from $250 per pound to $120 per pound, a 52 per cent decrease.
"It has been difficult for us for the past five-six months to make a living; the impact of the price has been too much for us," said Jainarine, adding that alternative jobs to supplement their earnings are not around.
The constraints are debilitating, because the operational expenses for fishermen and boat owners, remain the same.
MOUNTING EXPENSES
The fishing boat used mainly by fishermen attached to the co-op is a "Cabin Cruiser" which costs between $5 million to $6 million (complete set-up). In addition to the maintenance of this boat which costs close to $130,000, fishermen utilise 50 gallons of gas on every trip, which lasts for 10 days or sometimes more.
For every 'trip,' the boat would need four drums of fuel; $70,000-$80,000 worth of "greens" and other food items; and 10,000 pounds of ice which costs close to $80,000.
"So your expenses could run up to about $250,000 to $300,000…during normal times, if you load with $300,000 expense, and you sell $600,000, the remaining money is split between the owner of the boat and the five-man crew which includes the captain.
"There is a system where the captain collects an additional share, so out of the owner's half you take out about five per cent and give to the captain…this is done to encourage the captain to bring in the best quality of fish, because he has to be responsible for the boat out there," said Jainarine.
So after subtracting these expenses, a boat owner would make between $100,000 and $200,000 after a 10-day trip, but since the pandemic, profits have been less than $50,000. This also leaves the average fisherman with very little to sustain his household.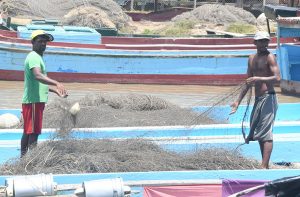 One boat owner, Rypen Mootain told the Guyana Chronicle that he is barely making enough to pay his crew, but the economic situation provides limited opportunities at this time. His hope is that the economy will be revitalised soon and the markets will reopen, so that business could return to 'normal.'
Multiple fishermen told this publication that they have been struggling to get by on their reduced earnings; and, this has forced them to seek out any available job just to boost their incomes and help them support their families.
When fishermen leave their homes to go out at sea, they are uncertain what they will encounter out there, said Jainarine. Some of risks associated with being 'at sea' include piracy, which the chairman said has reduced significantly; harsh weather conditions and rough waters, among other things.
PROPOSED SOLUTIONS
Considering their risks and the existing challenges created by the COVID-19 pandemic, Jainarine believes that government should examine relief measures, even temporary, which would improve the situation.
The chairman said fishermen do not plan on being 'lazy,' but government support, especially in reducing operating expenses, would be welcomed.
Jainarine and other members of the co-op said government should examine the possibility of subsidising fuel costs.
"We know the government collects a lot of money from consumption tax for fuel, so if they can ease some of the taxes from the fuel and make it cheaper that would be great… they could probably look at taking the price down to $500 per gallon, that would make us breathe," said the chairman, adding that government should also examine the removal of value added tax (VAT) on fishing equipment.
The chairman said there are a number of zero-rated items already, but he claimed that stores are still charging VAT on these items.
"We were fortunate to meet the new minister (minister of agriculture) and he made commitments…we raised the fuel subsidy because the trawlers association in Georgetown have a subsidy on diesel and obviously the operating cost went down…and another concern we raised was the VAT on fishing equipment… the minister had committed to addressing these concerns," the chairman said.
TIMELY HELP
Government recently announced the removal of VAT on agricultural equipment and outlined a number of measures geared at stimulating the economy and revitalising the productive sectors.
These measures and projects were included in the government's $329.5 billion budget which was passed in the National Assembly on Friday evening.
There is no doubt that businesses have struggled to break even; persons have lost their jobs and even their livelihoods, but President Dr. Irfaan Ali had committed to getting the economy back on track, starting with the implementation of measures and projects included in the 2020 budget.
Budget 2020 includes a $25,000 cash transfer to every household; a $15,000 cash grant and a $4,000 uniform voucher for schoolchildren; $800 million for the Amerindian Development Fund; $5 billion for the Guyana Sugar Corporation (GuySuCo); a two-week, tax-free bonus for members of the Joint Services; and $150 million for frontline workers, among many other benefits.
President Ali had also said that the government, after re-prioritising and re-programming fiscal measures, has managed to add $20 billion in relief to the "pockets" of Guyanese at a time when the nation is faced with the effects of COVID-19, and the recently concluded protracted electoral process. The conduits of relief include revised tax measures, and sweeping incentives.
The broad objectives of those measures which feature in government's emergency budget, are to stimulate economic activity; get persons back to work; increase Guyana's productive capacity; reduce the cost of doing business; improve efficiency; and facilitate growth and development of businesses.